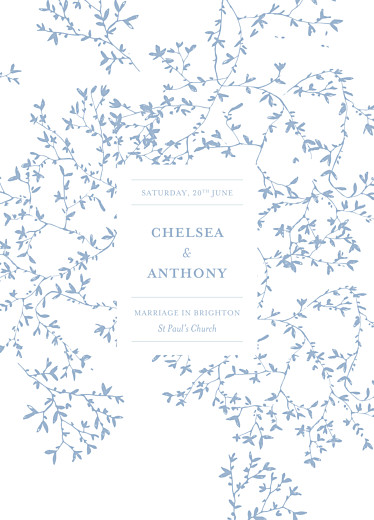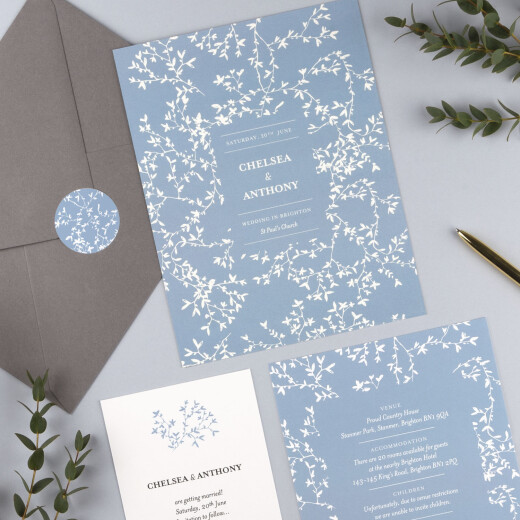 Wedding Envelope Stickers
From £0.34 each
Wedding Invitations
From £1.80 each
Guest Information Cards
From £0.60 each
Save The Dates
From £1.20 each
Wedding Order of Service Booklet Covers · Folded Card
Reflections
Wedding Order of Service Booklet Covers
in a similar style
The Rosemood Touch
Checked by our experts
We proofread your text, optimise the layout and retouch your photos!
Going the extra mile
We are here to help you every step of the way so just ask!
Made in France
The perfect blend of artisanal French know-how and cutting-edge printing.
If you like our Reflections wedding Order of Service Booklet Cover. You may also be interested in...
Calculate the price*
Smooth Matte Paper
A pure white paper with a smooth finish
Textured Ivory Paper
A timeless high-quality ivory paper with a textured matte finish
Iridescent Paper
A high-quality, slightly iridescent paper
* Estimated price excl. shipping
Custom colour
We can personalise this design to the colour of your choice!

Provide us with a HEX colour code for the shade you are looking for and then let us work our magic.

Contact our friendly customer service team on 020 3966 8736 to find out more.
Reviews (3)
Reflections wedding order of service booklet cover
Beautiful, timeless design, really excellent quality
Beautiful design, very good quality in real life. The customer service is excellent and very easy to engage with. Our only comment would be that we got the foil design in invitations, and we would happily have taken that foil design in the Order of Service as well. Having said that, this is so pretty, and so fitting for our garden wedding in the countryside, and it is still on the same theme as the invitations, it was an easy choice to make! Would definitely recommend.
Published by Sarah, 18 Apr 2019
This whole range is beautiful, I am so happy with it and the staff at Rosemood are friendly and so helpful. Couldn't recommend them highly enough!
Published by Anoushka Anderson, 7 Jan 2019
Couldn't recommend more. Our wedding stationaries were elegant and exactly what we have envisioned. Very good customer service too.
Published by Sarah P.C., 22 Dec 2018