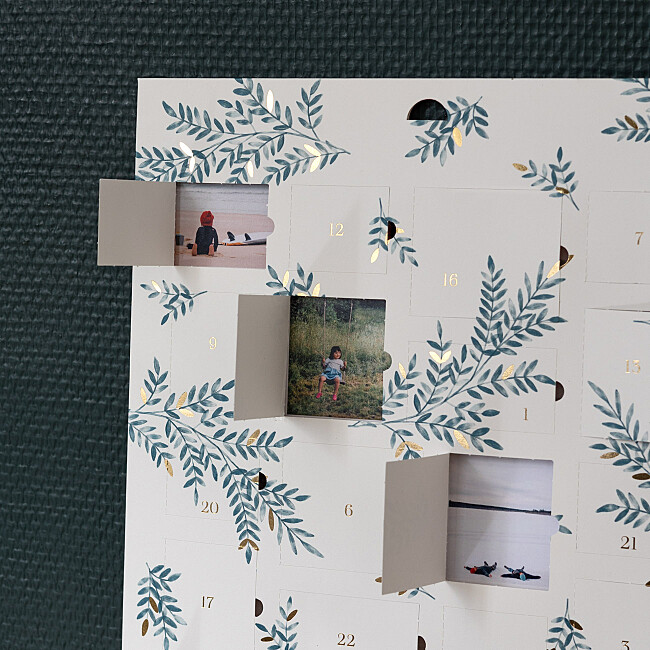 Rosemood luxury advent calendar
This stunning foil-stamped advent calendar will be an elegant addition to your Christmas decorations and will help you countdown to Christmas surrounded by the ones you love. Hidden amongst the delicate winter foliage, you will discover 24 windows that will reveal your favourite photos, turning your luxury advent calendar into a journey back through some of your favourite memories.
15% off identical copies (they make a great gift)

24 personalised windows to open

Outer sleeve made from 100% recycled paper

A photo poster you can keep after Christmas
Calendars to enjoy long after Christmas
Our team have designed these advent calendars to bring joy long after the last window has been opened! Once the Christmas decorations come down, you can open up the outer sleeve to reveal a photo collage poster featuring your 24 photos. Slip this 30 x 40 cm poster into a frame or affix it straight onto the wall to admire your favourite photos all year round! Create a personalised calendar for yourself or gift one to a special loved ones. Grandparents will especially love discovering a new picture of the grandchildren each day and you can even integrate a message from the little ones into the text zones.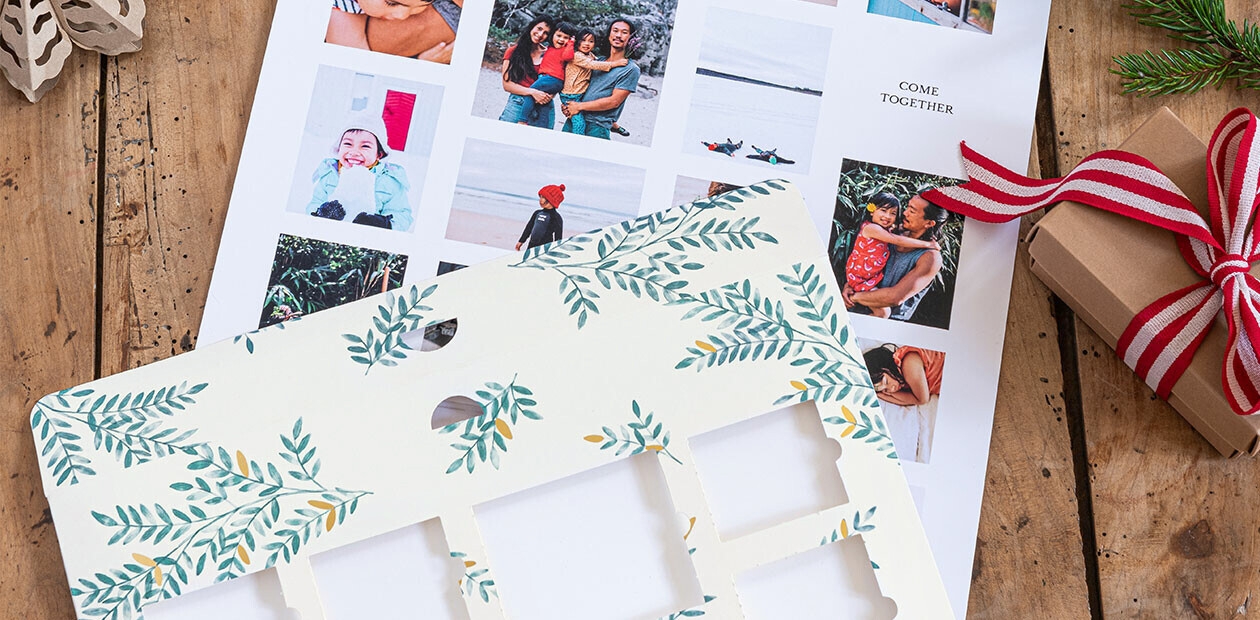 Product Information
We apply our usual extremely high standards to all of our advent calendars!
Automatic photo retouching service
Impeccable print quality
A customer service team to help you every step of the way
Product Information
Outer sleeve made from high-quality 100% recycled paper
Hot foil stamping applied to the foliage and the numbers
24 zones to personalise with your photos and/or text
Turns into a stunning photo poster after the 24th of December
Choose from rounded or standard corners for your photo zones
Pre-cut hole to allow for easy hanging
Premium white paper (320 g/m²)
Outer sleeve: 30.4 cm x 43 cm
Detachable photo poster: 30 cm x 40 cm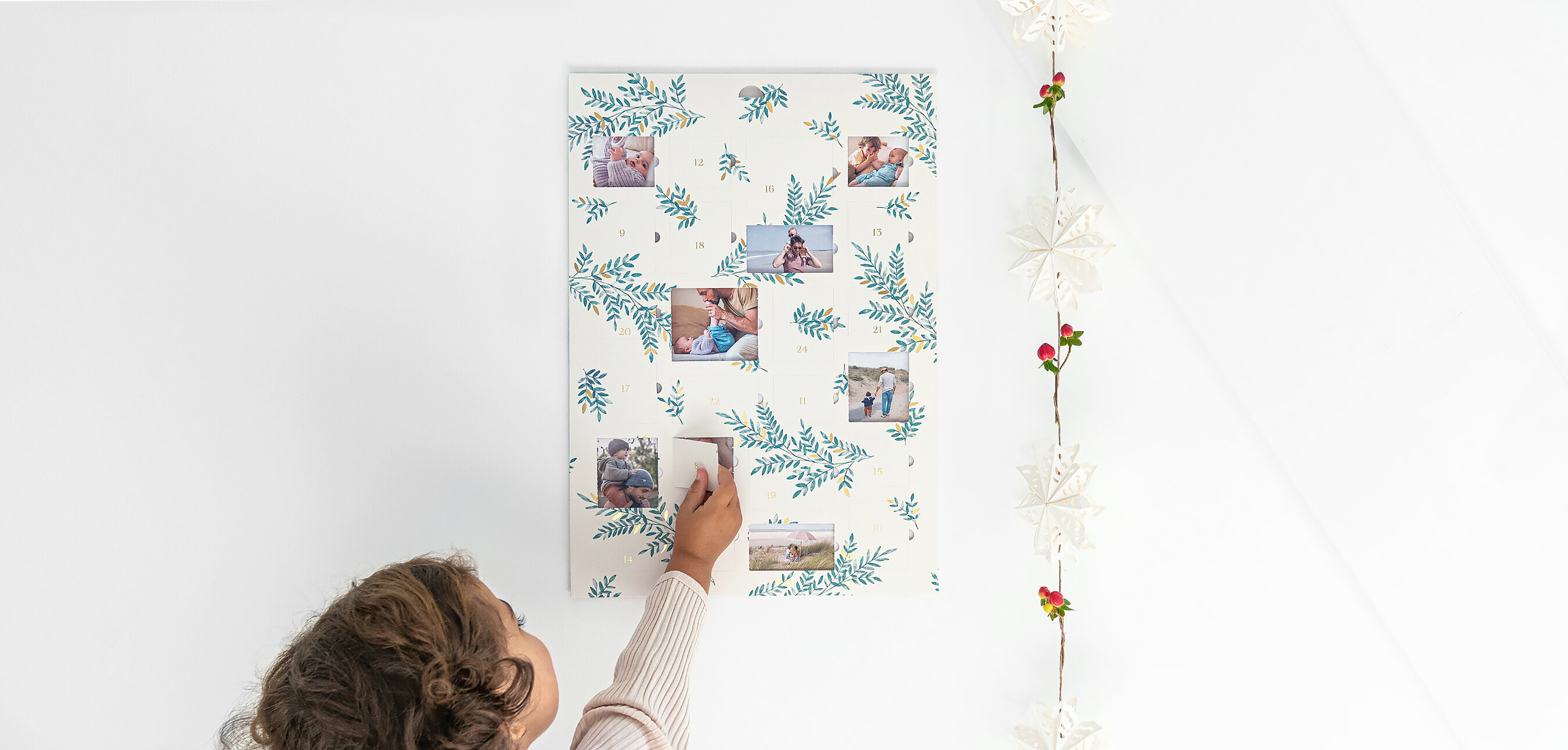 You and your loved ones may also like...
Luxury foil-stamped advent calendars
Add a touch of luxury to your Christmas decorations thanks to our hot foil-stamped advent calendars, created by our very own internal design team. Your Christmas countdown will be defined by the poetic and botanical nature of the watercolour illustrations spreading across these calendars in soft blue tones. Our hot foil stamping adds a touch of elegance and magic to these luxury advent calendars, as the numbers and some of the leaves are adorned with shimmering gold. This same refined design can also be found on the cover of our foil photo calendars that will allow you to get organised for 2022. Our teams have carefully selected papers of the highest quality for your photo advent calendars so you can rest assured that your calendar is a result of responsible printing! The outer sleeve of your calendar is also made from 100% recycled paper making your Christmas countdown that bit more eco-friendly.
Personalise your Rosemood advent calendar online
It couldn't be easier to create your personalised advent calendar online. Once you have chosen between our luxury and colouring advent calendars, simply click on 'Create your advent calendar'. Here you will be prompted to fill the 24 photo zones that will be revealed when each window is opened. Choose from standard or rounded corners for your photo zones and opt for 100% photo zones or choose to integrate some text into your design. Whether you choose to add photos of the people or the places you love most, simply upload your photos into the editing tool and then drag and drop them onto the relevant photo zones. Once you have personalised the photo poster that will be slipped inside the foil-stamped outer sleeve, your photos will pass through our automated photo retouching service to guarantee the highest print quality! Your photo poster will then be printed at our very own studio in Nantes, France before being placed inside the outer sleeve and sent to the lucky recipient.
A gift that keeps on giving
Our luxury advent calendars make an elegant gift for loved ones that you don't see on a regular basis. Help build up the excitement and make the wait to see you at Christmas that bit more bearable, by sharing 24 family photos. Just imagine Grandma and Granda's face as they discover a new photo of the grandchildren every day in the run-up to Christmas! You can even create ones for friends to remind them of all the good times you have had together over the last year if you are not going to be celebrating Christmas together! The options are endless and your loved ones are sure to be blown away by the quality of their advent calendar along with the thought that has gone into selecting the 24 photos. Their luxury advent calendar will then be a gift that they can enjoy all year round thanks to the photo poster hidden inside!