2024 Photo Calendars
Start each month with a glimpse of the people and places that matter most thanks to our collection of 2024 photo calendars. Whether you are looking for a decorative piece for your wall or an organisational aid for your desk, discover our carefully curated calendar collection which features 4 formats and a wide range of cover designs to enjoy your favourite photos all year round and show off the key dates you must not forget!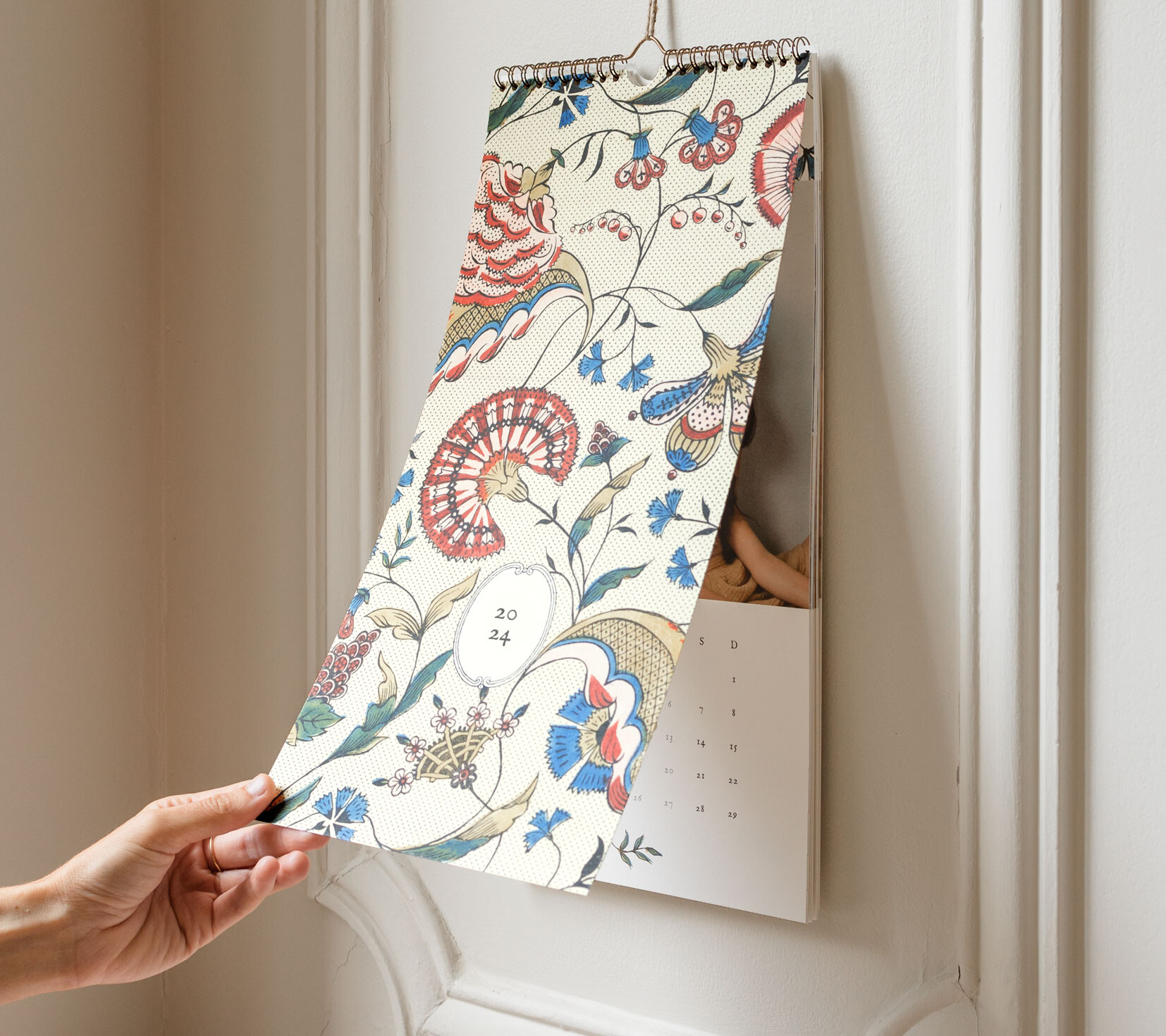 Antoinette Poisson x Rosemood
Four iconic 18th-century motifs from fellow French atelier Antoinette Poisson transform our collection of calendars into true works of art, worthy of pride of place on your wall or desk. These precious motifs come to life on the covers of 3 photo calendars and the inside pages of our large wall calendars.
The Rosemood Touch
Our team is here to help you every step of the way, going above and beyond to help you mark every milestone, remember every moment and tell every story.
Unrivaled Expertise

The perfect blend of artisanal know-how and cutting-edge printing

Made in France

Your calendar, designed by our very own innovation team and printed here in France

Greenmood

Our paper is FSC certified and we continue to offset our carbon emissions.

Personalisation

Get creative with our range of photo templates to create your unique calendar
Plan your year surrounded by the ones you love
Rediscover your latest holiday destination or relive a precious moment with the kids, each time that you note down your loved ones' birthdays or your next family lunch on your personalised photo calendar. Choose between our wall calendars that will brighten up your space and our photo desk calendars that will give you a boost during your working day. Style meets practicality when it comes to our photo calendars so decorate your space with a calendar that will help you plan your year 2024 in full serenity, whilst surrounding yourself with photos of those you love most.
Don't just take our word for it...
Really beautiful photo book

Ordered a photo book as an anniversary gift, and it's really beautiful and very high quality. Will definitely be ordering from Rosemood again.

Published by Emma, 9 Nov 2023 design Reviewed: Fabric Photo Books

amazing

I ordered my wedding album, and it was great. The delivery is reliable and the product is amazing.

Published by Oki, 31 Oct 2023 design Reviewed: Layflat
How to choose your ideal photo calendar
We have created a collection of photo calendars that will allow you to take your loved ones with you throughout the year whether that be at home or at work. Each calendar has been designed to provide a practical organisation tool, whilst giving you the opportunity to liven up your wall or desk with your favourite photos. Choose our A4 photo calendar to show off your favourite photos in their full glory or select our personalised wall calendars to add customised dates that will help you remember every special occasion. Last but not least, you can choose our square desk calendar to have your favourite photos and memories inspire your creativity at work! For an extra special Christmas gift idea, personalise one of our exclusive Antoinette Poisson x Atelier Rosemood calendars, which breathe new life into historic motifs and immerse you in the decorative arts of 18th-century France. If you still aren't sure which format is right for you, take a look at our photo calendar ideas for some inspiration or get in touch with our friendly customer service team.
How to create your photo calendar
Creating your 2024 calendar couldn't be easier. Choose from our four calendar formats to suit your organisational needs with a range of wall and desk calendars available. Once you have settled on a format, you can enter into our editing tool to create your calendar online. Whilst our limited edition 'Antoinette Poisson x Rosemood' large wall calendar comes features a set motif, all of our other photo calendars come with a range of cover designs that allow you to add a personalised title and photo. Once the cover is sorted, you can personalise each month of the year by adding up to 6 of your favourite photos. You can even customise the dates on our A4 and large wall calendars to add a photo or text to every family birthday or anniversary.
A photo calendar for the whole family
Turn your 2024 personalised calendar into a family planner that will make sure that no important event goes forgotten! From the school run to important family milestones, you can note down all of the key moments in your life on your personalised family calendar. Never again will you miss Auntie Charlotte's birthday, and never again will you forget the school play rehearsal. You can even personalise the dates in advance on your A4 or large wall calendar to have the faces of your loved ones act as an unmissable prompt for their birthday or anniversary. Why not create a colour code as you note down events for each member of the family to make organising family life that bit easier? You can also guarantee that the entire family will enjoy discovering which photos you chose for each month, the kids may even fight over who gets to flip over to the next month. That will definitely be the case when it comes to opening the windows on their personalised photo advent calendars!
2024 Photo calendars: the perfect personalised gift
Be there for your loved ones all year round thanks to our personalised photo calendars. Kickstart each month with photos of precious moments spent together to bring a smile to their face each time they note down an upcoming event. With a range of wall and desk calendars to choose from, you are sure to find the perfect planner for everyone in your family. Opt for our square desk calendar for businessman Dad and personalise a luxury Antoinette Poisson calendar for your grandparents as a stunning gift they will want to treasure far beyond 2024. You can even get 15% off identical copies so why not treat both sets of grandparents to a Christmas calendar filled with pictures of the grandchildren or create matching wedding photo calendars for you and your other half? The options are endless but one thing is guaranteed, these calendars will bring joy far beyond their special day!
Your questions about our calendars
How do I create my photo calendar online?
Choose the photo calendar design you like, whether that's an A4 wall calendar, a slim-format 20 x 40.5 cm calendar or a desk calendar. You can then create your photo calendar online using our editing tool. Except for our Antoinette Poisson calendar collection, all the covers of our calendars can be personalised with a photo and a few words. After the cover is complete, make every month special with up to six photos per page. You can even add in birthdays and other important dates directly into the template of our personalised wall calendars to have them printed!

Which type of photo calendar should I choose?
Think about where you would like to display your calendar when choosing which type. While our photo desk calendars are designed to stand on your desk next to you, our other photo calendars are ideal for hanging on the wall. If you are keen to show off your photos in large form, the A4 photo calendar is the best choice, whilst our personalised wall calendars are perfect for having those special dates pre-printed so you will never miss a birthday again! Meanwhile, our Antoinette Poisson x Atelier Rosemood collection is perfect for decor lovers who would love to add a touch of 18th-century elegance and opulence to their space.

What size personalised photo calendars do you offer?
We offer four different calendar sizes so you can choose the best fit for your space. Our spiral-bound square photo desk calendars are a handy 19 x 19 cm format, whilst our wooden block calendar features 13.4 x 14.5 cm polaroid-style prints. We also offer wall calendars in an A4 and a slim format (20 x 40.5 cm).

Which photos should I add to my personalised calendar?
Creating a gift for the grandparents or a calendar for your own home? Choose to include photos of the moments everyone will enjoy reliving. You may like to opt for a theme, such as photos from a family holiday, or pick seasonal photographs that represent each month of the year. You can use our editing tool to arrange the photos as you like until you are happy with the design.