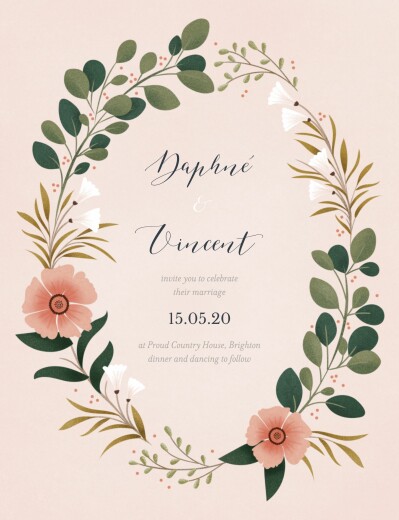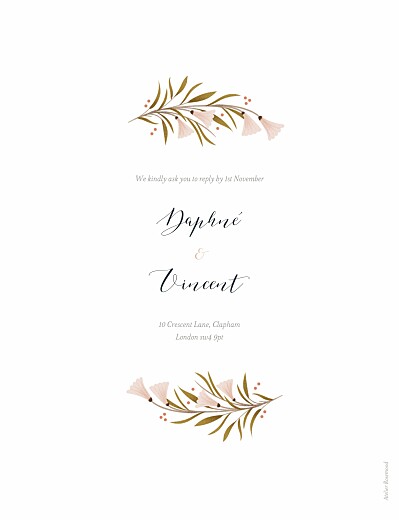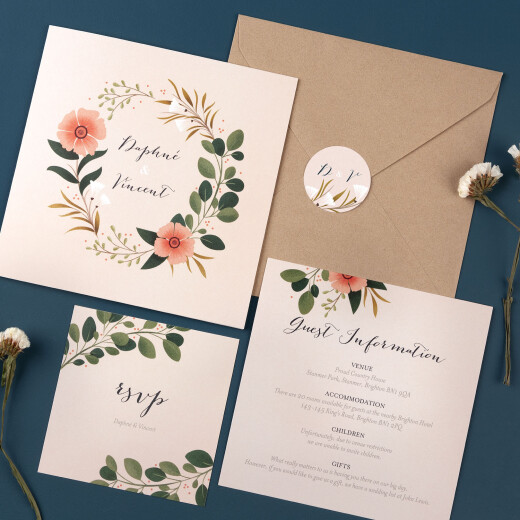 Wedding Invitations · Flat Card
Daphné
Products to match your Daphné Wedding Invitations
See The Suite
Wedding Invitations
in a similar style
The Rosemood Touch
Checked by our experts
We proofread your text, optimise the layout and retouch your photos!
Going the extra mile
We are here to help you every step of the way so just ask!
Made in France
The perfect blend of artisanal French know-how and cutting-edge printing.
If you like our Daphné Wedding Invitation. You may also be interested in...
Calculate the price*
Smooth Matte Paper
A pure white paper with a smooth finish
Textured Ivory Paper
A timeless high-quality ivory paper with a textured matte finish
Iridescent Paper
A high-quality, slightly iridescent paper
* Estimated price excl. shipping
Reviews (2)
Daphné wedding invitation
Leave a review
Quick service, beautiful invitations but an error on the back of one of our cards
We were so happy with our invitations and they are beautiful but upon close inspection we realised that it said on the back of our menu card it said about gifts at John Lewis and we had never mentioned that. Very disappointed. Everything was perfect with the invitations but I do not understand how this got on the back of our cards and now not sure what the next step is as we are in Spain and our invites are in the UK with our families.
Published by Rosie Webster , 15 Dec 2019
Response from the Atelier Rosemood
Hi there,
We are terribly sorry about this text appearing on your menus. It appears as though some default text from your design had been left in the editor, and we mistakenly thought it was a part of your creations. One of our stationery experts will be in touch with you to find out how we can best help rectify this issue, and we greatly appreciate you reaching out to us. We look forward to helping you get the perfect wedding menus for your special day!
Kind regards,
Colin
Incredible experience. Efficient and personalised service
Our invitations are so beautiful, thank you so much! It was an incredibly easy experience to order our dream wedding invitations. The website was easy to use, the designs were lovely and when we ordered the changed were awesome. The service was personalised and very efficient. So impressed, would definitely recommend!
Published by Rosie Webster , 5 Dec 2019
,