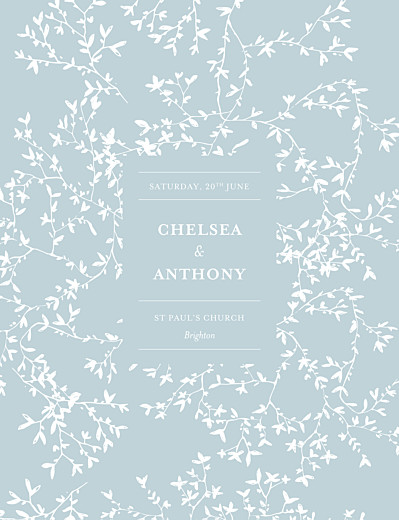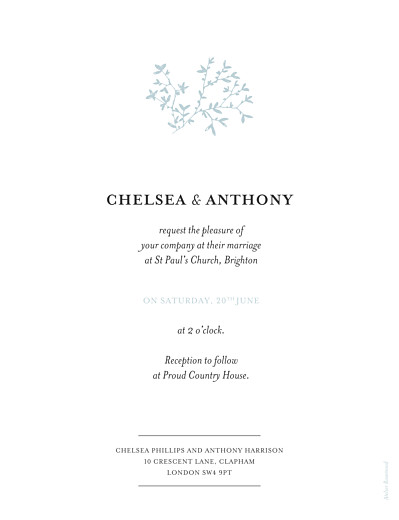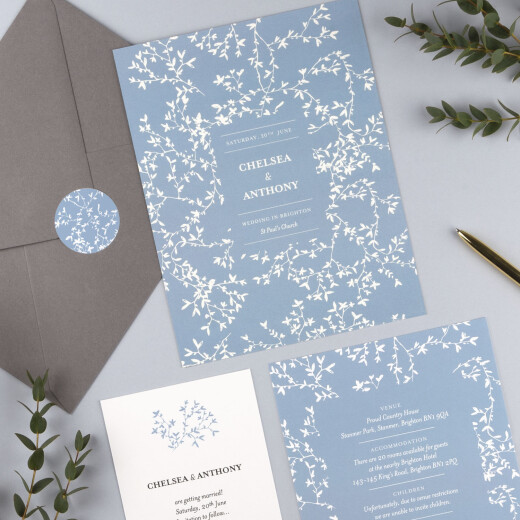 Wedding Invitations · Flat Card
Reflections
Products to match your Reflections Wedding Invitations
See The Suite
Wedding Invitations
in a similar style
The Rosemood Touch
Checked by our experts
We proofread your text, optimise the layout and retouch your photos!
Going the extra mile
We are here to help you every step of the way so just ask!
Made in France
The perfect blend of artisanal French know-how and cutting-edge printing.
If you like our Reflections Wedding Invitation. You may also be interested in...
Calculate the price*
Smooth Matte Paper
A pure white paper with a smooth finish
Textured Ivory Paper
A timeless high-quality ivory paper with a textured matte finish
Iridescent Paper
A high-quality, slightly iridescent paper
* Estimated price excl. shipping
Custom colour
We can personalise this design to the colour of your choice!

Provide us with a HEX colour code for the shade you are looking for and then let us work our magic.

Contact our friendly customer service team on 020 3966 8736 to find out more.
Reviews (8)
Reflections wedding invitation
Leave a review
I've had such an amazing experience from start to finish with Rosemood. Any queries I had were dealt with instantly, the proof-reading service was insane (corrected everything to the tee) and the QUALITY of the invitations when they arrived.. simply WOW. My mouth literally dropped when I saw my invites! They were beautiful. I've never received such good customer service from a company, and i'm so thankful. Thank you SO much Rosemood for making this such a wonderful experience for me. I'll recommend you to everyone! :)
Published by Aisha, 25 Jul 2021
Fantastic service, Beautiful Invitations, 100% recommend
Recently ordered my wedding invitations. Really happy with them they look fabulous and really great quality card and paper envelopes. Proofreading service is fantastic and the customer service is exceptional had some questions regarding colours etc and response times were so fast. 100% would recommend this company and will be using again for upcoming events.
Published by Hollie Crown , 11 Feb 2020
Very speedy service and I like the retouching service.
Good experience in general from submitting the draft up upon printing. However when I received the printed copies of my wedding invitation, the corners of all of them are crease. A little bit disappointed about it but I didn't ask for reprint because I don't want to kill more trees.
Published by Jennifer, 11 Jul 2019
Response from the Atelier Rosemood
Hi Jennifer,
Thank you so much for taking the time to leave a review on our website.
We are pleased that you had a good experience of ordering your stationery via our website, but were very disappointed to hear that the corner of your invitations appears to have been damaged during transit/delivery.
We know how important it is for wedding invitations to be perfect, so we would be more than happy to provide you with new copies of your invitations, but appreciate that you wish to take into the account the environmental impact of reprinting your invites.
One of our stationery experts will be in touch with you as soon as possible to get this sorted for you.
Thank you again for your feedback and we hope that everyone loves your invitations.
Best wishes,
Sarah
Superb...the quality of the finished product was excellent. And your patience whilst we tweaked colours of line etc exceeded my customer expectations
Just one very little thing it will be good if you could get some off white envelopes to match the cards and also we noted the glue on the envelope was not great but once we used the stickers it worked very well.
Thank you so much for everything
Published by Chris Matthews, 28 Mar 2019
The cards are excellent quality and I've received lots of great feedback on the style, look and feel of the cards. Can't wait to order rest of the set!
Published by Neeks, 28 Nov 2018
High quality, professionally scrutinised, reasonable prices and hassle free.
Published by Ben, 23 Jan 2018
Beautiful invites and impeccable service
We have just received our invites and we are absolutely delighted! They are such a beautiful colour and so very elegant. The quality of the card and envelopes are also excellent. We would not hesitate to recommend Rosemood as their servive has been impeccable frim start to finish!
Published by Caroline and Clare, 16 Jan 2018
The most perfect wedding invitations
We have just received our invitations, and we are delighted with them. The design is beautiful and the quality is brilliant. Thank you so much for all of your help, they are perfect!
Published by Helen, 10 Jan 2018
,