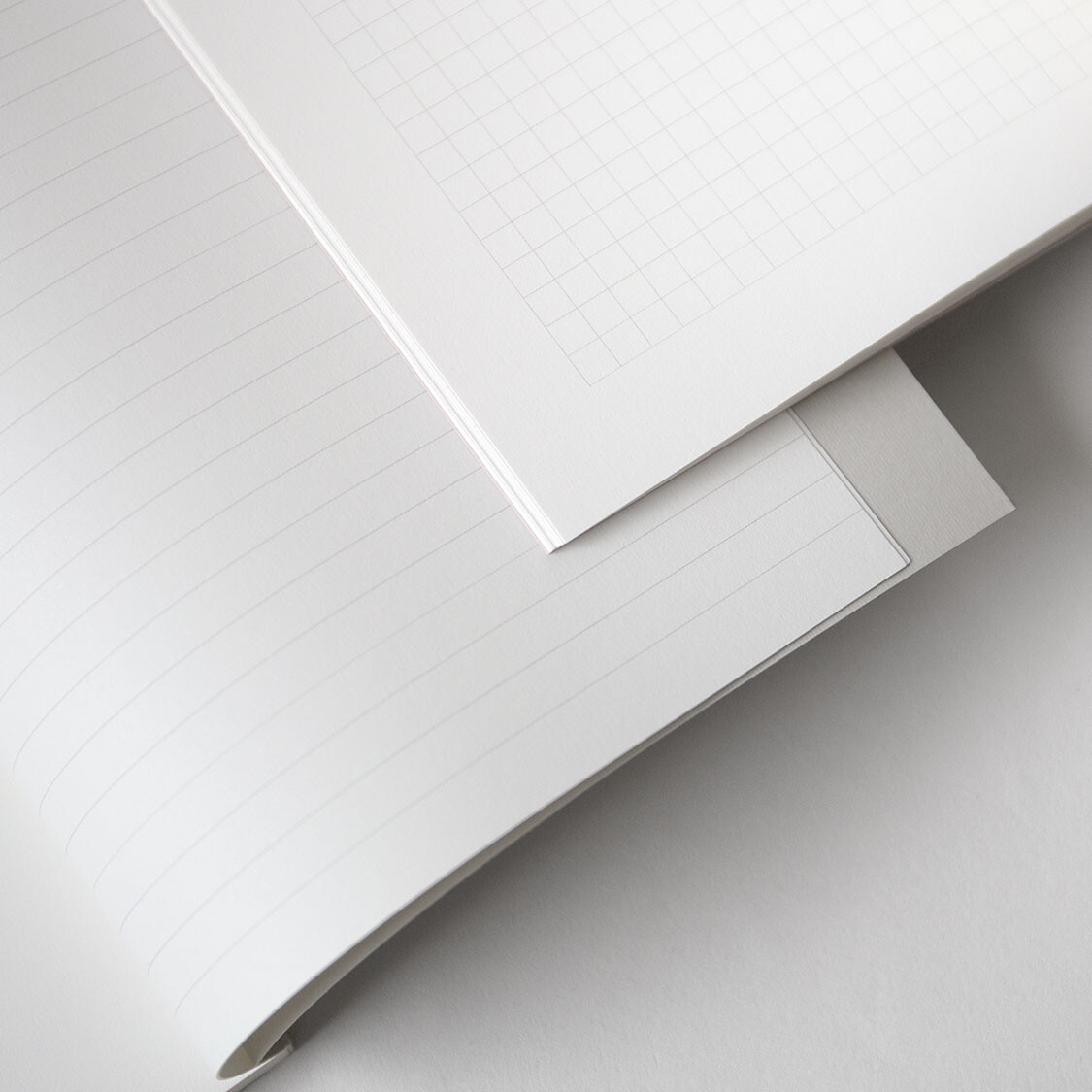 Softback Photo Notebooks
Black & White
Standard delivery: order before 10/12/2023
Get organised thanks to our pastel softback notebooks adorned with your favourite photo. Choose from a range of templates to create anything from a travel journal to a songbook.
Range of cover templates
Choice of inside pages
Product details
Portrait notebooks available in 4 colours
Choice of 10 colours for your personalised title
Size: 14,8 x 21 cm
94 Pages (47 leaves)
Inside page layouts: lines, squares, dots or blank pages.
Inner pages: 100 gsm
Show more
Show less
Shipping
Optimisation & Retouching: 1 day(s)
Production & Dispatch: 4 day(s)
Standard Delivery: 3 to 5 days
Estimated delivery date: 13 Dec 2023 - 15 Dec 2023
Responsible Printing
Our papers are all FSC (Forest Stewardship Council) certified, an environmental label that guarantees the practice of sustainable forestry.

Since 2016, we have been fully offsetting our carbon emissions in order to limit our environmental impact. We also offset the emissions linked to services provided by external suppliers, (if they do not already do so).

We are working hand and hand with our suppliers and partners to make our printing even more responsible!
A notebook for every project, big or small
Personalise your softback notebook with up to 4 of your favourite photos to turn it into anything from your trusty to-do list planner to a travel journal. With a choice of 3 pastel colours and 8 templates, the options are endless when it comes to creating a unique cover that will help inspire your creativity. Add a personalised title and choose the inside page layout to create a stunning notebook that will cover all of your writing or drawing needs.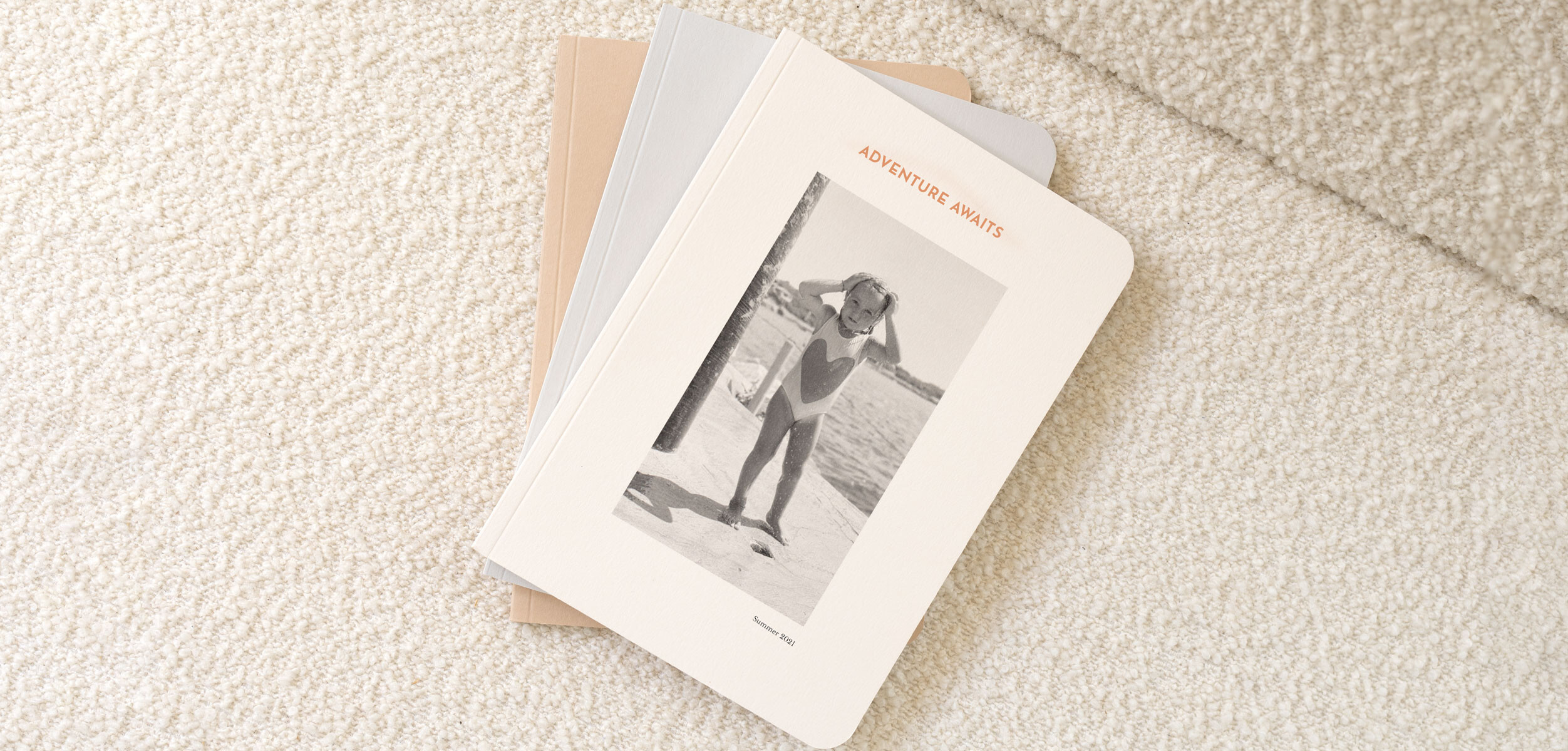 You'll never leave the house without your notebook
Your personalised softback notebook will be home to some of your most valuable thoughts and will become your right-hand man when it comes to keeping organised. Whether on your desk at work or on your bedside table at home, you will want to keep your softcover photo notebook close to hand to jot down your ideas, capture your thoughts or get your fill of daily doodling. Thanks to these minimalist notebooks, your favourite photo will greet you each time you go to tick something off your to-do list or you update the status of your latest project, keeping you inspired and motivated as you become a master of multitasking.
Discover our entire notebook collection
Create travel or bullet journals online
Have your notebook accompany you in ticking off the items in your to-do list, planning your next project or realising your biggest dreams. No matter how you plan on using your notebook, you can personalise your softback notebook to suit your needs! From the title and photo on the cover to the type of inside pages, design your personalised notebook online. Looking to immortalise your favourite memories from your last getaway? Create a travel journal filled with your reflections on your trip and the destination and use it to collate all the tickets and leaflets that you saved from your holiday. Looking to get organised whilst channeling your inner artist? Choose our dotted inner pages to create a bullet journal where you can turn your to-do lists into works of art.
Personalise your photo notebook with ease
Creating a personalised notebook online couldn't be easier thanks to our editing tool. Simply choose from our range of colours and then head into our editing tool. Personalise the title of your notebook, adding your name to keep it simple or an inspirational quote to keep you inspired each time you put pen to paper. You can then upload your favourite photo and drag and drop it into the photo field. This photo will be printed directly onto the cover of your notebook in black and white. Once you have personalised the cover of your notebook, you will also be given a choice of lines, squares, dots or blank pages for the inside!
Photo notebooks with a minimalist style
Make a statement when you arrive at your next meeting with one of our softback photo notebooks. These photo notebooks ooze elegance and style thanks to the minimalist design defined by the soft pastel colours and the chic black and white photo printing. But these notebooks are far from being more style than substance. Every aspect of these photo notebooks has been carefully designed to guarantee a notebook that works for you! The chance to personalise the text and the photo on the cover of your notebook and to choose the style of inside pages, makes it easy for you to create a notebook that will accompany you in your everyday planning but that you will also be proud to display on your desk. You may also wish to checkout our hardback notebooks for more stationery ideas.