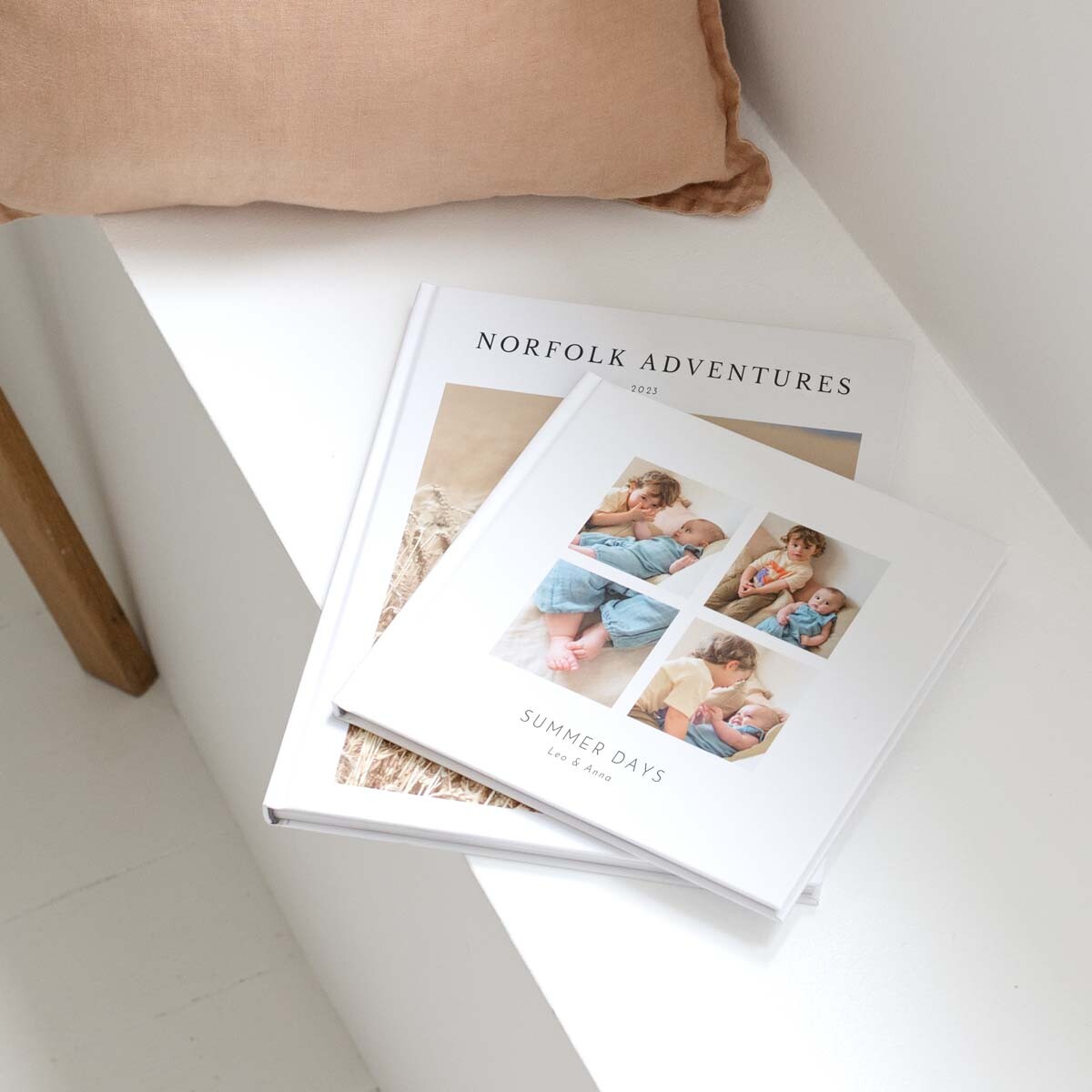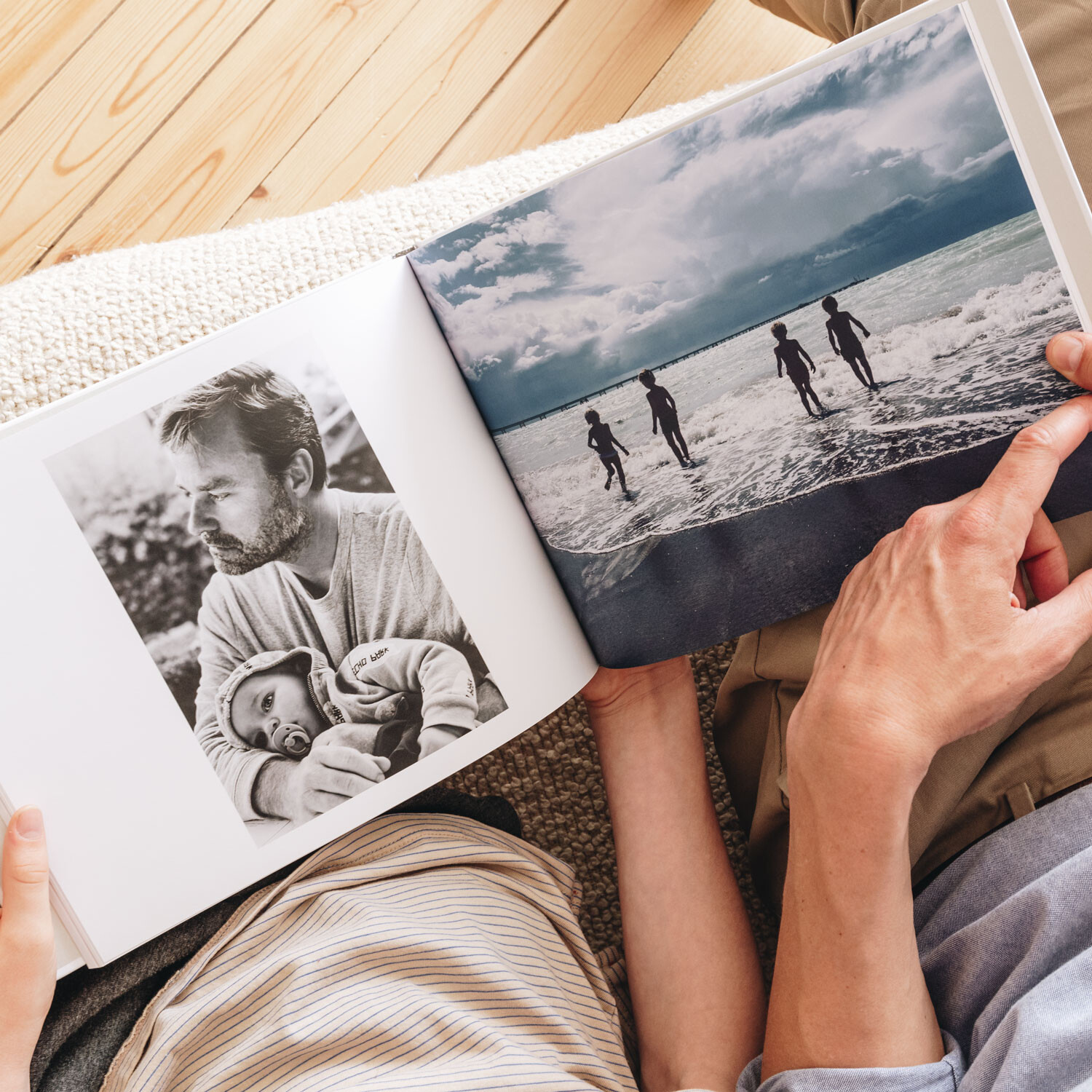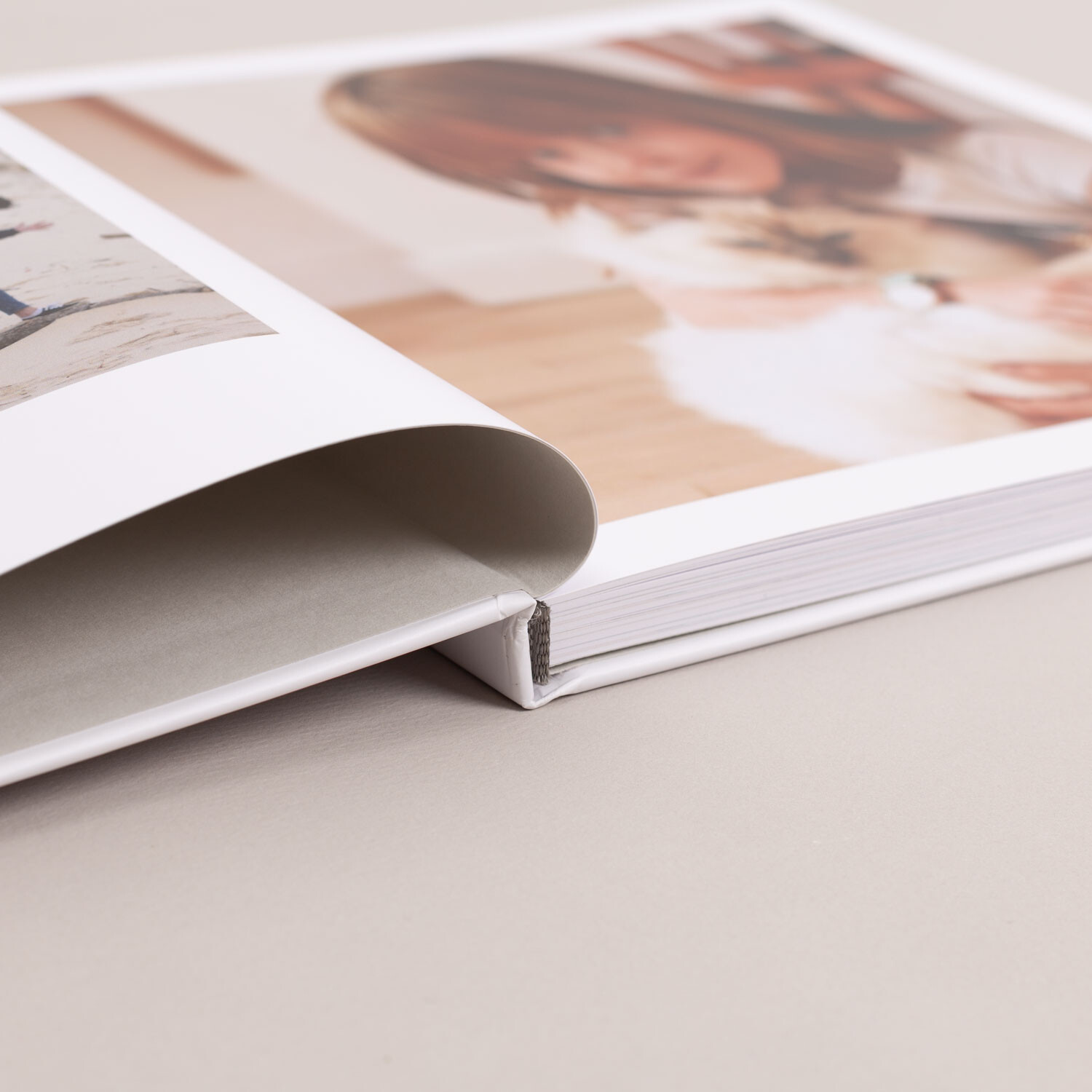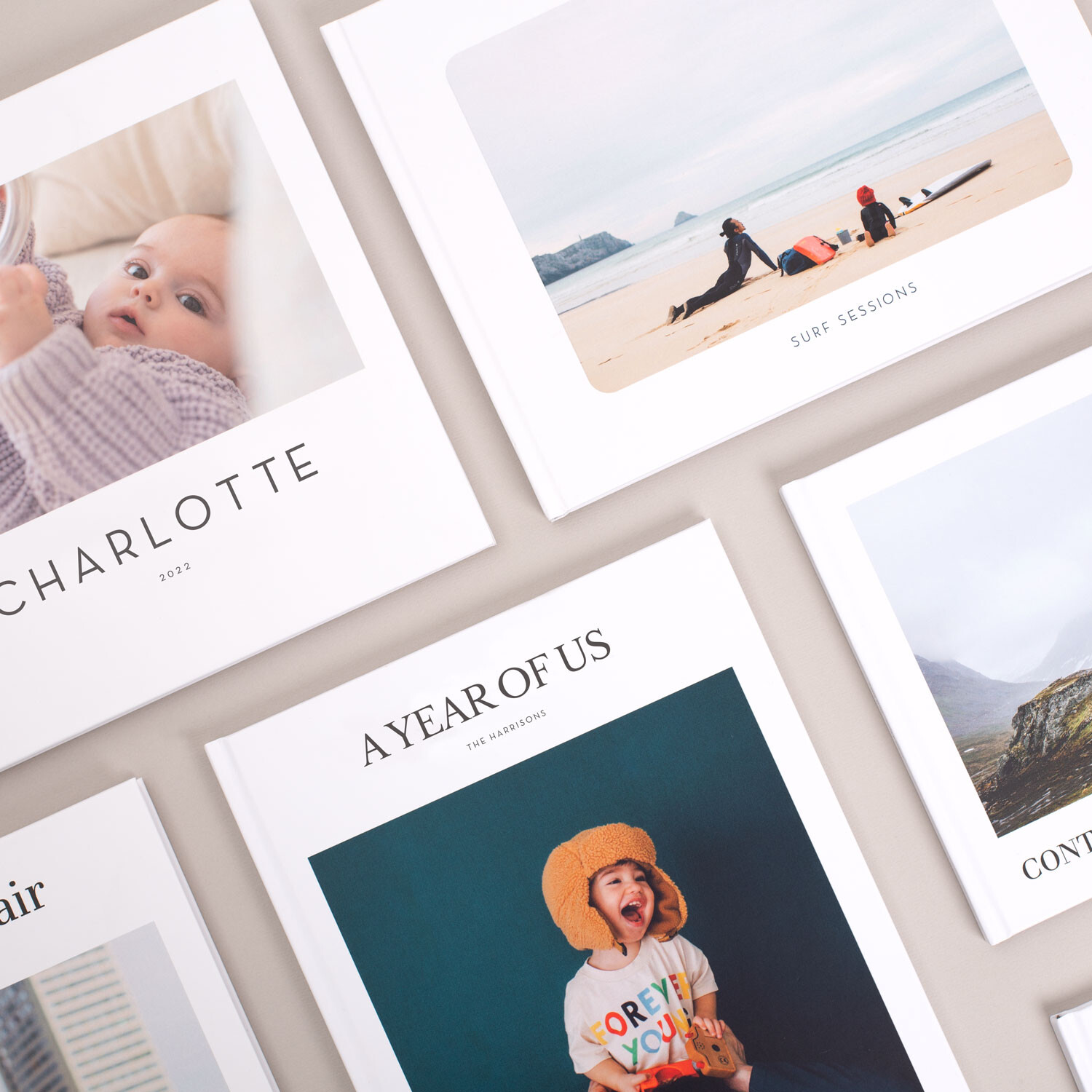 Standard delivery: order before 10/12/2023
With our exclusive collection of minimalist and timeless cover designs, you can create hardcover photo books that will take pride of place on your coffee table.
Over 10 cover designs
Up to 9 photos per page
Product details
3 formats: square, portrait and landscape
Range of cover designs
2 premium papers: smooth matte or satin coated
26 to 122 pages
Add up to 9 photos per page
Add a luxury gift box for £20
Show more
Show less
Shipping
Optimisation & Retouching: 1 day(s)
Production & Dispatch: 4 day(s)
Standard Delivery: 3 to 5 days
Estimated delivery date: 13 Dec 2023 - 15 Dec 2023
Responsible Printing
Our papers are all FSC (Forest Stewardship Council) certified, an environmental label that guarantees the practice of sustainable forestry.

Since 2016, we have been fully offsetting our carbon emissions in order to limit our environmental impact. We also offset the emissions linked to services provided by external suppliers, (if they do not already do so).

We are working hand and hand with our suppliers and partners to make our printing even more responsible!
Classic photo books revisited à la Rosemood
Here at Rosemood, we wanted to put our unique stamp on hardcover photo books! Our team has carefully designed every last detail to exude style and elegance, transforming this classic of the photo book world into a timeless coffee table piece finished to perfection. You are sure to see hardcover photo books in a whole new light as you discover our range of exclusive cover designs, our trademark finishing touches and our unrivalled paper and print quality!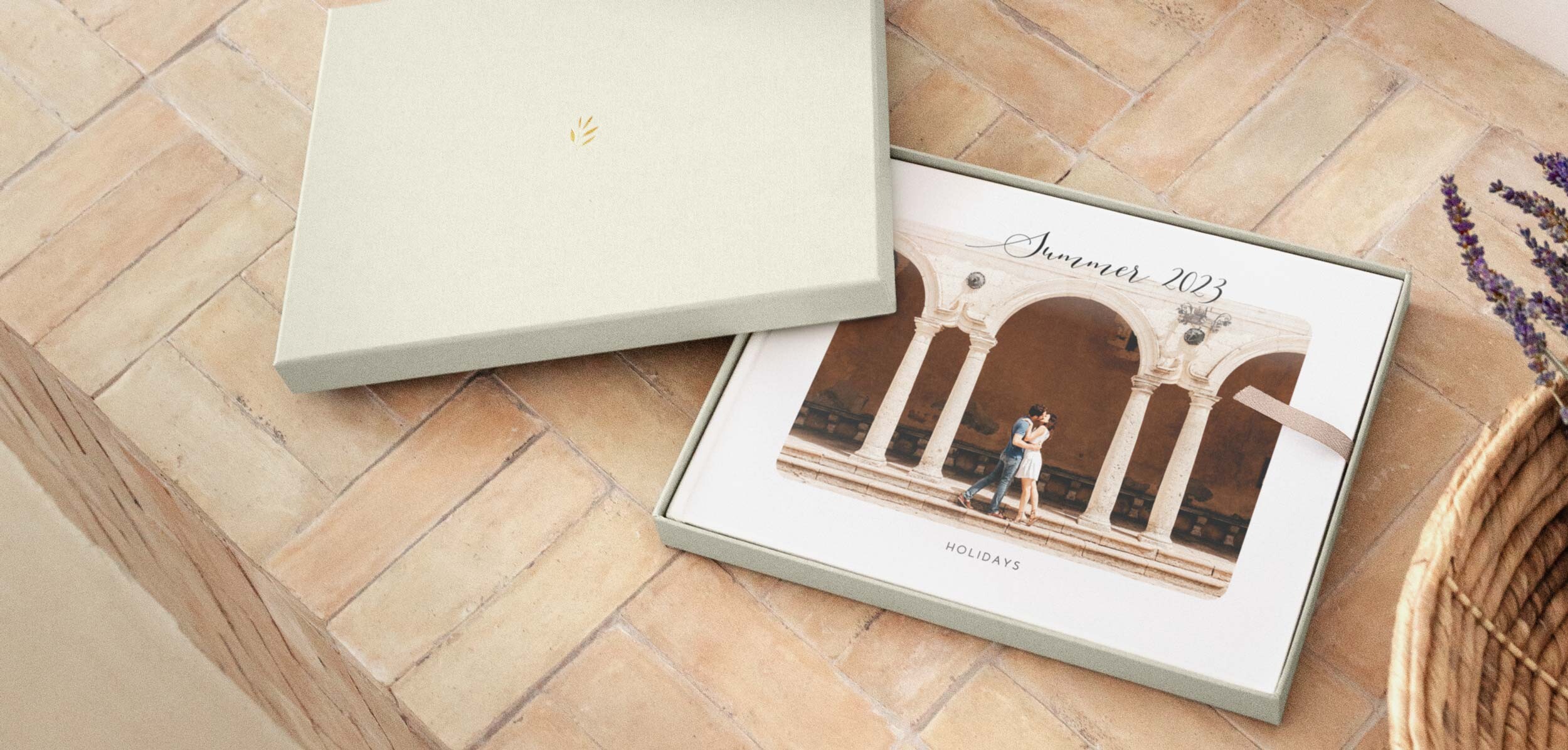 An unparalleled finish for your photo books
We wanted to create a printed hardcover photo book that not only stands out but is made to last. We've selected the highest quality paper types so that you can print your favourite moments with a guaranteed flawless finish. Photos that are rich in detail and texture, bound in a sleek and solid hardback cover, with the little details making all the difference. We are proud to have reinvented the hardcover photo book to help you look back on your best moments in a book that is worthy of display in your space.
Discover our entire photo book collection
A modern touch for your printed hardcover photo books
Our hardcover photo books are designed to be timeless coffee table photo albums exuding both style and elegance. With a cover layout allowing you to relive your most precious memories, you'll be able to create beautiful visual collections of times gone by. We also thought long and hard about the arrangement of your interior pages to optimise your photo book layout. No matter how you choose to create your album, it will all be tied together in one harmonious and chic creation. Your photo books can be handed down from generation to generation, just be sure not to force them to lay flat to preserve them the best possible.
Top-notch paper for your printed hardcover photo books
The right paper makes all the difference, and we have taken it upon ourselves to carefully select two types of paper that will give your photo book that extra special touch! Thanks to the soft touch of our white matte paper, or the high-quality photographic finish of our satin-coated paper, reliving your memories will be just as enjoyable as creating them.
Create a printed hardcover photo album
Immortalise your most beautiful moments with a printed hardcover photo book. Your memories from your last family trip, your wedding or Christmas holidays deserve to be relived regularly. Our modern photo books come with a thin matte protective laminate, elegant end pages and all the luxurious details that will make your photo album a true work of art! Choose one of our range of photo book cover designs for your photo album, the number of pages and begin putting together your creation on our online editor. You can opt for a landscape, portrait, or square photo book. We offer two types of high-quality paper, which we carefully selected, to give you the best finish for your album. As part of the Rosemood package, our proofreaders will check over your text and your photos will go through our automated retouching service. Here at Rosemood, nothing is left to chance! We go above and beyond to ensure that your creations are perfect. So do not hesitate to get in touch with our lovely customer service team who will be happy to help you every step of the way.