Standard delivery: order before 10/12/2023
Your title will be applied in luxurious foil turning your notebooks into works of art.
Artisanal hot foil stamping
Choice of inside pages
Product details
Portrait notebooks available in 3 colours
2 cover templates
Hot foil stamping in silver or copper to complement your cover colour
Size: 14,8 x 21 cm
94 Pages (47 leaves)
Inside page layouts: lines, squares, dots or blank pages.
Inner pages: 100 gsm
Show more
Show less
Shipping
Optimisation & Retouching: 1 day(s)
Production & Dispatch: 4 day(s)
Standard Delivery: 3 to 5 days
Estimated delivery date: 13 Dec 2023 - 15 Dec 2023
Responsible Printing
Our papers are all FSC (Forest Stewardship Council) certified, an environmental label that guarantees the practice of sustainable forestry.

Since 2016, we have been fully offsetting our carbon emissions in order to limit our environmental impact. We also offset the emissions linked to services provided by external suppliers, (if they do not already do so).

We are working hand and hand with our suppliers and partners to make our printing even more responsible!
Your notebook, your way
With 3 elegant colours, 4 inside page templates and a choice of corner types, you can personalise every detail of your notebook to suit your style and to welcome everything from your to-do lists to your doodles. Personalise the cover with anything from your initials to your motivational mantra, knowing that our experts will apply it letter by letter using luxurious foiling that matches your chosen cover perfectly.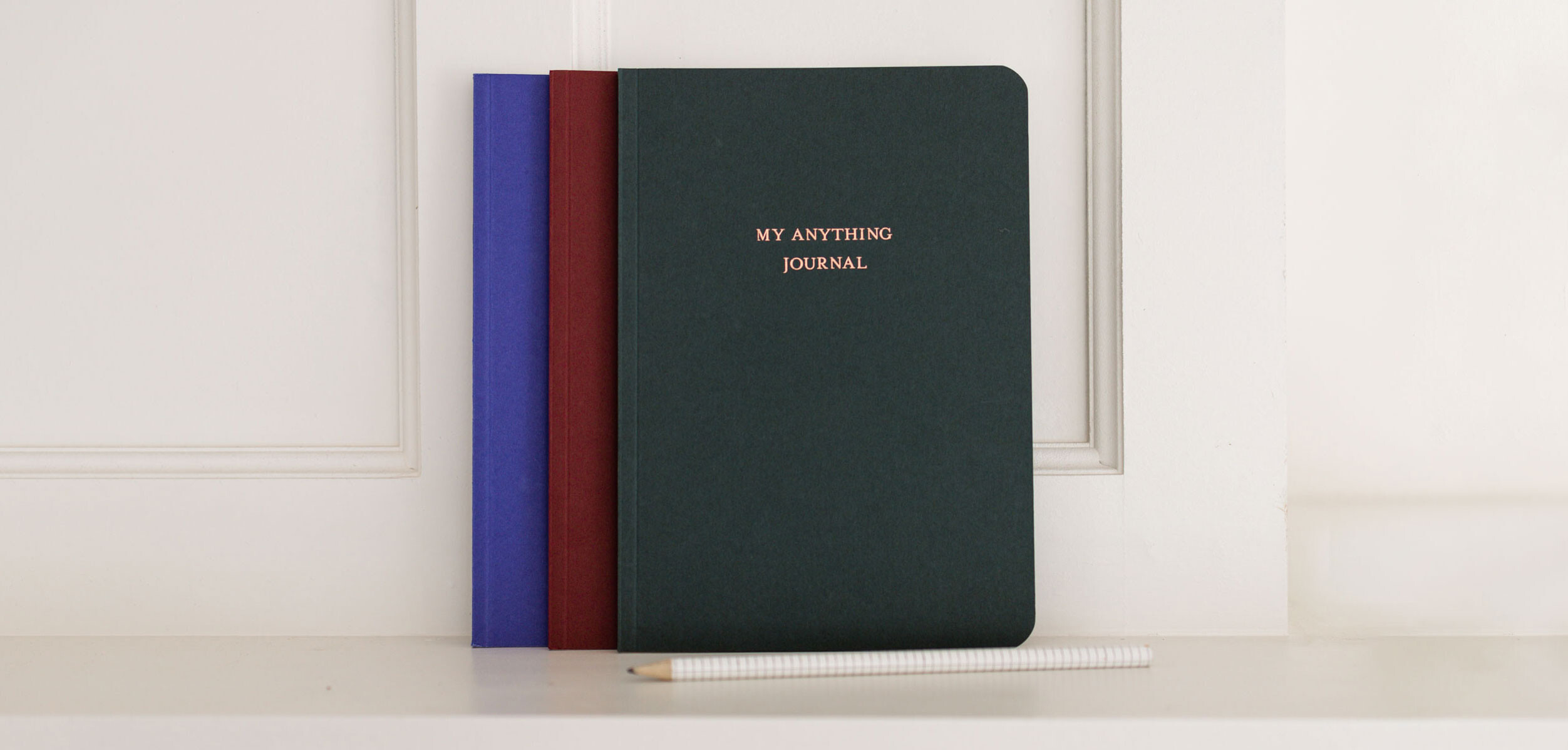 Let your personalised notebook inspire your creativity
Become the designer of your very own softback notebook ready to fill the pages with your greatest ideas, your latest sketches and your biggest dreams. Your personalised notebook will mark the start of a new chapter; the start of a life-changing project, the dawn of a new artistic style or beginning of your greatest idea. Much more than a piece of stationery, your softback foil notebook will allow you to get organised, get creative and to turn your plans and dreams into reality.
Discover our entire notebook collection
Luxury foiling for your softback notebooks
Our exquisite hot foil stamping turns these personalised notebooks into works of art worthy of your greatest ideas, your favourite sketches and your biggest dreams. Our design team has carefully chosen foiling to complement our coloured notebooks and this will be applied to your personalised title by our very own experts. It is these same printing experts who will bind together your choice of inner pages using traditional sewn binding and finish them off to perfection. You can even choose from square or rounded corners to add a final unique stamp to your personalised notebook to ensure that it fits your style perfectly. We also offer the same hot foil stamping on our fabric hardback notebooks.
Personalise your notebook cover online
Personalise every aspect of your softback notebook online down to the square or rounded corners. Choose from our range of coloured fabrics before adding your personalised title using our editing tool. Make sure that your notebook will not fall into the wrong hands by adding your name or initials, or get creative with your foiled title. Add an inspirational phrase to get your creative juices flowing when you next sit down to sketch or a quote from your favourite author to inspire your latest poem or chapter. Your text will be checked by our proofreaders and our graphic designers will optimise the layout of your title to ensure that your foil notebooks are absolutely perfect.
Treat your loved ones to stunning foil notebooks
Our notebooks are a perfect blend of practicality and style, so these foil softback notebooks make beautiful gifts for friends and family, no matter their style or their interests. Your jetsetting sister is sure to turn hers into a travel journal to record her last trip, your artistic auntie will adore filling the pages of her personalised notebook with her sketches and designs and the new parents in your family can use theirs to create a beautiful baby journal. Whether you are looking for birthday or Christmas gift ideas, these foil notebooks are sure to impress your loved one and they will be touched to know that you have taken the time to personalise the softback cover with their name or a personalised title.