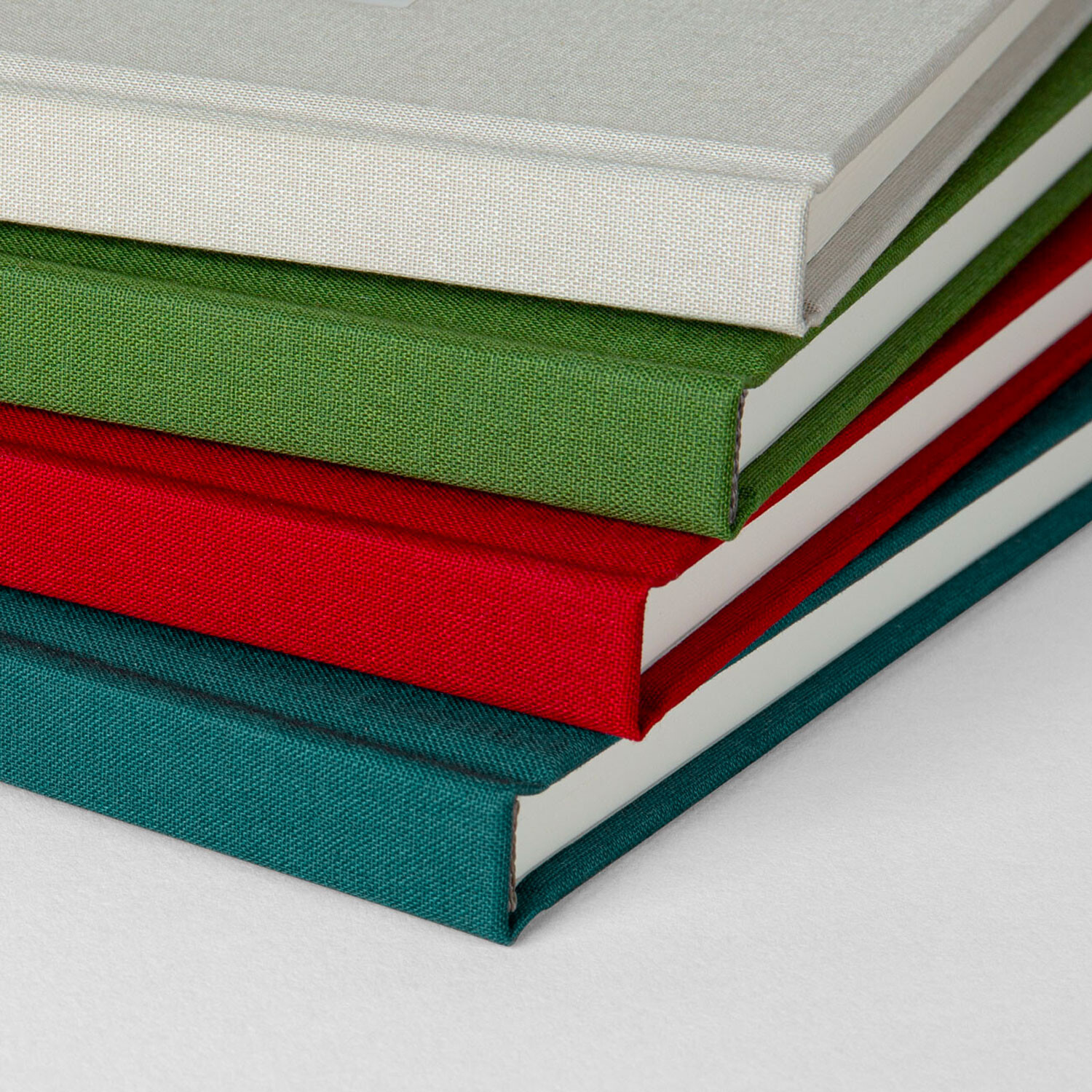 Fabric Hardback Notebooks
Standard delivery: order before 10/12/2023
Your chosen photo will be debossed onto a luxury fabric hardcover to create a unique hardback notebook worthy of your greatest ideas, most exciting plans and most precious memories.
Elegant fabrics
Range of debossed templates
Choice of inside pages
Fabric:
Pearl Grey
- Limited Edition
-
Will soon be unavailable
Product details
Portrait notebook available in 3 colours
A range of debossed designs including photo, text and illustration
Size: 14,8 x 21 cm
142 Pages (71 leaves)
Inside page layouts: lines, squares, dots or blank pages.
White Inner Pages: 100 gsm
Show more
Show less
Shipping
Optimisation & Retouching: 1 day(s)
Production & Dispatch: 4 day(s)
Standard Delivery: 3 to 5 days
Estimated delivery date: 13 Dec 2023 - 15 Dec 2023
Responsible Printing
Our papers are all FSC (Forest Stewardship Council) certified, an environmental label that guarantees the practice of sustainable forestry.

Since 2016, we have been fully offsetting our carbon emissions in order to limit our environmental impact. We also offset the emissions linked to services provided by external suppliers, (if they do not already do so).

We are working hand and hand with our suppliers and partners to make our printing even more responsible!
Exclusive debossed cover designs
From photo templates to illustrations, choose from 20 elegant templates for the debossed window to create a truly unique notebook. From daily planners to travel journals, a simple change of photo can transform our notebooks for any of your writing and drawing needs.
Premium fabric covers
We have hunted high and low to find fabrics of the highest quality to create luxury notebooks guaranteed to last! Our designers carefully selected three timeless colours to allow you to personalise hardback notebooks that suit your style and look great on your desk!
Finished to perfection
It is the little details that make all the difference when it comes to these luxury notebooks. From our traditional sewn binding to our elegant inside cover pages, our printing experts go above and beyond to ensure that every aspect of your notebook is absolutely perfect.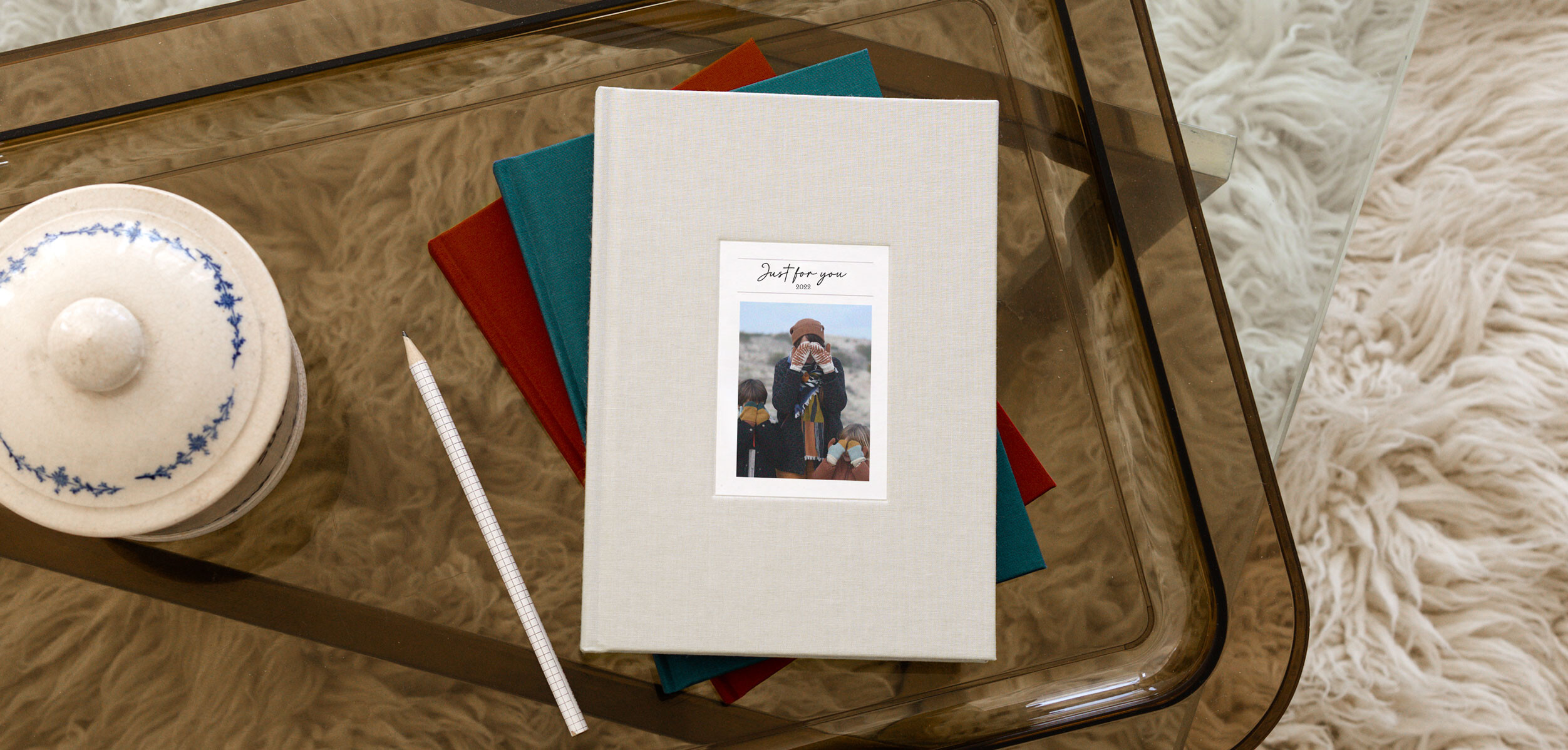 An unbeatable finish for your hardback notebook
Every detail of these fabric hardback notebooks has been planned and perfected by our very own design team to bring you stylish stationery that will inspire your creativity, make planning a pleasure and help you realise your dreams. We have hunted high and low to find fabric and paper of unbeatable quality, and have worked with our printing experts to master our traditional sewn binding and embossing techniques to finish your notebook to perfection. More than just the recipe for an organised life at work or the keeper of your secrets, these fabric notebooks will become the latest addition to your décor, taking pride of place on your desk, coffee table or bedside table!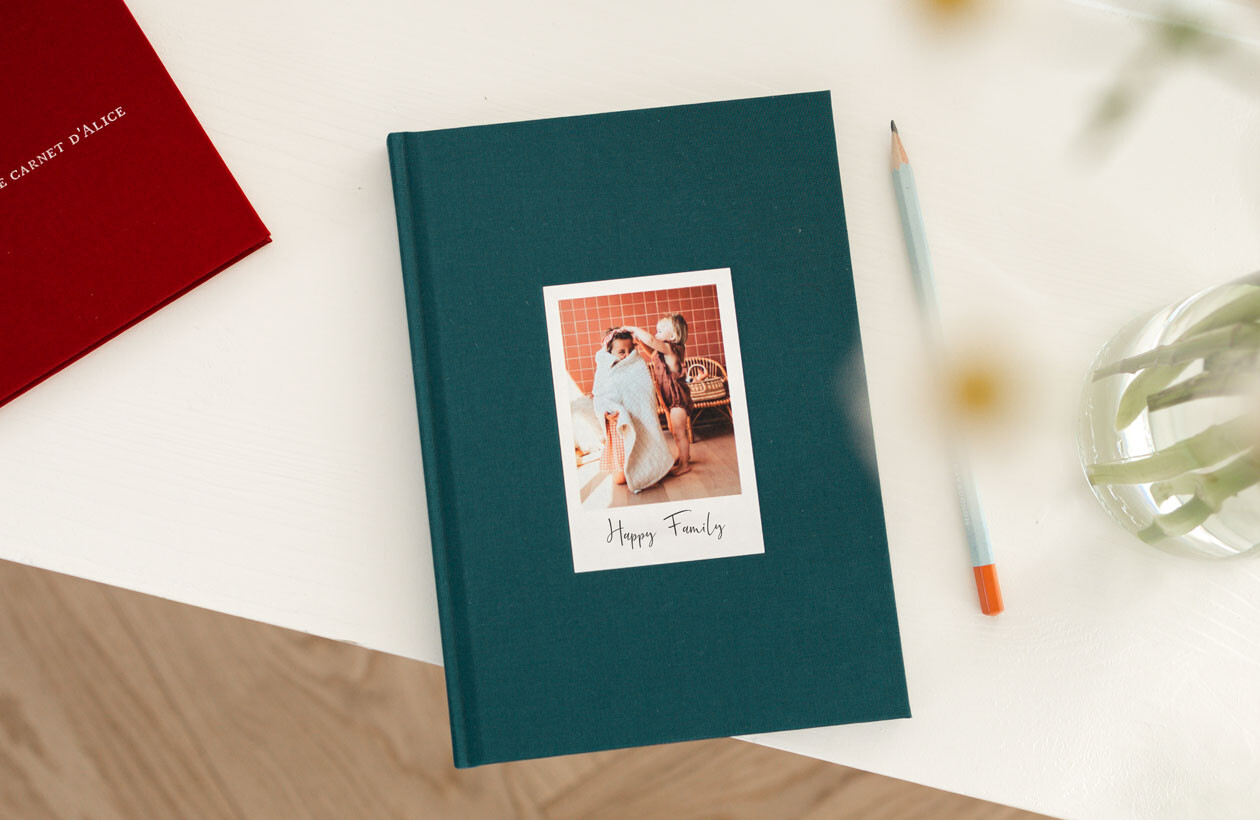 Discover our entire notebook collection
Hardback journals like no other
With our hardback photo notebooks, you can be 100% sure that no one else in the office will have the same notebook as you! All of our fabric hardback notebooks can be personalised online with ease and are handcrafted to order so place your unique stamp on the latest addition to your stationery collection. Add a family photo to take your loved ones with you wherever you go or turn your notebook into a souvenir from your last trip by opting for a holiday photo on the cover of your travel journal! Get inspired as you design your very own photo notebook and get ready to be wowed by the quality when it arrives!
Creating photo notebooks online
Personalise your notebook online within minutes thanks to our online editing tool. Choose from our range of coloured fabrics to suit your style and then start thinking about what you would like to add as a title to your new notebook, journal or diary. Replace our default text with the wording of your choice, keeping things simple by adding your name or opt for an inspiring title or quote that will keep you motivated at your next meeting. You can then upload your favourite photo to the embossed panel, before choosing from our range of inside pages. We offer lines, squares, dots and blank pages so we are sure to have your writing or drawing needs covered!
No better gift than a personalised hardback notebook
A notebook offers a world of possibilities when it comes to making plans, collating ideas, inspiring creativity or quite simply getting organised. This is why personalised notebooks make great gift ideas for the entire family. Add a photo of the kids to keep Mum going at work every time she reaches for her daily to-do list or add a photo of Grandma to create a notebook that she can fill with her secret recipes.