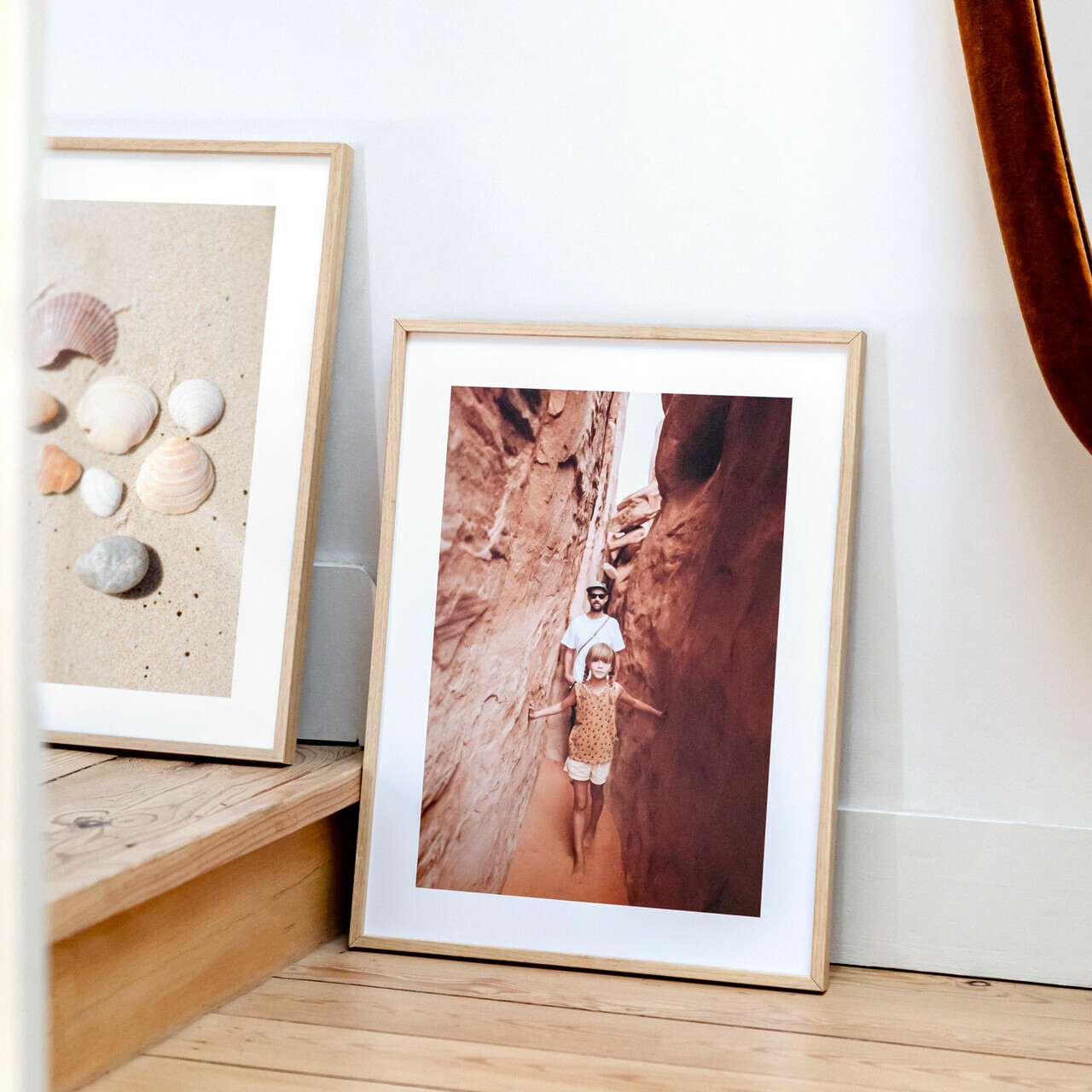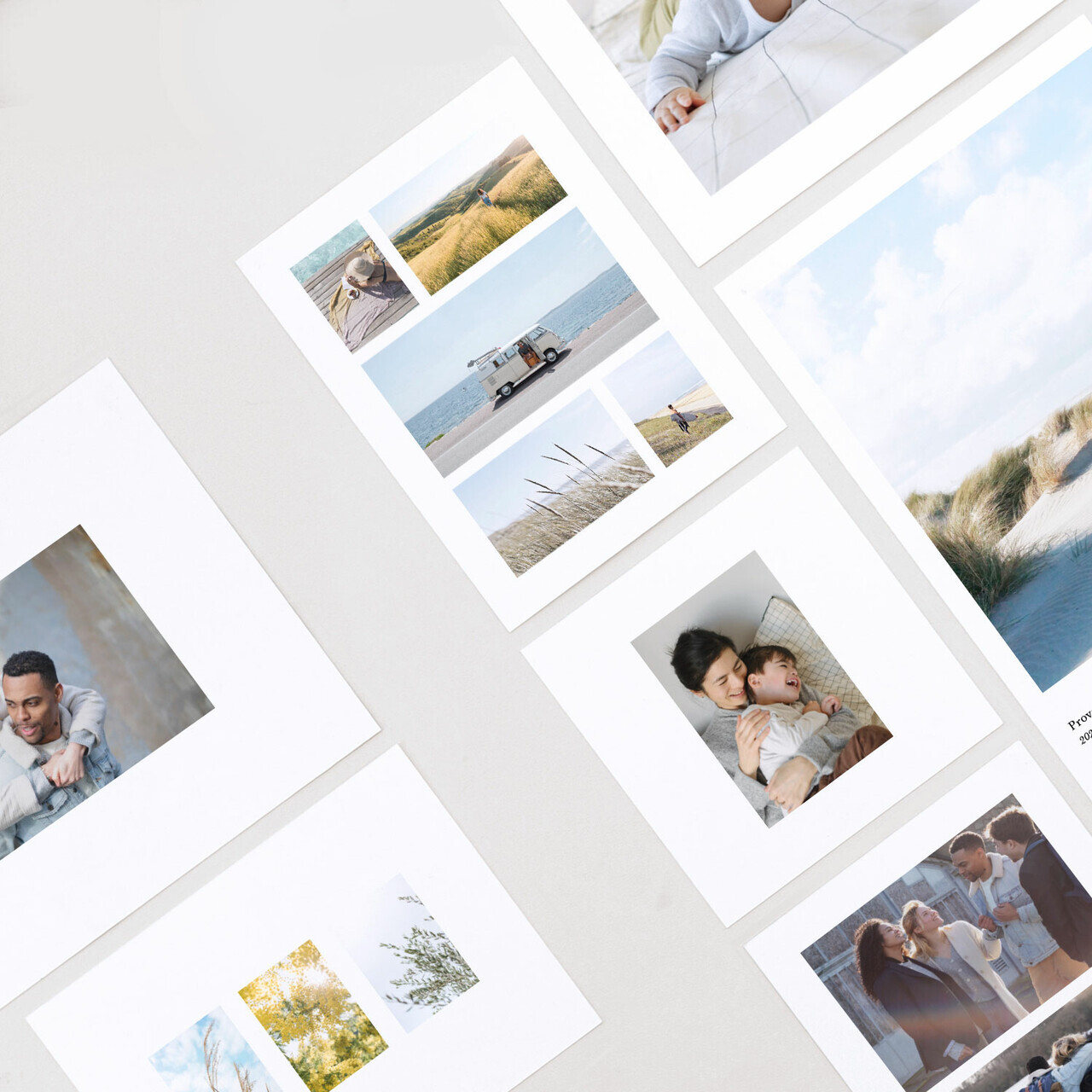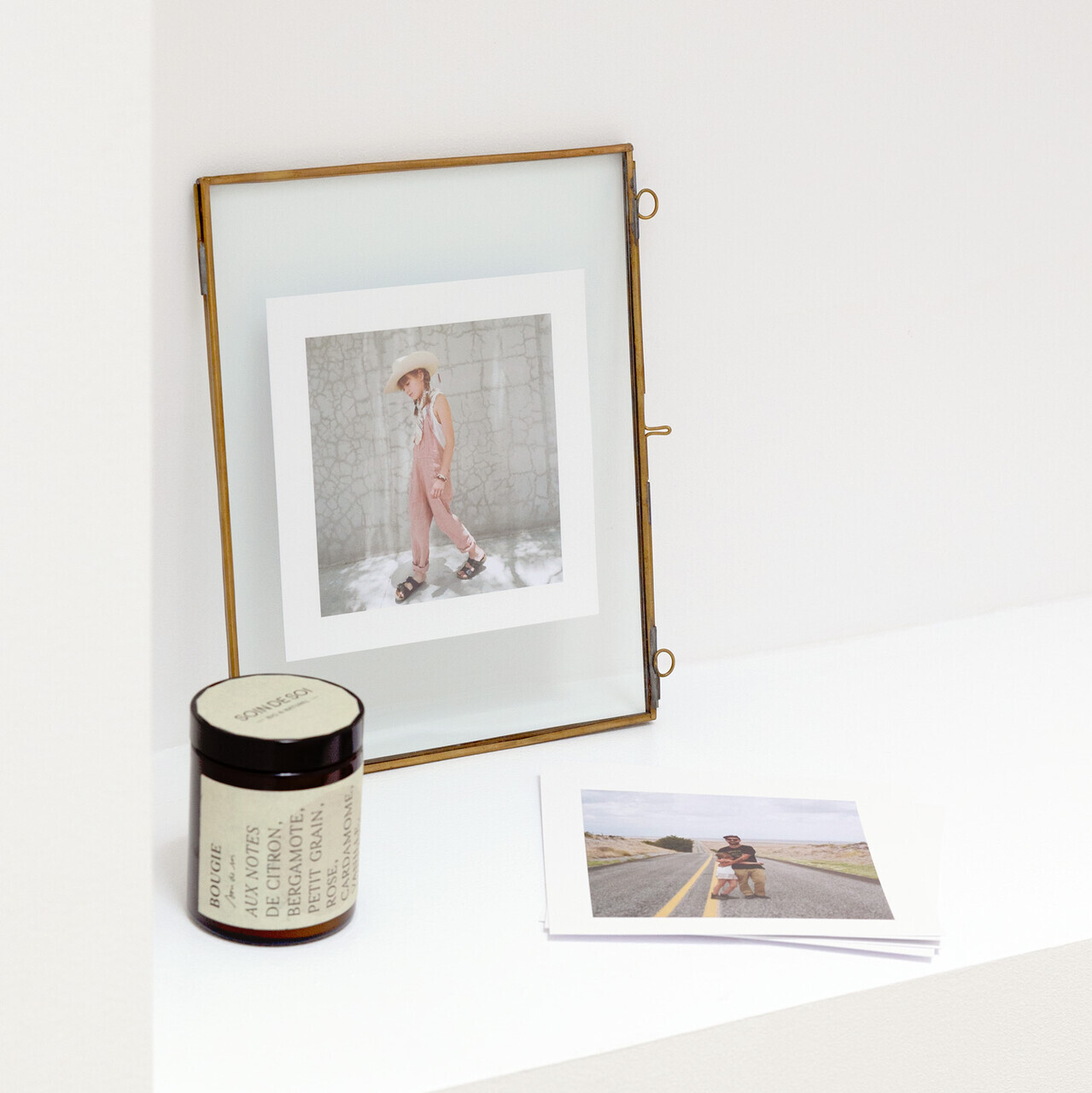 Standard delivery: order before 12/12/2023
With a choice of formats and templates, create personalised photo prints on satin or matte paper to show off your favourite memories with pride and reinvent your space with ease!
Choice of 2 photo papers: matte white (300 gsm) or satin (260 gsm)
5-colour printing for an unbeatable print quality
Product details
10 sizes and 3 formats available
Range of layouts including text options
Add up to 9 photos per print
Opt for Satin Photo Paper (260 gsm) for a mildly glossy finish
Choose Matte Photo Paper (300gsm) for a natural photo finish
5-colour printing to guarantee beautiful colour representation
Suitable for multiple photo formats including panoramic
Please note our satin photo prints are best framed
Show more
Show less
Shipping
Optimisation & Retouching: 1 day(s)
Production & Dispatch: 3 day(s)
Standard Delivery: 3 to 5 days
Estimated delivery date: 12 Dec 2023 - 14 Dec 2023
Responsible Printing
Our papers are all FSC (Forest Stewardship Council) certified, an environmental label that guarantees the practice of sustainable forestry.

Since 2016, we have been fully offsetting our carbon emissions in order to limit our environmental impact. We also offset the emissions linked to services provided by external suppliers, (if they do not already do so).

We are working hand and hand with our suppliers and partners to make our printing even more responsible!
Premium photo paper
Our printing experts have carefully selected two paper types of the highest quality to offer you a choice of stunning finishes to create prints that suit your style and space. Choose our satin paper for a mild glossy finish or opt for our versatile matte paper.
Your photos, your way!
With three formats and over 30 templates to choose from you can create prints adapted to all of your favourite photos. From photo collages to templates with text, you are sure to find a print design for moments, big or small.
Picture perfect prints
In our very atelier, we print our premium photo prints using 5 colour printing, which guarantees vibrant colours and net finishes to allow you to show off your most precious moments in their full glory.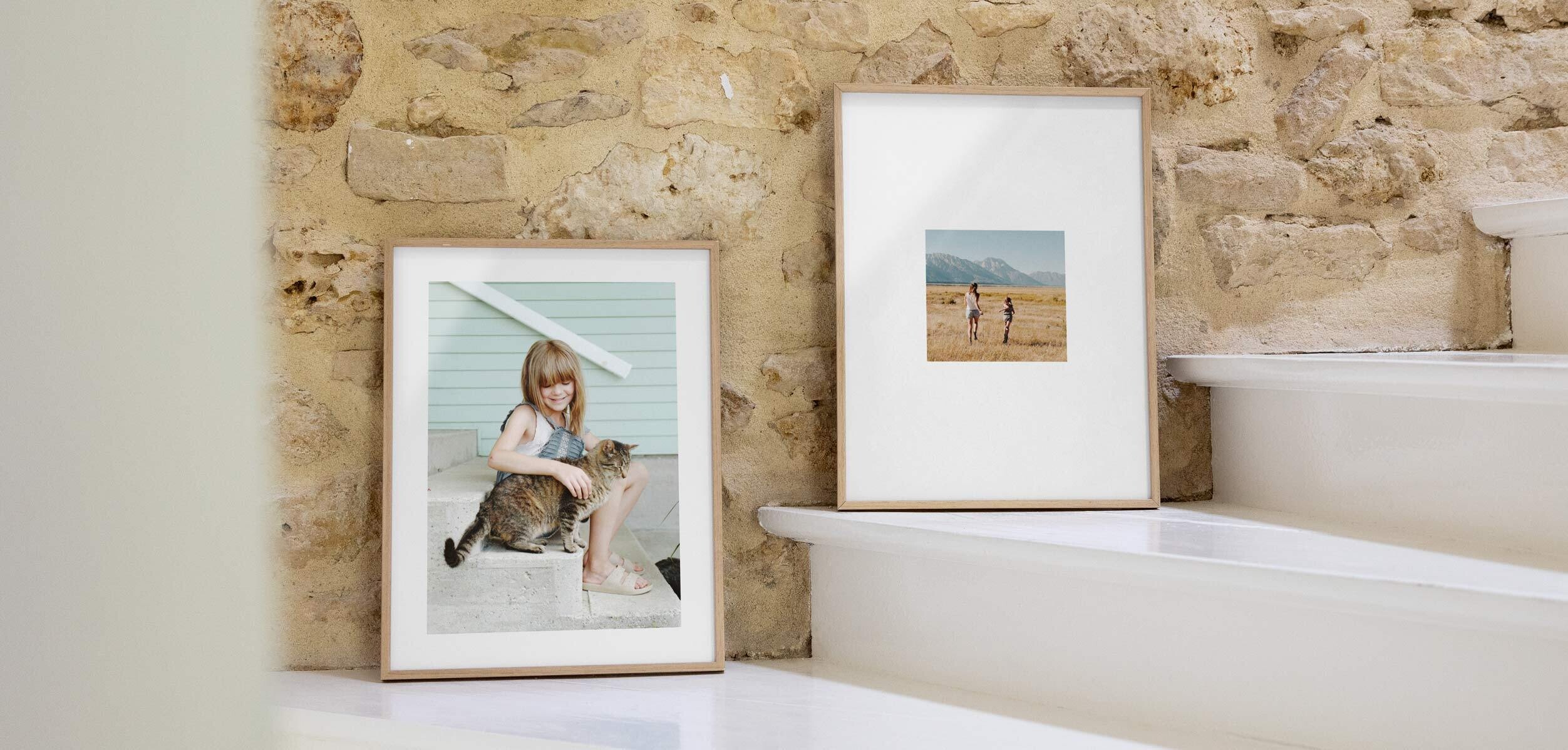 Photo prints for moments big or small
You don't need to be a professional photographer to print breathtaking photos worthy of your wall. Surround yourself with your favourite memories using our smaller prints to create a display documenting your latest adventures or our large format prints for those extra special moments that deserve their spot in the limelight. Whilst every print looks great in a frame, there are endless ways to display our matte photo prints without putting them behind glass so create a display that suits your style and space!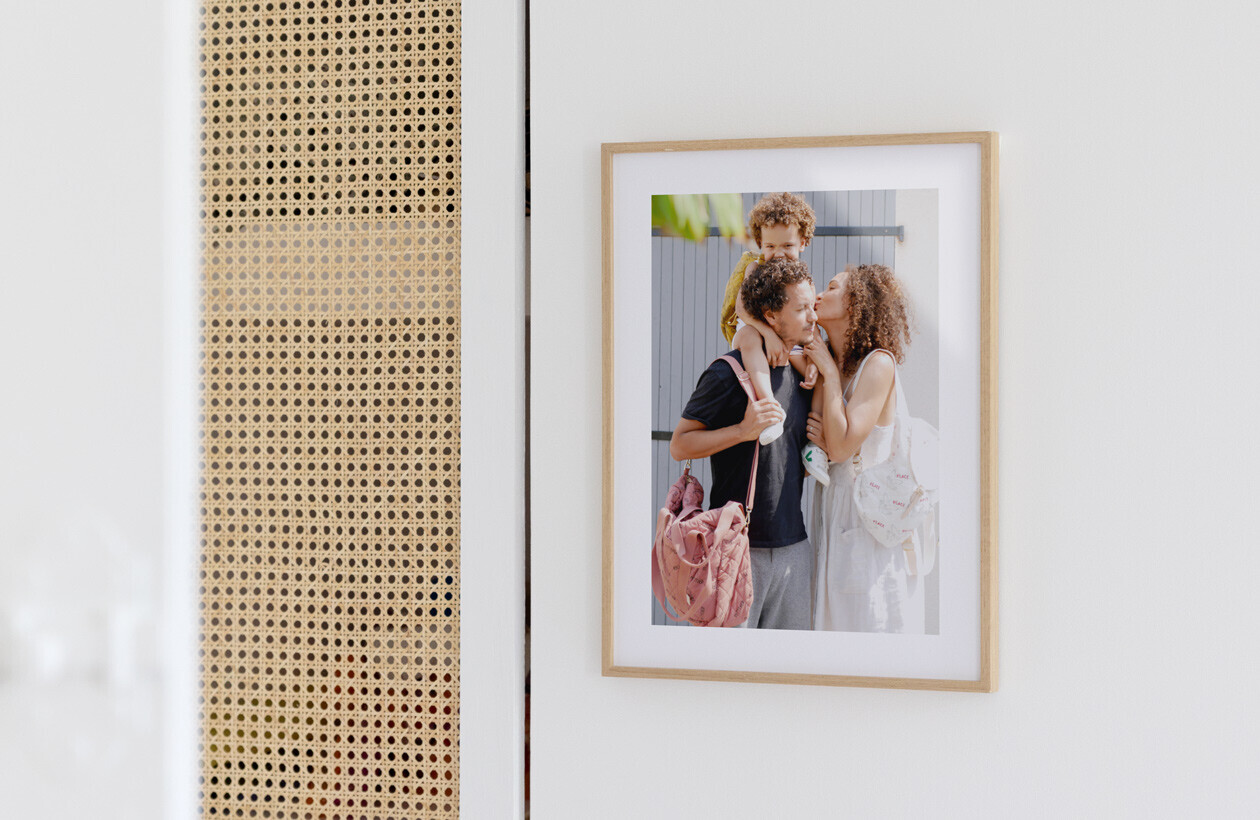 Discover our premium thick photo prints
Bringing you the prints you and your photos deserve
After creating a new generation of photo books just for you, we were determined to stay at the forefront of innovation and set out to design high-quality photo prints that are easy to create and easy to display! Our teams have poured every ounce of their printing know-how and their passion for paper into our collection of premium photo prints! By offering a wide range of templates, you can get creative with your favourite memories and print photos from your digital camera or your smartphone to turn your shelves and walls into your very own gallery!
Premium photo paper carefully selected just for you
Ivann, the director of our printing studio has carefully selected two premium paper types, which offer two stunning finishes for your photos! The mild glossy finish of our satin photo paper accentuates the colours of your photo, giving a vivid contrast ideal for professional photography. Meanwhile, our extremely versatile matte photo paper is suitable for all types of photography and offers endless possibilities when it comes to displaying your favourite snaps. Please note that our satin photo prints are particularly delicate so are best displayed in frames.
Photo enlargements in minutes
Liven up your interior with photos from your latest getaway or of memorable moments spent with your family and friends. Turn your photo prints into elegant works of art, slipping them into a frame or creating a decorative display that you can update on a regular basis. Here at Rosemood, we have made it easy for you to print your photos online in just a few clicks via our intuitive editing tool. Upload photos from your camera or phone and then choose a format, template and paper type. If you need any help choosing the templates most adapted to your photos or the best finishing touches for your photo enlargements, do not hesitate to get in touch as our customer service team is here to help every step of the way when it comes to creating your large photo prints.
Digital photo printing of unbeatable quality
Once you have designed your photo prints online, we will work our magic! Your large photo prints will be printed at our very own studio here in Nantes, France, where our printing experts go above and beyond to ensure that your photo prints will be absolutely perfect. We take extra care to ensure that the print quality of your photos is second to none, guaranteeing an elegant and timeless finish. We have carefully selected the printing techniques and paper types required to guarantee intense colour representation, fine contrast and an impeccable finish that will withstand the test of time and the resultant exposure to light. We are proud to print your favourite memories and hope that you will be just as proud to show off our handiwork!
A choice of premium papers for your photo prints
We have hunted high and low to find the perfect photo papers to make sure that your favourite memories can be shown off in their glory! Our two photo papers look as good as they feel and guarantee a printed photo that stays true to how it looks on the screen of your camera! These high-quality photo papers will give you photo prints of unbeatable quality, allowing you to display your favourite moments for a lifetime. Choose from our mild glossy or matte finishes, depending on whether you are looking for photos to create a trendy display or to slip straight into a frame. You may also wish to check out our premium thick photo prints to create personalised wall art that you need simply to stand up against the wall on your shelves or mantlepiece.
Get creative with our range of templates and formats for your enlargements
Finding the best size when printing your photos online is not always easy, which is why we have come up with a range of templates that allow you to get creative with single or multiple photos. Each format offers new possibilities for decorating your interior so we have you covered for every occasion! From standard formats for a wall collage of your favourite moments from your recent family adventures to large photo prints that offer an elegant alternative to a poster, you can choose between a range of sizes to display your favourite photos. Each format comes with a choice of templates, some even offering you the chance to add text. All of the formats include the option to respect the original ratio of your photos taken on a professional camera or your smartphone to ensure that your large photo prints stay true to your original images. Our gallery of templates allows you to add up to 9 photos on the same print so get creative!