Our story... almost 10 years together
How did we make it this far?
A bumpy start...
2006: Grégoire has a light-bulb moment but keeps his brilliant idea a secret so that no one else can pinch it.
2007: Grégoire finally shares his brilliant idea with Antoine. It is "love at first hearing" with Antoine becoming Gregoire's business associate to help get his brilliant idea off the ground.
2008: After fine-tuning this idea together, they officially launch a website dedicated to virtual invitations and cards.
2009: Their business idea is so brilliant that their newly launched website is a complete failure :)
So they found themselves asking what to do now?
Give up, because they're penniless, or try out a different venture...
You guessed right. They opted for the latter option.
Hélène joins the Founding Duo and together, they launch a new website, this time focused solely on printed personalised stationery.
A second chance...
Three web developers join the team to help create this new website, all three named "Guillaume". #whatacoincidence
Today our three "Gui-Geeks" are still with us, constantly improving our website and our applications!
Three was Rosemood's lucky number, three founders, three developers and three initial designers. The fantastic Tomoë, Marion Bizet and Marguerite Courtieu arrive to create the very first collection of baby announcement cards, with these talented designers still helping us created a range of stationery today!
May 2010: Fairepartnaissance.fr goes live on 19th May 2010, featuring elegant and modern baby announcement cards for the French market. Hélène, Antoine and Grégoire were excited to launch the website that they would have loved to see when they were looking for baby announcement cards for their own children! The team was super proud to have everything up and running and nervously awaited the first orders!
Ready, steady, go!
Summer/Autumn 2010: The site starts to take off and the first orders are in! The team could not be more thrilled. This was the start of our hallmark proofreading and photo retouching service, initiated by our very first interns and apprentices!
Whilst the team was based in Paris, the printing of our beautiful cards was done in Nice. Our first customers had to be a little patient as in the humble beginnings, we could only print cards twice a week!
Early 2011: Rosemood started to grow rapidly so Hélène, Antoine and Grégoire start to wonder whether it was time to stop living the Parisian dream
and set up shop elsewhere in France 🌴 ⛵ 🌊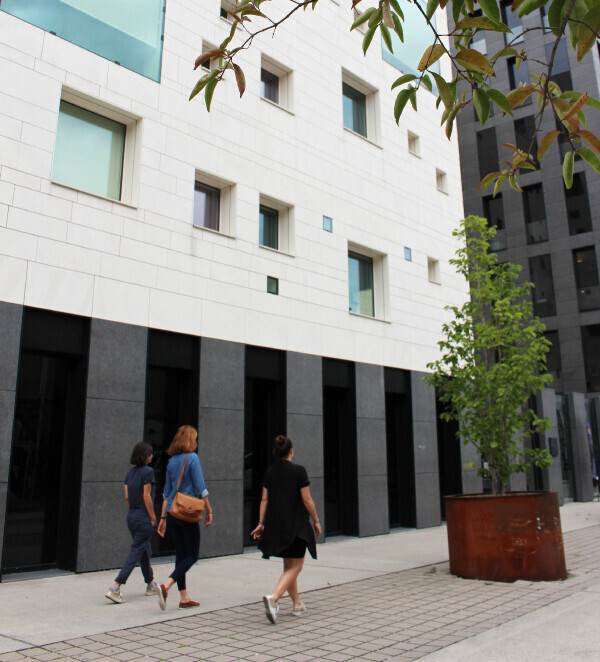 Let the printing begin!
2011: The team is full steam ahead and branches out into wedding stationery too. By the end of the year, the hard work was paying off, as the turnover reached 1 million euros!
By this point, the team had grown to 15 people, 8 of whom decided to carry on the Rosemood adventure when the company left Paris for Nantes, home of our current HQ and printing atelier.
2012: The success story continues as Rosemood's revenue is now over 3 million euros.
To help grow the business, more people are recruited to join the team and to continue spoiling our customers!
It was also at this point that we decided to make the big leap of faith in opting to print everything internally! By spring 2013, we had found the perfect printing studio, had all our machines set up and our Printing Director Ivann started running tests! Life could not be better!
2013: Meanwhile, with demand higher than ever for our stationery, it was time to get a few new designers on board! Mr and Mrs Clynk were also based in Nantes, so a quick visit to our offices and printing studio, (along with a plethora of mini cakes), had them join the ranks.
July 2013: We started printing everything internally!
Let's drink to that, cheers.
Ich bin ein Berliner
December 2013: We decide to explore new waters by launching in Germany! So we set up "geburtskarten.com" which means baby announcement cards in German, just as fairepartdenaissance.fr means baby announcements in French!
2014: The company continues to grow with now over 50 team members and another two wonderful designers on board; Petite Alma and My Lovely Thing.
2015: To celebrate our successes and our 5th birthday, the whole team headed off to Ile d'Yeu. Everyone had such a great time, that we decided that it should be an annual event and Rosemood Camp was born!
One Heart, One Rosemood
May 2016: After 18 months of work, redesigning our website and thinking about our brand image, we now had 3 websites: fairepartnaissance.fr (solely for baby stationery), rosemood.fr to cater to everything wedding and rosemood.de (which took over geburtskarten.com) for our German market. How the name Rosemood came into being is a story for another day...
December 2016: Our first foil stamped products make an entrance, red carpet style, onto our websites after 2 years of planning. Hurrah!
January 2017: To harmonise everything and to make things easier for our French clients, we decide to keep rosemood.fr as our sole French website for all our products so a new brand is born!
Everything became much clearer for the client and for us: one heart, one soul, one Rosemood.
We cross the channel, the UK here we come!
June 2017: The long-awaited Rosemood UK was launched and the British public is delighted. The Rosemood team may have grown from 3 people to 3 countries but we remain a tight-knit community!
March 2018: First exciting milestone of the year: Rosemood now had over 100 people busily crafting beautiful stationery for our customers.
A new chapter: Photo Books
May 2018: After months of preparation, our high-end Italian fabric photo albums finally saw the light of day and were quickly added onto our French website.
September 2018: So that our German and UK customers didn't miss out, we happily made our photo books available to them too in September once we put together the finishing touches.
November 2018: It took several years to create our Facebook page but it took us even longer to understand the mobile world and its complexities. Thanks to our tech and design wizards Bastien and Eloïse, we were finally able to develop a super-speedy iOs app for our photo books, with an Android app to follow.
Christmas 2018: The Christmas period turned out to be an adventure, to say the least, and was a learning experience for us all, being the first time that Atelier Rosemood had so many photo book orders in such a short space of time!
What next?
January 2019: There was no better way to begin the year than organising a high-end wedding giveaway (Toss The Bouquet) with a prize package worth over £4,000. Our brides and grooms-to-be could not be more thrilled.
The year went by smoothly, filled with numerous new products hitting the scene: our modern printed hardcover photo albums, personalised wedding and baby stickers, a luxury foil-pressed photo calendar, our delicate vellum wedding catalogue, a beautiful Rosemood gift card and more...
2020, we look forward to what you have in store for us. Our projects and marketing teams are already working on our latest products and designs so keep your eyes peeled for exciting news coming your way soon!
Prêts, Fertig, ready...?