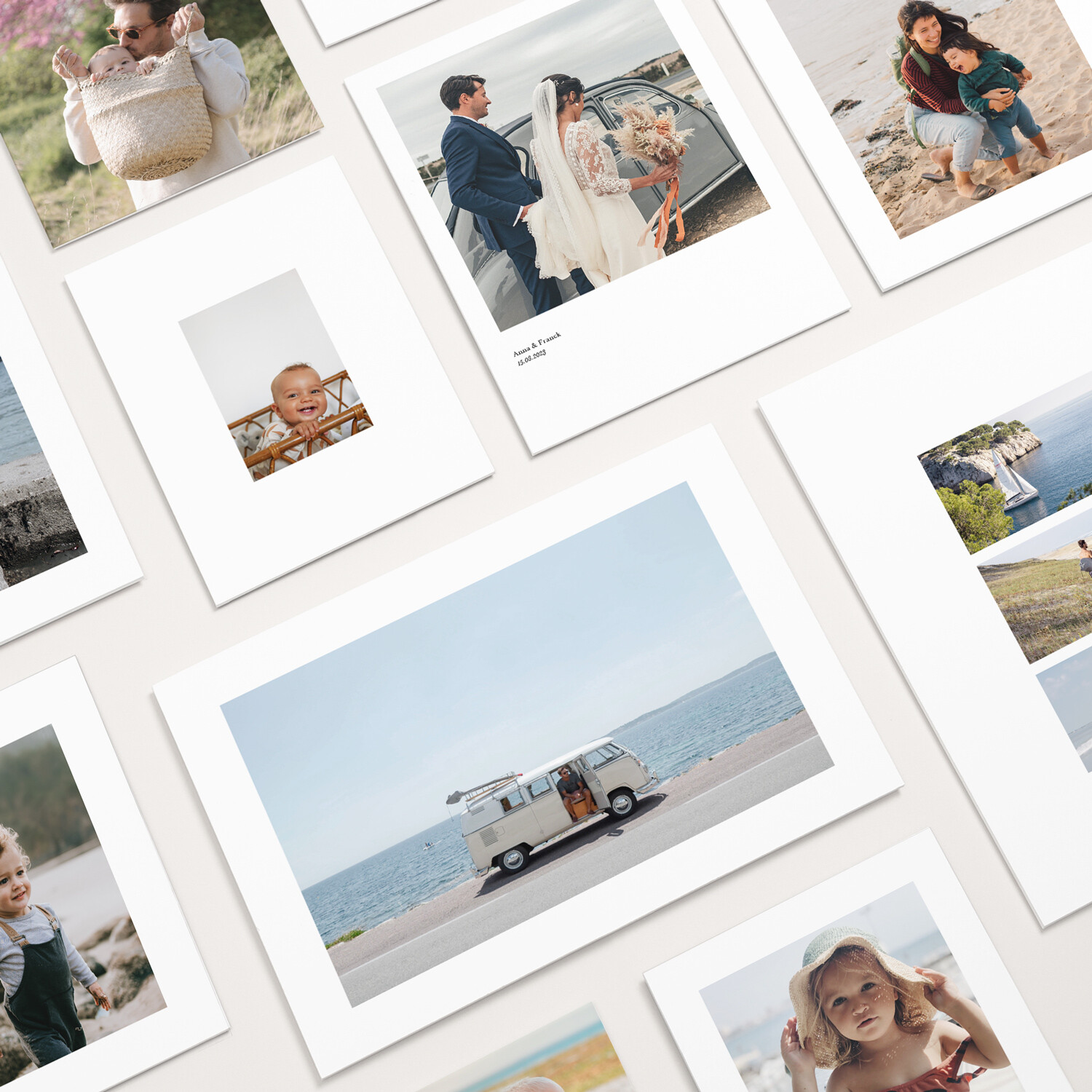 Premium Thick Photo Prints
Standard delivery: order before 12/12/2023
Livening up your space doesn't have to involve DIY and holes in the wall! Simply stand up one of our premium thick photo prints to update your décor.
Stand up against a wall or object
Premium matte photo paper
Mounted onto an archival-quality card insert
Product details
No need for a frame: can be leaned against a wall or object
10 formats available with a range of templates
Add up to 9 photos per print
Premium matte photo paper mounted onto archival-quality card
5-colour printing to guarantee beautiful colour representation
Artisanal craftsmanship: this product is fragile and sensitive to its environment. Avoid exposing it to a direct heat source
Show more
Show less
Shipping
Optimisation & Retouching: 1 day(s)
Production & Dispatch: 4 day(s)
Standard Delivery: 3 to 5 days
Estimated delivery date: 13 Dec 2023 - 15 Dec 2023
Responsible Printing
Our papers are all FSC (Forest Stewardship Council) certified, an environmental label that guarantees the practice of sustainable forestry.

Since 2016, we have been fully offsetting our carbon emissions in order to limit our environmental impact. We also offset the emissions linked to services provided by external suppliers, (if they do not already do so).

We are working hand and hand with our suppliers and partners to make our printing even more responsible!
Exclusive to Rosemood. Designed for your decor.
Displaying your favourite photos could not be easier thanks to our exclusive thick photo prints. These extra thick prints are designed to stand up against a wall or object in your home to create a unique addition to your space. Unrivalled printing and paper quality offers you the chance to create personalised photo prints like no other, with a wide range of templates not available anywhere else!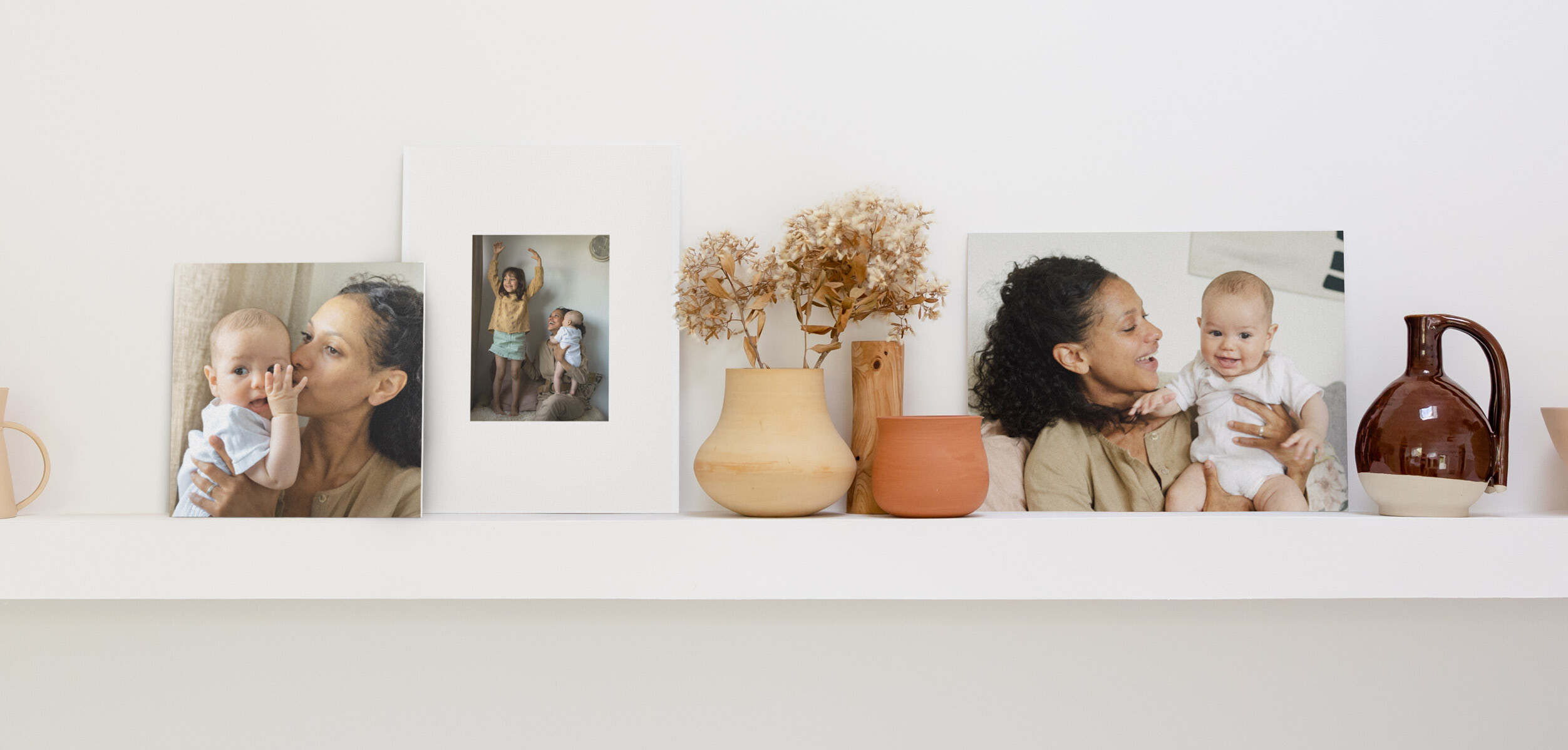 Photo prints that stand up as well as out!
Displaying your photos couldn't be easier thanks to our double-thickness photo prints. No need for a frame or even picture hooks, all you have to do is pose this extra-thick photo print on your shelf, leaning it up against the wall. With a variety of formats to choose from, you can curate your very own collection to create a striking display. A simple change of print will breathe a new lease of life into your space and will not go unnoticed by anyone visiting your home.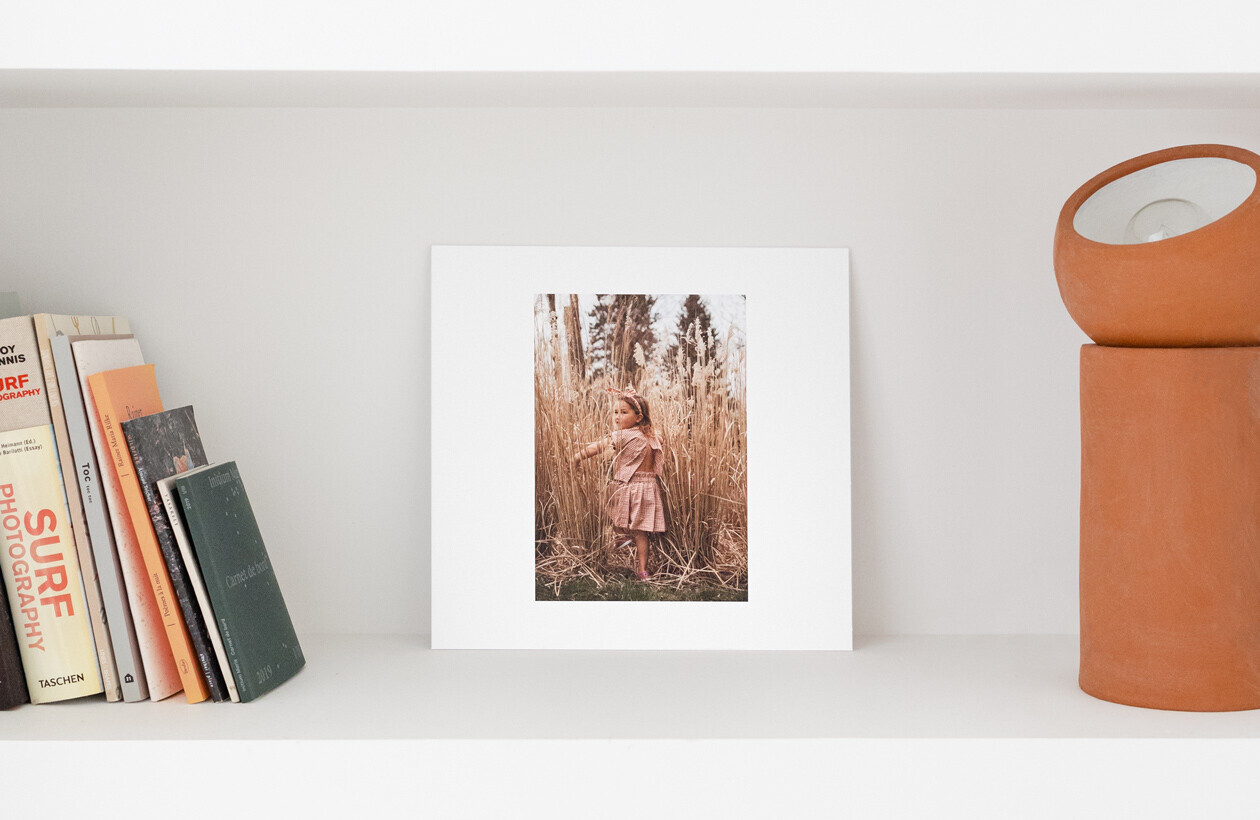 Discover our premium photo prints
How do we create your premium thick photo prints?
"We use an artisanal laminating and layering technique that unites impeccable printing quality with meticulous production. We start by printing your photos on our premium matte photo paper. Our printing experts will then affix this high-quality photo print to a rigid paper base, similar to that used in art galleries and museums. This traditional technique allows us to create an extra-thick print that turns your photo into a decorative item to stand directly on your shelves! Our double-thickness prints are a work of art worthy of pride of place in your home"
Avril, Head of Product Innovation
A range of formats for your wall art prints
Whether taking photos with a professional camera or your smartphone, this laminating or layering technique allows for an exceptional finish for all of your photos. Choose between our landscape, portrait or square photo print sizes and formats to suit the format of your favourite photos, ready to turn them into a work of art. Often used for photo competitions or exhibitions, these thick photo prints are particularly resistant and can be stood up against a wall or an object without the need for a frame. This will also allow you to add a touch of elegance and style to your wall art at home without having to embark on a DIY project! We do all the hard work so that you can simply enjoy your photo prints!
Carefully selected premium photo paper for your prints
These double-thickness photo prints are a true alternative to framed prints and allow you to show off your favourite travel, wedding or family photos in their full glory. Your elegant photo prints will be printed at our very own studio in Nantes, France, where our teams go above and beyond to make sure that you will be just as proud to display your wall art prints as we are to produce them. Your photo will be printed on our premium matte paper before being pressed together onto a high-quality card insert to create an extra thick photo print, that can be propped up against the wall or a decorative object.
Premium photo prints are a great gift idea
As well as treating yourself to a new addition to your décor, spoil friends and family with stunning photo prints of precious moments spent together. From holiday photos to wedding photo prints, our double-thickness photo prints are the perfect way to show off your favourite moments big or small. No need to search for a frame to fit their photo print as these thick photo prints can simply be leaned against the wall when placed on a shelf or propped up against anything from a vase to your pencil pot at work. These premium photo prints make the ideal gift for any occasion from birthdays to Christmas and you can guarantee that your loved ones will be wowed by the unbeatable quality of our paper and printing. For more gift ideas, you may wish to check out our standard premium photo prints ideal for popping into a frame.
Double thickness for double the impact
These double-thickness prints involve printing your photo on premium matte paper that is then pressed onto a strong base, consisting of high-quality card used by galleries in the mounting of pictures. This thick yet light base creates a stable build-in support for your photos allowing you to stand them up on your shelves! This simple, yet effective method turns your everyday prints into a work of art and provides an easy way to refresh your décor. We have designed these double-thickness photo prints from scratch and pour our hearts and soul into the printing of every single one to ensure that your favourite photos get the treatment that they deserve! If you have any questions about our premium thick photo prints, do not hesitate to get in touch with our friendly customer service team!