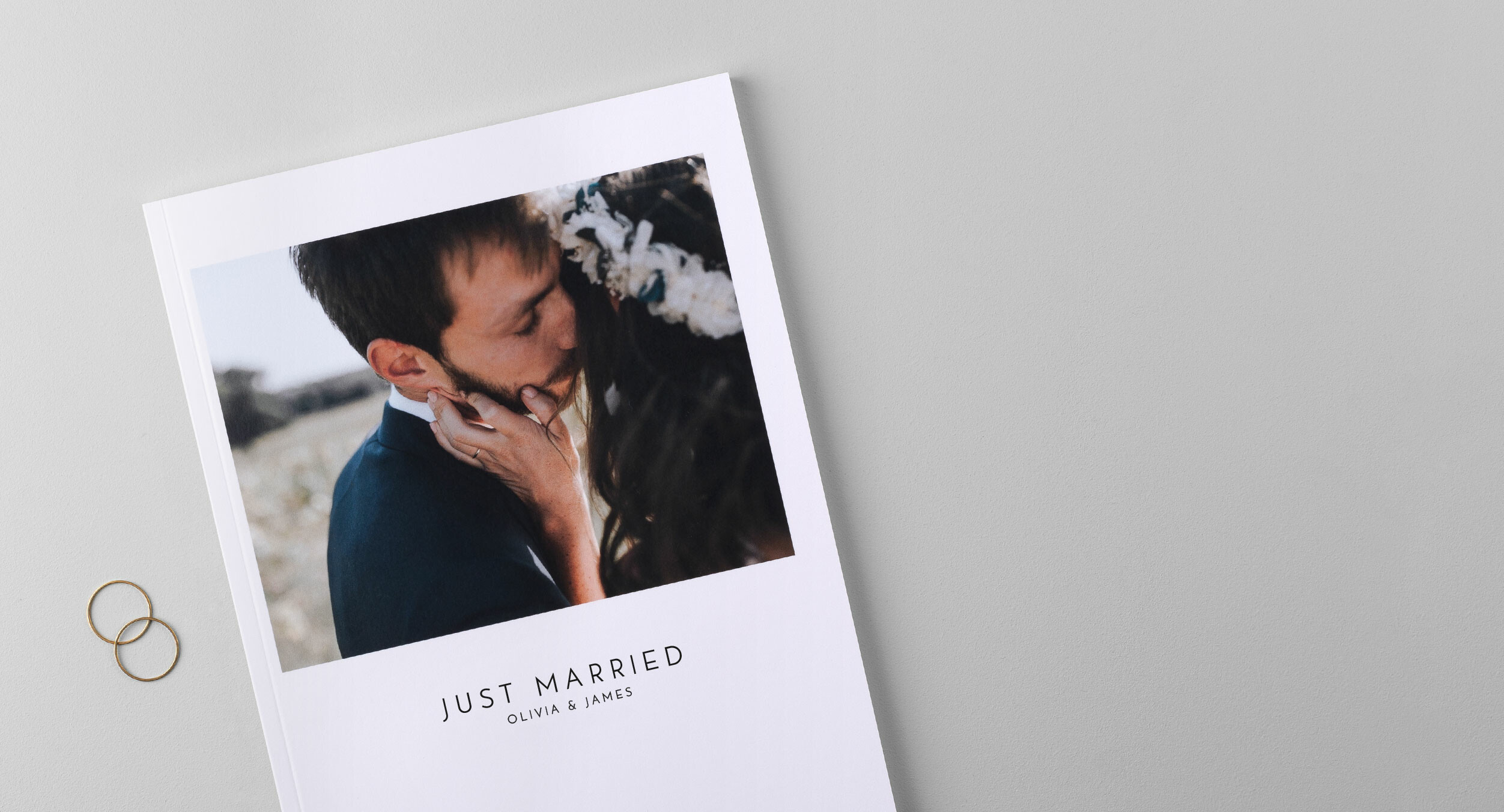 Wedding Photo Albums
Make your wedding day last a lifetime with the help of our elegant wedding photo albums! Gather together your favourite photos of your big day within the covers of our stylish photo albums, designed exclusively for Rosemood. Available in nine different formats you are sure to find wedding photo albums to suit your style.
From £15 including our retouching service
Create a hardcover photo album
Create a softcover photo album
Create your personalised wedding photo album online
Make the perfect wedding photo album online to create a beautiful keepsake from your wedding day. Select one of our exclusive photo album cover designs to enclose your favourite photos, whether they be from your professional photographer or one of your wedding guests. Simply choose your size and format, before entering into our photo book maker to start putting together your unique photo album. You can personalise the layout of every page and can add more pages as required. Add captions or titles to the pages of your wedding photo album to narrate the day from your ceremony to your evening reception. Creating the perfect wedding photo album can take time, as you debate about which photos to include, so take as much time as you need, saving your progress as you go. Simply log back into your account and access your drafts to come back to finish your photo album when you have time. Once you are happy with your photos and the layout of your wedding photo albums you can choose from our high-quality paper types, and then let us work our magic! Our graphic designers will check the quality of your cover image and all other photos will pass through our automatic retouching service to make sure that they are absolutely perfect!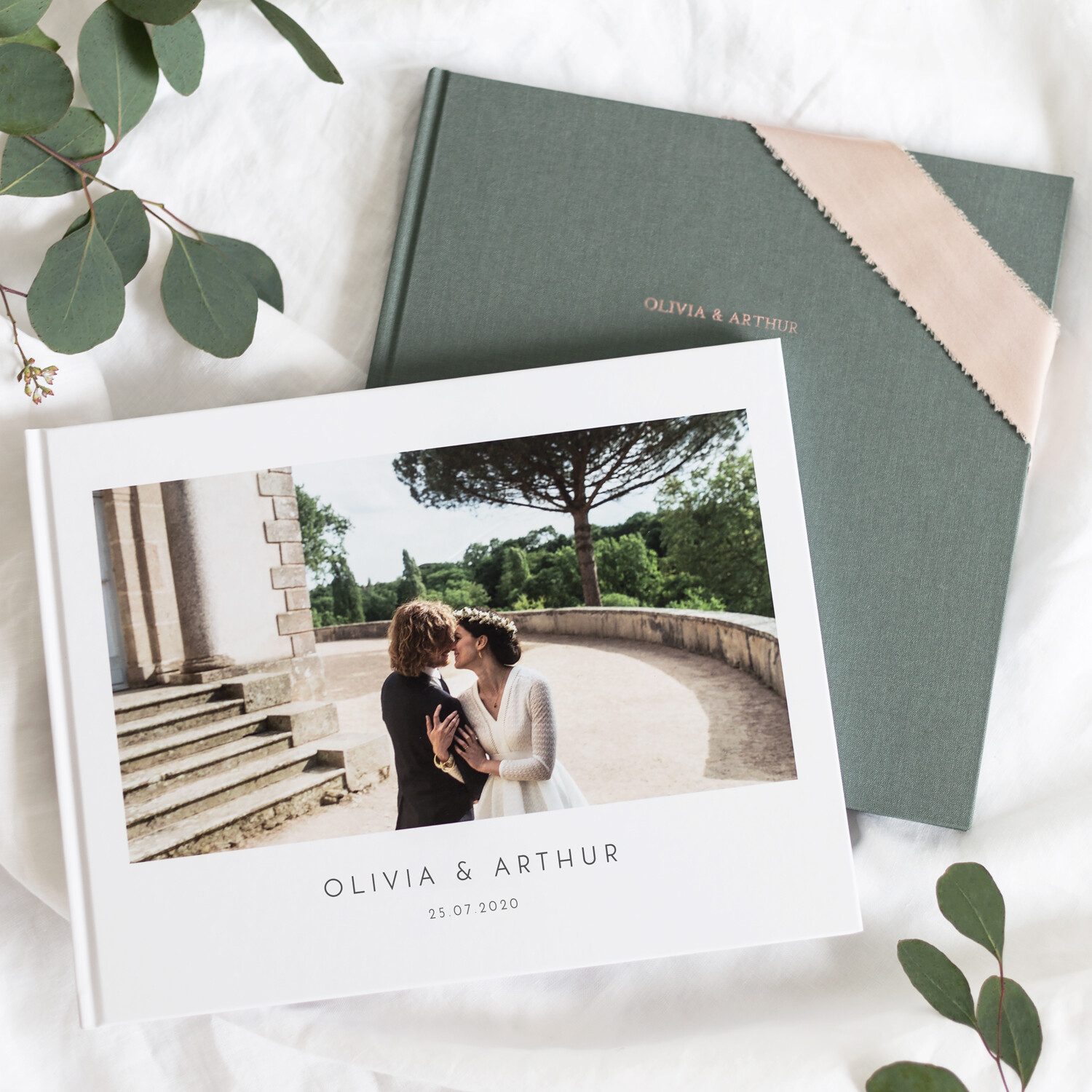 Tell your story through your wedding photo album
Your wedding day will be a precious moment that you wish you could relive again and again. What if you could do so by simply flicking through your beautiful wedding photo album? Your wedding photo album is sure to be something that you and your family will treasure for years to come, as your reminisce together or show your children and even your grandchildren your wedding photos. With the possibility of adding up to 200 pages to your wedding photo albums, you can share even the tiniest of details from your big day. Tell the story of your wedding day by ordering your wedding photos chronologically, or arrange your photos thematically to focus on the symbolic parts of your wedding day in turn. You may even wish to leave some blank pages so that you can stick in a copy of your save the date cards or wedding invitations.
Modern and traditional wedding photo albums
Just as there were plenty of different themes and colour schemes to choose from for your wedding, we offer a range of different styles and formats for your wedding photo albums. We have worked with designers all the way from Paris to New York to bring you a range of exclusive cover designs to enclose your beautiful wedding photos. For the traditional newlyweds we offer a selection of traditional wedding photo albums with chic and elegant covers, whilst for the more creative couples, we have a range of art-inspired covers that will help you make truly unique photo albums! Have your wedding appear in the headlines with our sleek magazine-inspired designs or go rustic with our kraft photo albums!
Discover our wedding photo albums
Discover our photo albums for other occasions