See prices
Papers and prices for our Birthday Invitations Time Flies
All prices include VAT and white or ivory envelopes. Retouching Service Included - Shipping Not Included.
Your choice of white, ivory or recycled paper envelopes included
Upgrade to coloured envelopes for 20p per envelope
retouching service included
Our little secret : we double check everything before printing!
Our professional proofreaders review your order and check for any spelling errors or typos. But that's not all! Our talented graphic designers then verify the quality of your photos and recommend any changes that they think would make your order even more perfect!
Proofreading
and Photo Verification
Photo Retouching
and Layout
Optimization
Printing
and Quality Control
Shipping
Shipping Timeline Birthday Invitations
Once you have placed your order, we spend 2-3 working days making sure your photos and layout are perfect. Your order then passes through the hands of our printing and foiling experts. As soon as your order leaves our printing studio, we send you an email with tracking information. You can then track your order on the shipping company's website.

For shipping to the UK, the way that customers pay VAT has changed and this can affect the delivery of your order. For orders under £135, VAT is paid when placing your order and no customs charges apply when your order arrives in the UK. For orders over £135, you will benefit from a 20% VAT reduction on the total price of your order, but you will, however, be required to pay the VAT directly to HM Revenues & Customs prior to the delivery of your order, along with a handling fee of £12 for orders under £873 and £25 for orders over £873.

For Standard Colissimo deliveries, you will receive a letter in the post and you will have 20 days to pay the relevant charges. For Express Chronopost deliveries, this request will be sent via SMS or email and you will have 5 days to pay these charges. As soon as you have paid the VAT and handling fees, your parcel will be released by customs ready for delivery.

Side note: We may suggest replacing certain photos if they are not of sufficient quality. Please check your email regularly to make sure we can send your order to print as quickly as possible. Our shipping time may vary due to bank holidays or a peak in the number of orders sent to print.
Finishing Touches
Finishing Touches for the Birthday Invitations Time Flies
The corners of your card can be square or rounded. Square corners are standard and are automatically applied to your order. Rounded corners are a finishing option and entail a surcharge of 15p per card.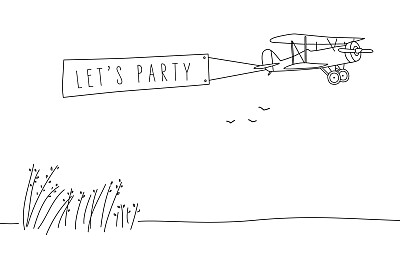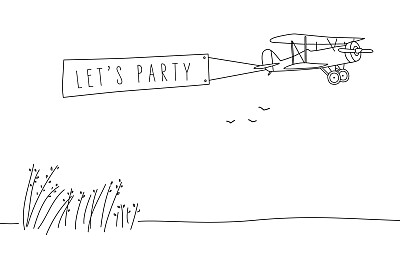 Responsible Printing
Responsible Printing
Our papers are all FSC (Forest Stewardship Council) certified, an environmental label that guarantees the practice of sustainable forestry. Two of our papers are also created from recycled fibres.

Since 2016, we have been fully offsetting our carbon emissions in order to limit our environmental impact. We also offset the emissions linked to services provided by external suppliers, (if they do not already do so).

We are working hand and hand with our suppliers and partners to make our printing even more responsible!
Time Flies Birthday Invitations Reviews (0 reviews)
Recommended Personalisations For Our Time Flies Birthday Invitations
Recommended Fonts: Rosemood Italic
Recommended Colours:

#000000

#857570

#7BAA1F

#019EA4

#6591B0

#6FBA84
Receive your fully reviewed
stationery in 7 working days

Our stationery experts
are on hand to help

Not entirely satisfied?
We'll happily reprint your order