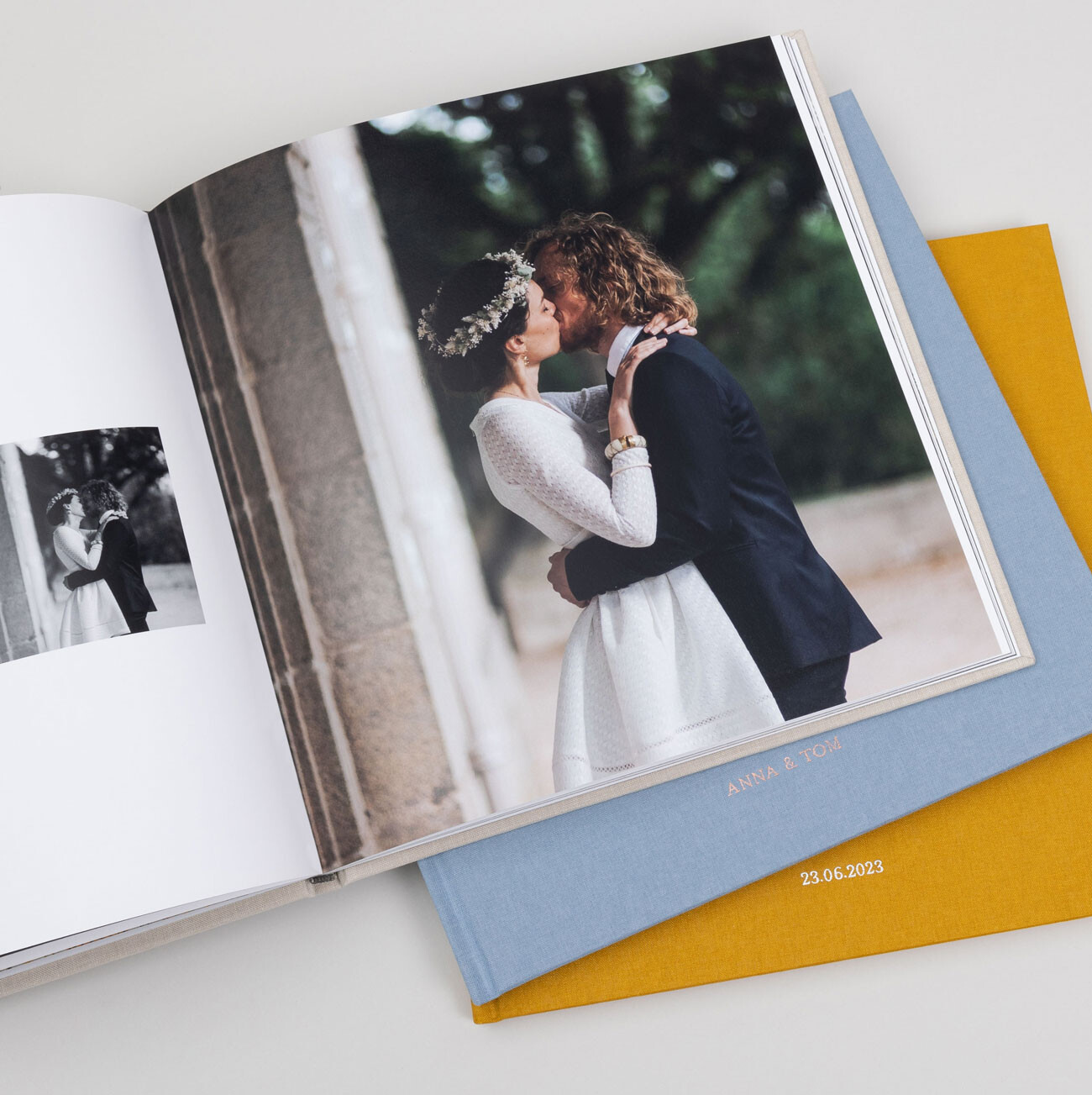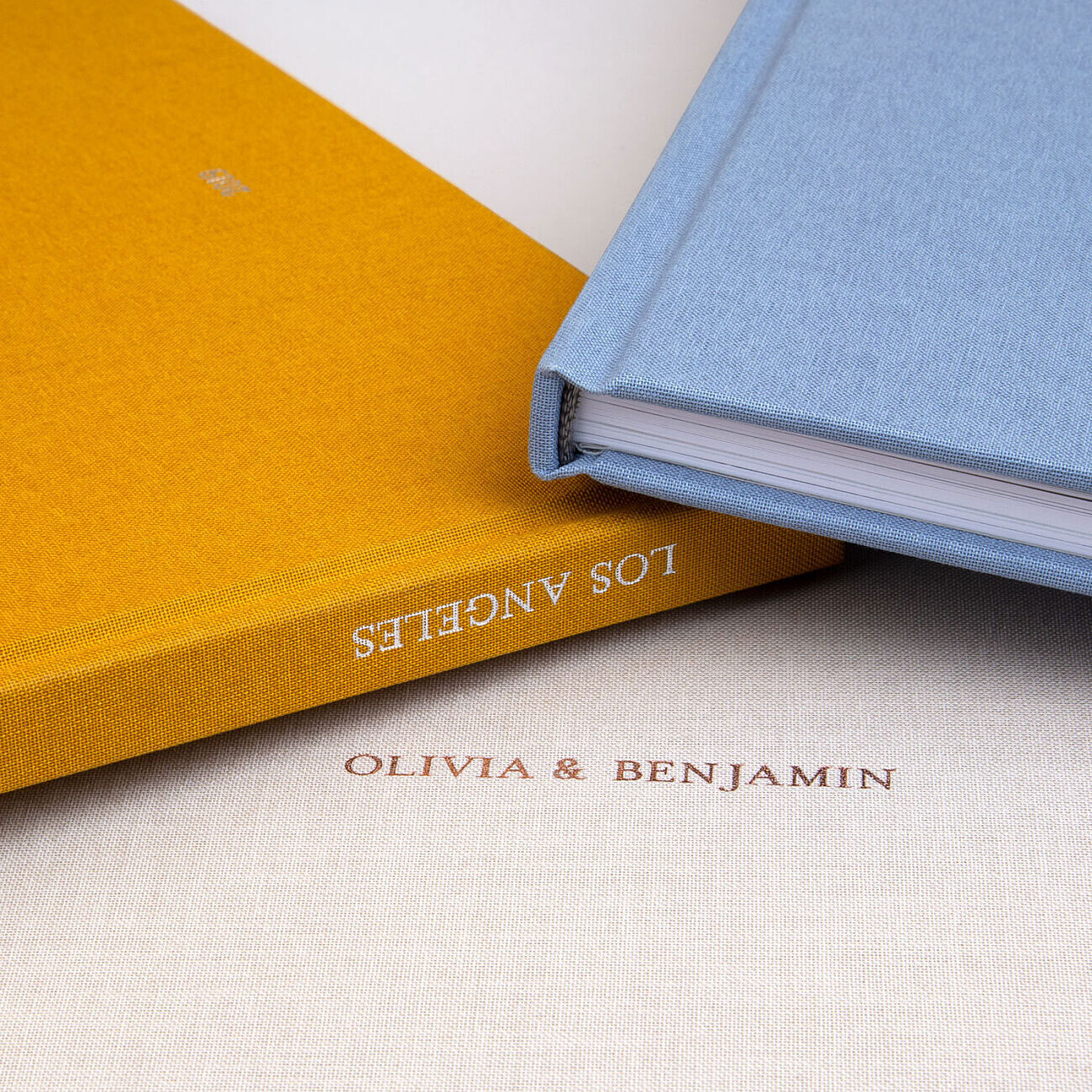 Fabric Photo Books
Foil Stamped Title
Standard delivery: order before 10/12/2023
From traditional sewn binding to hot foil stamping, each fabric photo book is finished to perfection in our very own French atelier.
Artisanal hot foil stamping
Add a presentation box for £20
Fabric:
Sky Blue
- Limited Edition
-
Will soon be unavailable
Product details
Format: Square (25 x25 cm)
Fabric hardcover in a choice of colours
Hot foil stamped title on cover and spine
Add up to 9 photos per page
2 FSC-certified papers to choose from
Sewn binding
50, 70 or 122 pages
Luxury gift box available for £20
Show more
Show less
Shipping
Optimisation & Retouching: 1 day(s)
Production & Dispatch: 4 day(s)
Standard Delivery: 3 to 5 days
Estimated delivery date: 13 Dec 2023 - 15 Dec 2023
Responsible Printing
Our papers are all FSC (Forest Stewardship Council) certified, an environmental label that guarantees the practice of sustainable forestry.

Since 2016, we have been fully offsetting our carbon emissions in order to limit our environmental impact. We also offset the emissions linked to services provided by external suppliers, (if they do not already do so).

We are working hand and hand with our suppliers and partners to make our printing even more responsible!
Premium fabric covers
We have carefully selected fabric of the highest quality to adorn the covers of your photo books. Choose from our range of elegant and modern colours, knowing that we will apply your title in the foiling that compliments your choice perfectly!
Artisanal hot foil stamping
Every fabric photo book passes through the hands of our printing experts who will finish your photo book to perfection, carefully applying your personalised title to the cover and spine in luxurious hot foil stamping letter by letter.
Worthy of your greatest moments
Ideal for weddings, milestone birthdays or trips of a lifetime, our fabric photo books were created with your greatest moments in mind! Every last detail has been designed to do justice to the moments that matter most to you!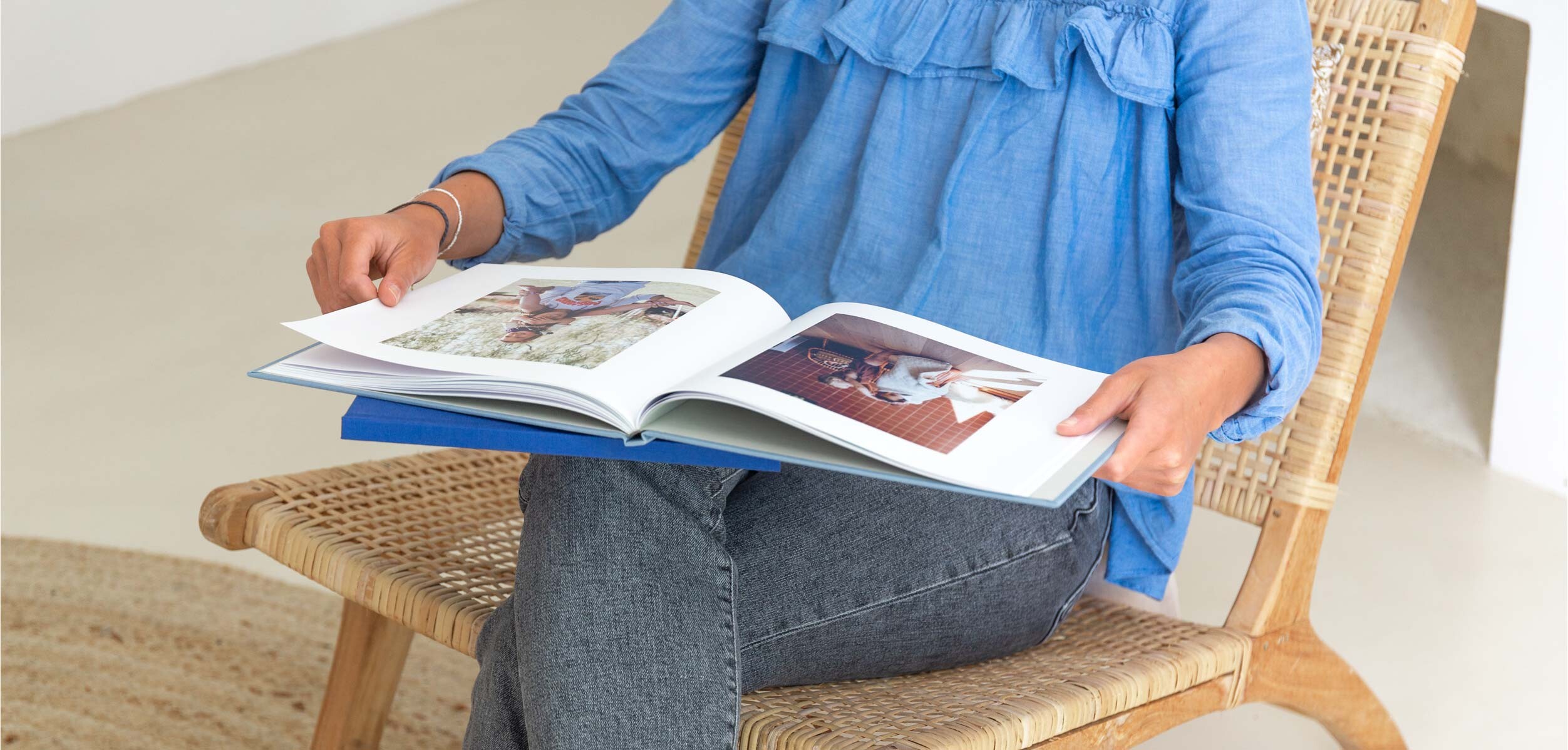 Premium fabric photo books
for life's happiest occasions
The worlds of high-end craft printing and personalised photo printing have finally come together in the creation of our fabric hardcover photo books. More than just a photo album, these premium hardcover photo books help you to immortalise your favourite memories on high-quality paper, bound inside a hardcover of fine fabric. These luxury photo books will allow you to showcase up to 122 pages of your favourite images, doing justice to some of the happiest chapters in your life! Our fabric hardcover photo books are available in a range of chic and timeless shades.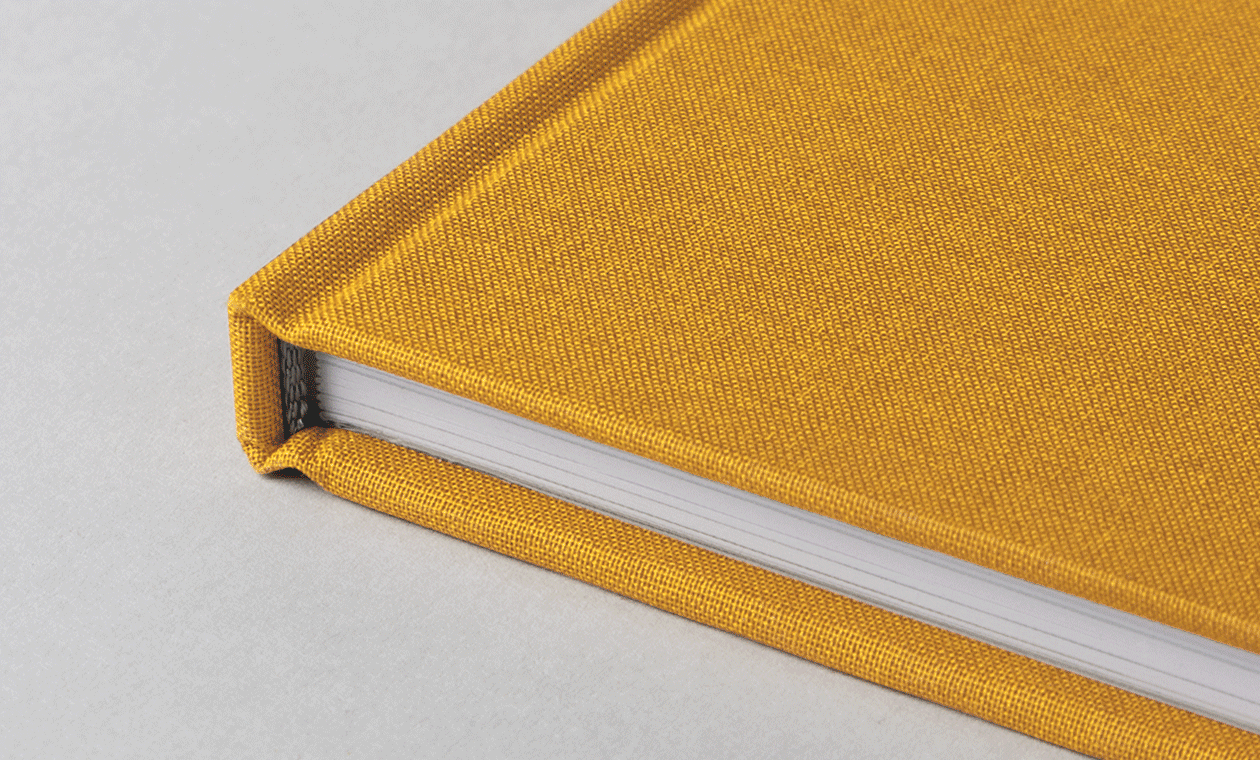 Discover our entire photo book collection
An impeccable finish for your fabric photo books
We take care of your fabric photo books from start to finish, guiding you through the creation of your photo album before proofreading your text and optimising the quality and layout of your photos. Your photo book will then be printed and bound at our very own printing studio, where we also assemble our luxury fabric hardcovers. We use traditional sewing techniques to bind your pages together and we finish off the binding with a headband designed to match the colour of your album. We will then apply your personalised title to your personalised photo album cover and spine, using artisanal hot foil stamping techniques. Every step is undertaken with care and precision, treating your photo book as if it were our own, and doing everything that we can to ensure that you will treasure your photo album for years to come! To help keep your photo book in tip-top condition be sure not to force it to lay flat when open.
Paper of the highest quality for your photo books
Here at Rosemood we absolutely love high-quality paper! This is why we searched high and low to bring you the best possible paper for your fabric hardcover photo books! We carefully selected two beautiful paper types for you to choose from smooth matte paper and textured ivory paper. Both of these photo book papers guarantee an impeccable finish for your photos and you will be able to feel the high quality of your paper as you flick through your favourite memories.
Create a fabric photo album
We offer a range of colours for our fabric hardcover photo book, allowing you to choose the one that you like most and that best suits your special occasion. Create your unique hardcover photo book with your personalised text featured on the high-quality cover in our luxurious foiling. Our hardcover photo albums are printed and assembled at our very own printing atelier, making them a true labour of love. Our premium photo albums will allow you to immortalise your important milestones, whether that be your wedding day or the birth of your little one. Treat your loved ones to luxury photo albums to create personalised gifts that they will treasure forever. Create your personalised hardcover photo books online, uploading your favourite photos and choosing the layout of each and every page of your album. As always, our friendly customer service team are on hand to help you create your hardcover photo books so do not hesitate to get in touch by phone, email or online chat.
Occasions worthy of a fabric photo book
Our fabric photobooks are designed with your greatest milestones and most precious memories in mind! The luxury hot foil stamping, high-quality fabric and impeccable printing make these memory books ideal wedding photo albums, retirement or birthday photo albums as well as a way to record once-in-a-lifetime trips such as your honeymoon or dream holiday. You can even store your fabric photo book in a timeless presentation box that will help keep it safe for years to come! These personalised photo books make an extra special gift to celebrate the milestones of the ones you love and you can even get 10% off identical copies if you want to treat yourself and them to a copy!