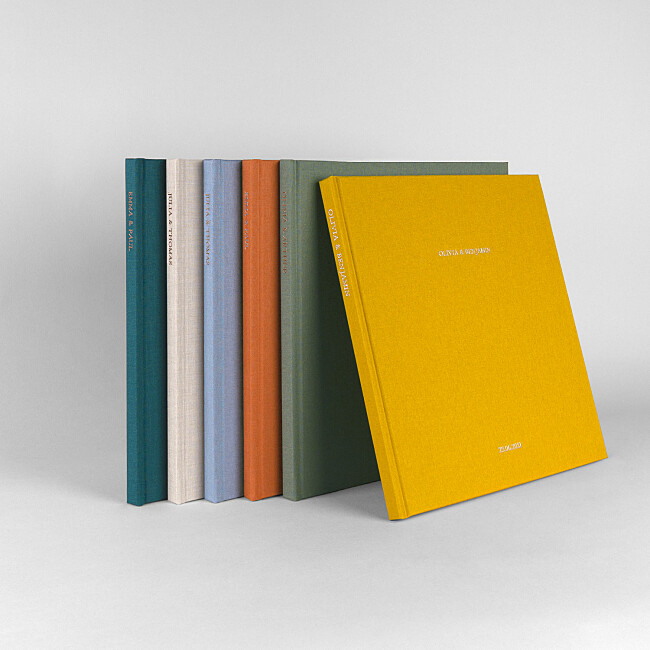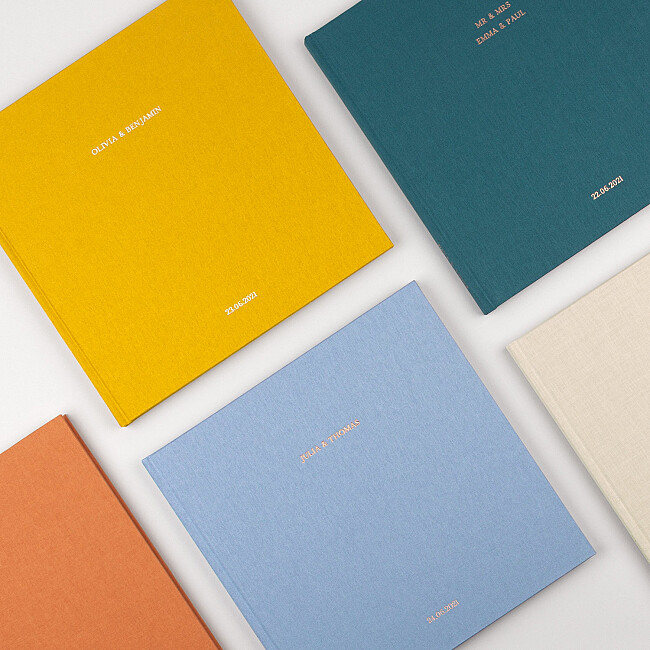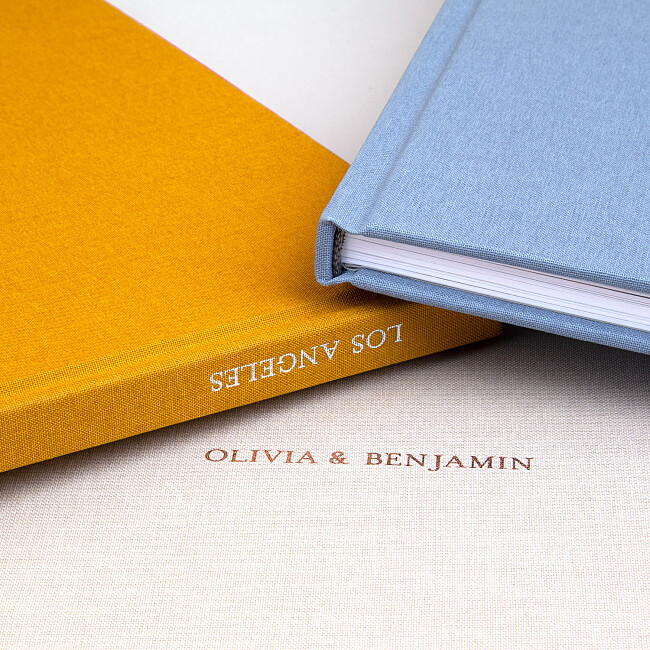 Fabric Hardcover
Photo Books
Create premium fabric photo books that you will treasure forever. Covered in beautiful Italian fabric, the hardcover of these photo books will feature your personalised title on the cover and spine in our artisanal hot foil stamping.
Format: Square
10% OFF identical copies
Add a luxury gift box for £20
Christmas delivery guaranteed on orders made before midnight, 7th December.
Fabric:
Download App
Download App
Colour: Peacock Green
Colour: Mustard Yellow
Colour: Nectarine
Colour: Sky Blue
Colour: Timeless Beige
Colour: Eucalyptus
Back
See our fabric options
We currently offer six colours for your fabric hardcover photo books: an elegant eucalyptus, a trendy mustard yellow, a timeless beige, peacock green, refreshing nectarine and a dreamy sky blue. We have chosen these high-quality Italian fabrics for their elegant colours and also for their ability to stand the test of time. As well as our durable fabrics, the impeccable finishing touches make all the difference when it comes to these premium photo books! We have chosen the colour of both the binding headbands and hot foil stamping to complement the colour of your personalised hardcover photo books beautifully.
Premium hardcover photo books for life's happiest occasions
The worlds of high-end craft printing and personalised photo printing have finally come together in the creation of our fabric hardcover photo books. More than just a photo album, these premium hardcover photo books help you to immortalise your favourite memories on high-quality paper, bound inside a hardcover of fine Italian fabric. These luxury photo books will allow you to showcase up to 118 pages of your favourite images, doing justice to some of the happiest chapters in your life! Our fabric hardcover photo books are available in a range of chic and timeless shades.
Complimentary retouching service
To make sure your photo book is perfect we will:
Proofread your text (up to 500 words)
Check and retouch your cover photo manually
Have your other photos retouched automatically
Optimise the layout of your photo book pages
For 100% satisfaction guaranteed.
Product details:
Responsible production: Offset carbon emissions
Format: Square
One size: 25 x 25 cm
Fabric hardcover in a choice of colours
Sewn binding
2 premium papers to choose from
46 to 118 pages
Add up to 9 photos per page
Receive your photo book within 8-10 days
Gift box available
An impeccable finish for your hardcover photo books
We take care of your hardcover photo books from start to finish, guiding you through the creation of your photo album before proofreading your text and optimising the quality and layout of your photos. Your photo book will then be printed and bound at our very own printing studio, where we also assemble our luxury fabric hardcovers. We sew your pages together to create layflat-style photo books and finish off the binding with a headband designed to match the colour of your album. We will then apply your personalised title to your personalised photo album cover and spine, using artisanal hot foil stamping techniques. Every step is undertaken with care and precision, treating your photo book as if it were our own, doing everything that we can to ensure that you will treasure your photo album for years to come! To help keep your photo book in tip-top condition be sure not to force it to lay flat when open.

Paper of the highest quality for your photo books
Here at Rosemood we absolutely love high-quality paper! This is why we searched high and low to bring you the best possible paper for your fabric hardcover photo books! We carefully selected two beautiful paper types for you to choose from: smooth matte paper and textured ivory paper. Both of these papers guarantee an impeccable finish for your photos and you will be able to feel the high quality of your paper as you flick through your favourite memories.
What's more
See our photo books collection
Create a fabric hardcover photo book
We offer a range of colours for our fabric hardcover photo book, allowing you to choose the one that you like most and that best suits your special occasion. Create your unique hardcover photo book with your personalised text featured on the high-quality cover in our luxurious foiling. Our hardcover photo albums are printed and assembled at our very own printing atelier, making them a true labour of love. Our premium photo albums will allow you to immortalise your important milestones, whether that be your wedding day or the birth of your little one. Treat your loved ones to luxury photo albums to create personalised gifts that they will treasure forever. Create your personalised hardcover photo books online, uploading your favourite photos and choosing the layout of each and every page of your album. As always, our friendly customer service team are on hand to help you create your hardcover photo books so do not hesitate to get in touch by phone, email or online chat.