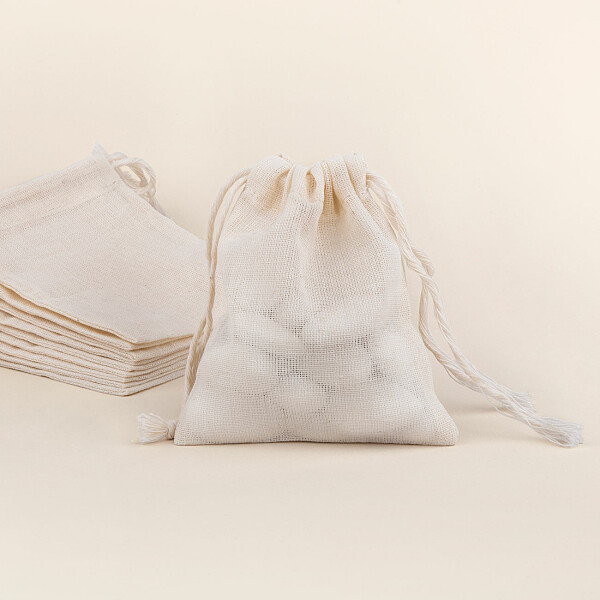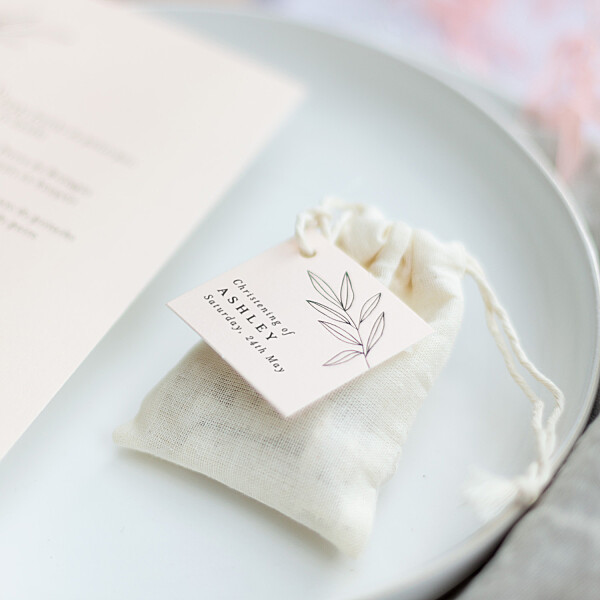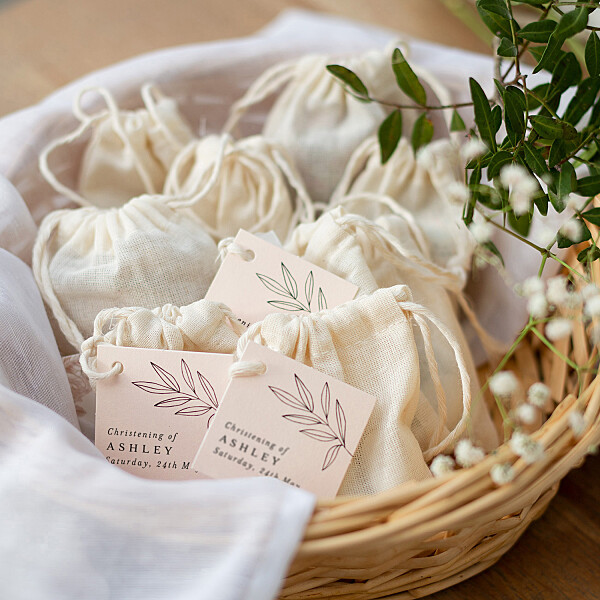 £7.50 per set of 10
Fill your christening favour bags with delicious treats or small keepsakes to create thank you gifts for loved ones attending your child's christening. You can even adorn your favour bags with one of our personalised christening gift tags to tie them in with your theme.
Information
7 x 9 cm
Made from French muslin
Food safe favour bags
Can be bought separately or with personalised gift tags
75p each - Sold in packs of 10
Add to basket
We offer a range of personalised christening gift tags to decorate your favour bags
Choose a christening gift tag to personalise your favour bags
Discover our christening tags
Personalised christening favour bags
Personalise your christening favour bags by adding gift tags to match your christening invitations or table decorations. Turn your christening gift tags and favour bags into keepsakes for your guests by adding your child's name and christening date. Simply slip your personalised favour tag onto the cotton cord and add a note to secure it in place. Please note that the cotton fibres can fray during shipping, but this is completely normal for a natural material. Rest assured that the cotton fibres will stay in place once add your tag and knot the end of the cords.
Natural christening favour bags that you can use time and time again
Rosemood's christening favour bags are made from butter muslin cloth made in the French Vosges mountains. This natural material is perfectly food safe so can enclose your chosen sweet treats. Treat your loved ones to delicious homemade delicacies or stick to more traditional sugared almonds. You could also get creative with your christening favour ideas and slip in some loose tea leaves or a miniature bar of soap. Eco-friendly, these muslin favour bags can be reused by your friends and family after the big day!
Unique christening favour ideas
Fill your christening favour bags with a variety of treats to thank your friends and family for helping you celebrate your child's christening or baptism. From traditional sugared almonds to homemade miniature cupcakes, these christening favours bags are the perfect size for a variety of token gifts. These natural cotton favour bags will be a perfect addition to your classic christening tables with the neutral colour tying in with a variety of themes. Your loved ones are sure to be touched when they realise that you have created favours just for them and they will be able to reuse the bags as a lasting reminder of your child's big day!
Create your personalised christening favour bags
Putting together your christening favour bags will allow you to add a personal touch to your child's christening table decorations. Choose the favours that will most delight your loved ones and slip them inside your christening favour bags. Slip your personalised christening gift tags onto one of the cotton cords and then tie a knot at the end of the cord to secure it in place. Pull the cords tight and you are ready to go! Do not hesitate to get in touch with our friendly customer service team if you have any questions about how to put your christening favours together.
The Rosemood Touch
Checked by our experts
We proofread your text, optimise the layout and retouch your photos!
Going the extra mile
We are here to help you every step of the way so just ask!
Made in France

The perfect blend of artisanal French know-how and cutting-edge printing.

,