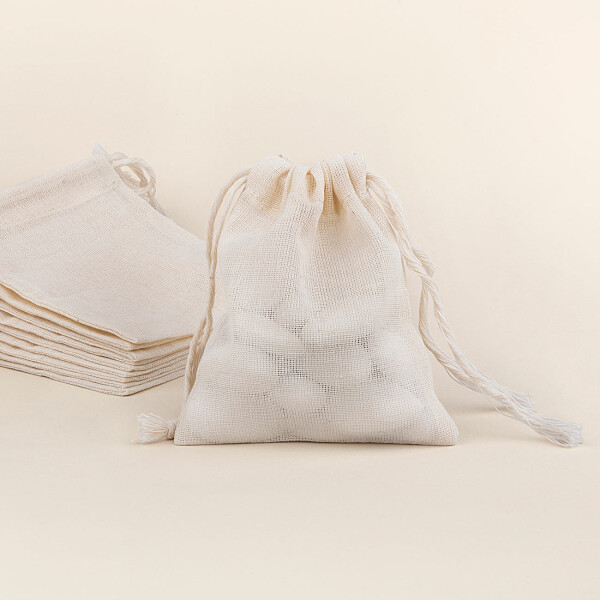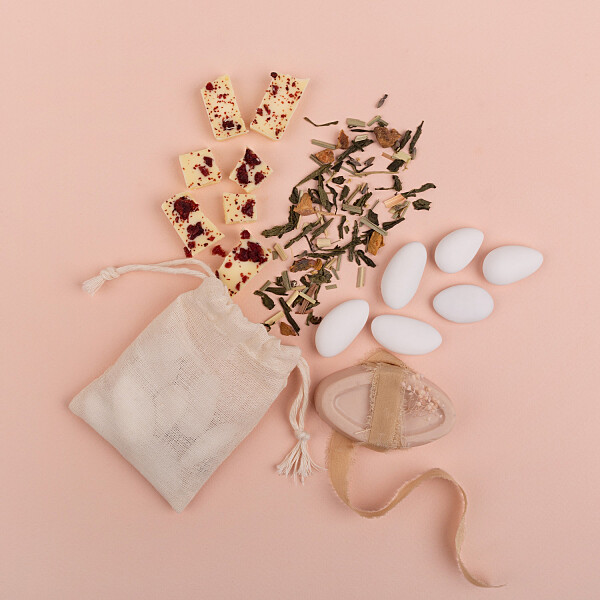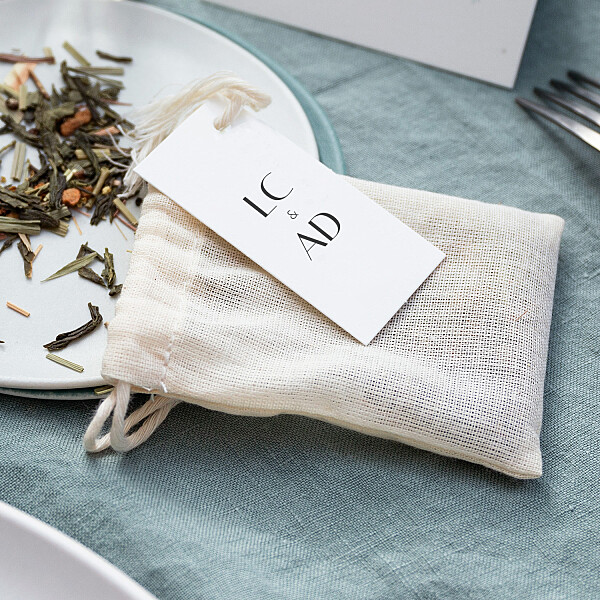 £7.50 per set of 10
Our wedding favour bags are the ideal way to present your wedding favours in style and can be filled with everything from loose tea leaves to homemade cookies. Have your wedding favour bags match your table decorations by adorning them with personalised wedding tags!
Information
7 x 9 cm
Made from French muslin
Food-safe wedding favour bags
Can hold up to 12 sugared almonds
Can be bought separately or with personalised gift tags
75p per bag - Sold in packs of 10
Add to basket
Discover our range of personalised wedding gift tags adapted to your wedding theme
Adorn your wedding favour bags with wedding gift tags
Discover our wedding favour tags
Wedding favour bags to suit your wedding style
Tie your wedding favour bags in with your wedding theme, by adorning them with wedding favour tags to match your on-the-day wedding stationery. A change of personalised wedding gift tags can transform your neutral wedding favour bags from bohemian to classical. Slip your wedding favour tags onto one of the cotton cords and tie a knot to secure it in place. You will then be able to slip your chosen favours into your muslin bags and pull the cords tight. Please note that the cotton fibres of the cords may separate during transport, but this is normal for such natural material. Rest assured that the fibres will stay in place once you add the knot!
Turn your wedding favours into a lasting keepsake from your big day
Made from French butter muslin, our wedding favour bags are food safe, so are ideal for sharing your favourite sweet treats with your friends and family. From traditional sugared almonds to homemade biscuits, your wedding favour bags can host a range of gifts for your loved ones. They will even be able to reuse their wedding favour bags after the big day, giving them a lasting reminder of the precious moments spent together at your wedding.
Wedding favour ideas
Ideal for an eco-friendly bride or groom, these reusable wedding favour bags can host a wide range of homemade or locally sourced delights. From homemade truffles and mini cupcakes to miniature bars of soap or flower seeds, you can use these bags for all of your wedding favour ideas. These wedding favour bags will add a touch of natural elegance to your wedding tables and will look great as part of your rustic or classic wedding decorations.
Personalise your wedding favour bags to delight your guests
These neutral wedding favour bags can be personalised to match your theme thanks to our personalised wedding gift tags. You can even write the names of your guests on the gift tags to turn your wedding favour bags into stylish place cards. Your loved ones will be delighted to have a personalised gift to take away with them at the end of the celebrations and will be impressed when they realise that the favour tags match the rest of your wedding stationery. As always, our friendly customer service team is on hand to help you personalise your wedding favour tags and will be happy to guide you through putting your wedding favours together.
The Rosemood Touch
Checked by our experts
We proofread your text, optimise the layout and retouch your photos!
Going the extra mile
We are here to help you every step of the way so just ask!
Made in France
The perfect blend of artisanal French know-how and cutting-edge printing.