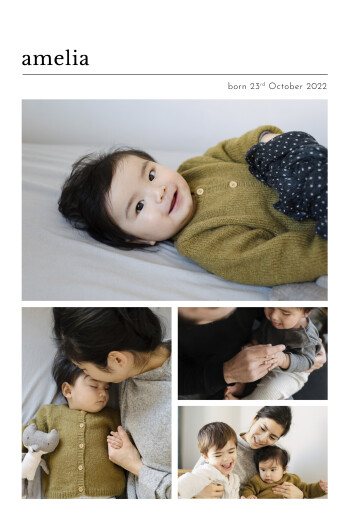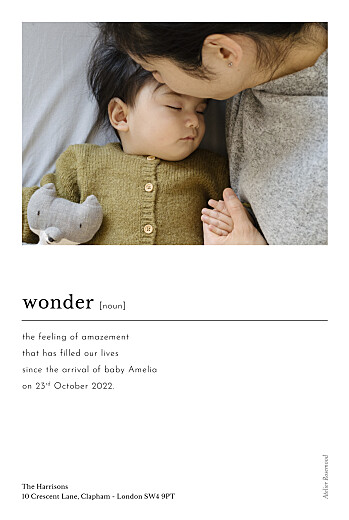 Baby Announcements · Flat Card
In Print (Multi-Photo)
Products to match your In Print Baby Announcements
See The Suite
Baby Announcements
in a similar style
The Rosemood Touch
Checked by our experts
We proofread your text, optimise the layout and retouch your photos!
Going the extra mile
We are here to help you every step of the way so just ask!
Made in France
The perfect blend of artisanal French know-how and cutting-edge printing.
If you like our In Print Baby Announcement. You may also be interested in...
Calculate the price*
Smooth Matte Paper
A pure white paper with a smooth finish
Textured Ivory Paper
A timeless high-quality ivory paper with a textured matte finish
Iridescent Paper
A high-quality, slightly iridescent paper
* Estimated price excl. shipping
Reviews (2)
In print baby announcement
Not impressed. Expected more quality
The website interface is great to create the cards, user friendly and very professional. However I'm slightly disappointed with the sample I ordered.

-The picture resolution is not the same than in the paper samples I received, it does not look so sharp although the pictures I uploaded have high resolution.

-The trimmed edge at the paper looks irregular, which gives a poor quality feeling (like cut with scissors)

-I followed the advice of Rosemood graphic designers on using lighter pictures, as I was told it would look better when printed. Personally I'm not satisfied with the result so I would rather use the original pictures I uploaded

-
Published by Carlos Crespo, 26 May 2021
Response from the Atelier Rosemood
Hi there,
Thank you for your feedback on your sample, and we apologise if we haven't yet lived up to your expectations with your latest sample.
From what you describe, it sounds as though your card had escaped our stringent quality control procedures, and while we do everything we can to ensure the cards we produce are of the highest possible standard, sometimes, an errant card may make its way to you.
We are, of course, going to do everything we can to help resolve this problem, and one of our stationery experts will be in touch with you soon to find a way forward.
Kind regards,
The Rosemood team
The team at Rosemood really listened to what we wanted and provided a bespoke service which we really appreciated. The cards are great quality and we got lots of compliments!
Published by Margaux, 9 Aug 2020