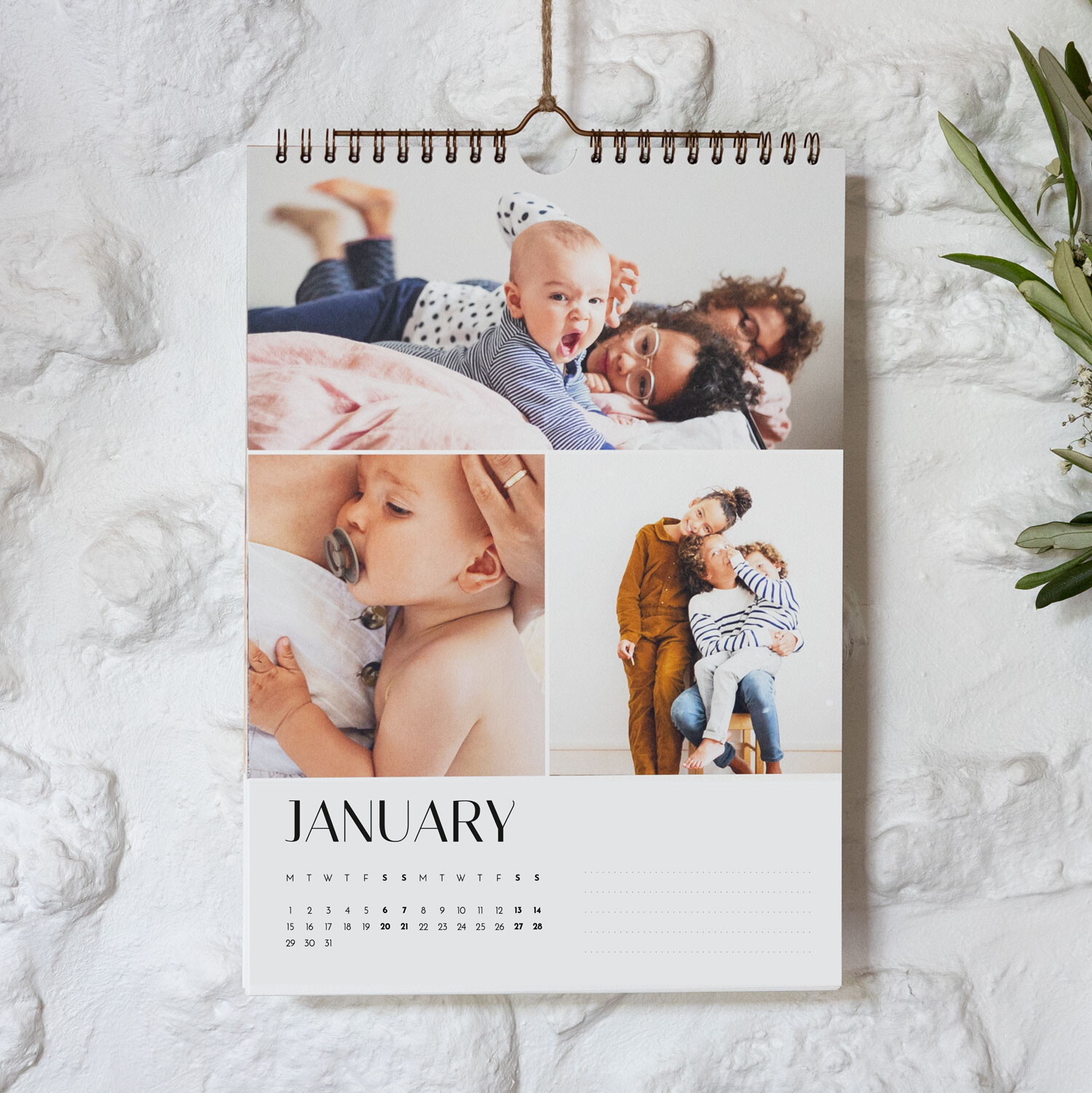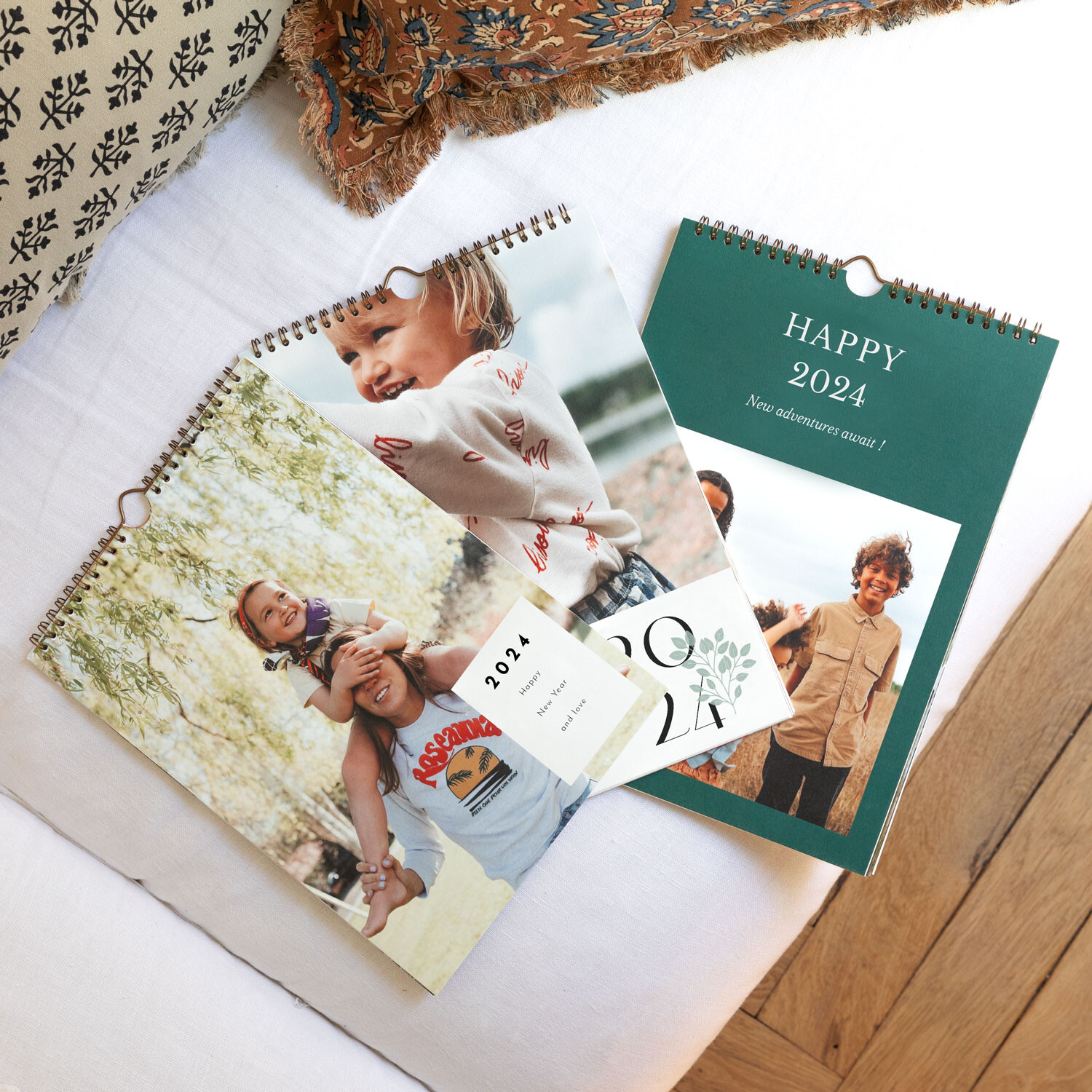 Large Photo Zones
A4 Wall Calendar
Standard delivery: order before 12/12/2023
Calling all photo lovers, this A4 photo calendar is for you! With stylish templates that give pride of place to your photos, you can add up to 6 photos to inspire you each month.
Add up to 6 photos per month
One page per month, January to December 2024
Printed in France using FSC-certified paper
Product details
12 personalisable interior pages
Maximum number of photos: 6 per page
Choice of 8 photo templates per month
Range of cover designs to choose from
Calendar from January to December
Bronze spiral binding
Lightly textured high-quality paper (300 gsm)
Show more
Show less
Shipping
Optimisation & Retouching: 1 day(s)
Production & Dispatch: 3 day(s)
Standard Delivery: 3 to 5 days
Estimated delivery date: 12 Dec 2023 - 14 Dec 2023
Responsible Printing
Our papers are all FSC (Forest Stewardship Council) certified, an environmental label that guarantees the practice of sustainable forestry.

Since 2016, we have been fully offsetting our carbon emissions in order to limit our environmental impact. We also offset the emissions linked to services provided by external suppliers, (if they do not already do so).

We are working hand and hand with our suppliers and partners to make our printing even more responsible!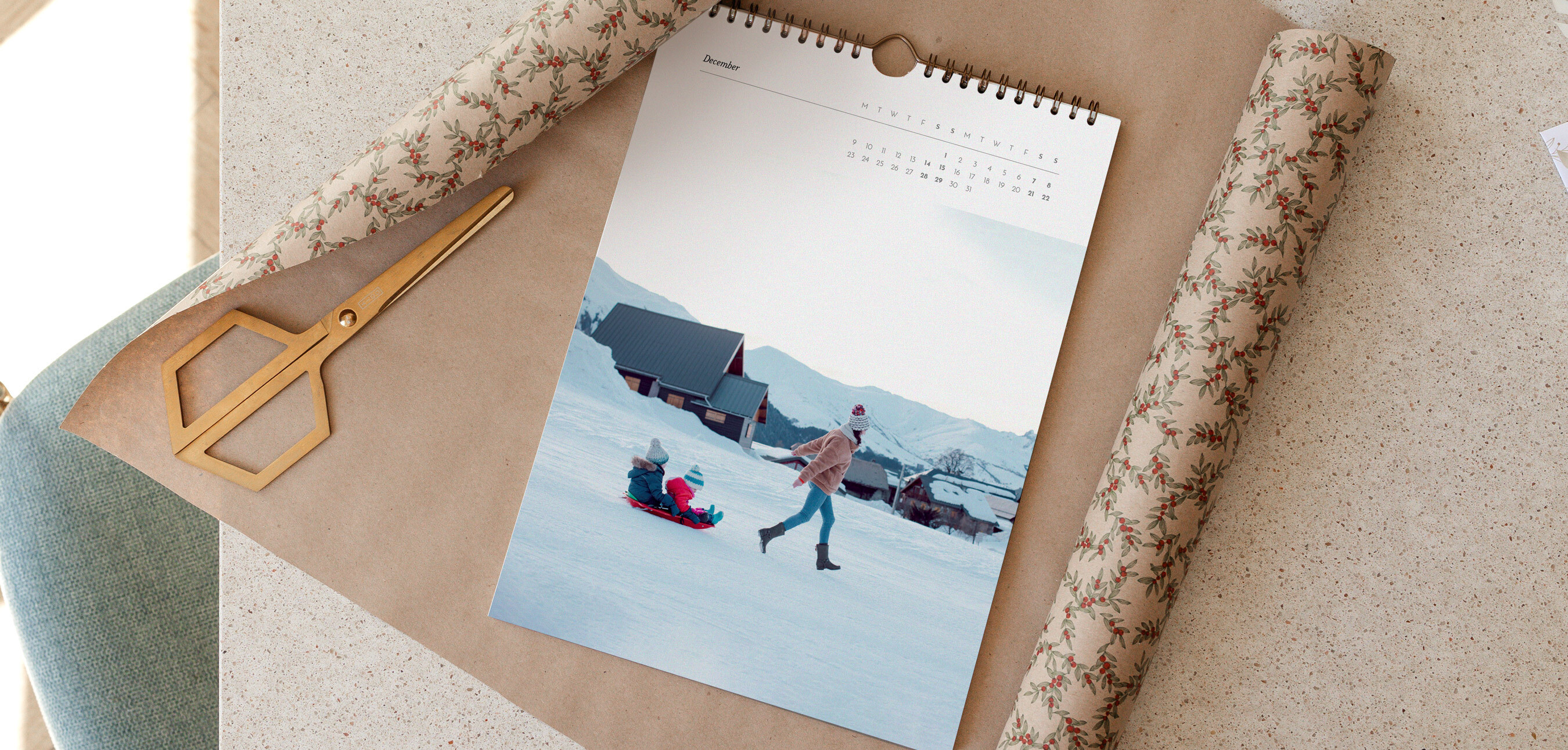 Your A4 calendar: the latest addition to your decor
Reinvent your space in 2024 with the help of your favourite photos and our A4 photo calendar. Punctuate your year with your most precious memories thanks to our range of photo templates for each month. With everything from full-page photos to collages of up to 6 photos, you are sure to be able to show off your favourite snaps with pride. Use the photos to inspire you each month or to give you a hint at whose birthday is coming up that month! Your choice of photos and layouts will join forces with our high-quality paper, our impeccable printing quality and a bronze spiral binding to create a decorative calendar that you will want to hang onto far beyond 2024.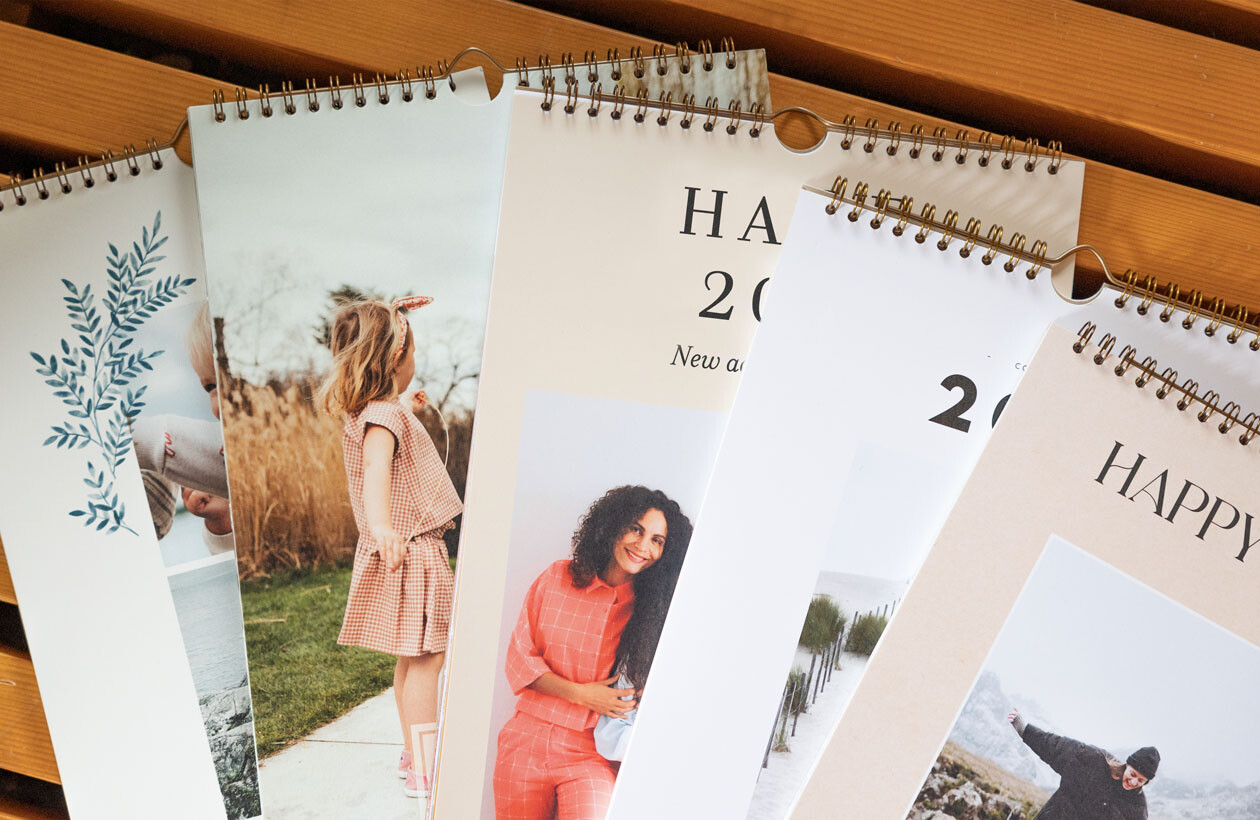 Discover our entire photo calendar collection
Choosing your personalised A4 calendar
At the heart of our calendar collection, you will find our A4 photo calendars. This format is wonderful for sharing small, medium and large photos to add colour and character to your personalised calendar gift. To design a calendar that could double as wall art, discover our A4 photo collage family calendar. Your carefully chosen photographs will take precedence in this design, with the days of the month printed at the top of each month's page. Our personalised wall calendars, on the other hand, feature a blank box for every day of the month, where you can add typed or handwritten messages. These are great for ensuring that no birthdays, anniversaries or dentist appointments are missed! Whichever A4 calendar you choose, you can rest safe in the knowledge that the print quality will be impeccable. We have even teamed up with fellow French atelier Antoinette Poisson to bring you an A4 calendar featuring four of their iconic 18th-century motifs. A must-have for decor lovers.
Photo ideas for your A4 calendar
Make your A4 photo calendar your own by filling it with your favourite photos that will help kickstart each month in style. Not sure where to start? Here are some of our photo calendar ideas to get you started. For an inspirational calendar that will help stave off the wanderlust, fill your calendar with breathtaking views and landscapes from your last holiday. For an extra piece of motivation at work, create a desk calendar filled with funny photos of friends and family as they are sure to raise a smile and be a welcome distraction from a hard day's work in front of the computer. For grandparents, be there for them every month with pictures of you and your family, reminding them of moments shared and filling them in on moments missed. From wedding to baby photo calendars, the options are endless. You can even dedicate each month to a specific person or theme, using your calendar as a review of everything that happened the year before that same month.
How to create your photo collage wall calendar online
Create the latest addition to your decor thanks to our online editing tool or our iOS and Android apps. Start by choosing from our range of cover designs, adding the photos and text of your choice. You can then go on to personalise each month of your calendar, adding up to 6 months per page. Stick to the same layout for every month or vary the layouts to spice things up each time you turn over to the next month in your A4 photo calendar. Show off your favourite photos in their full glory with single photo layouts or group together photos in a similar style or from the same event with a collage template. Simply upload your photos to the editor and then drag and drop them into the desired photo zones until you have completed each month. You can then leave the rest up to us, as your photos will go through our automatic retouching service before your multi-photo calendar is printed and spiral-bound with care and precision.
Treat your loved ones to an A4 photo calendar
Spread joy all year round by treating your loved ones to an A4 calendar that they will want to hang onto far beyond 2024. Fill each month with precious moments spent together by grouping together your favourite photos of friends and family. From family to wedding calendars, there is a style of photo calendar for everyone so personalise one to suit the style of each of your loved ones. Use stunning holiday photos for the travel addict in your family or create a desk calendar for Dad filled with photos of the kids. You can help loved ones brighten up their desks and walls with a range of calendars, featuring contemporary designs and elegant finishing touches.