Desk Calendars
Add 12 months of joy to your workspace
Brighten up your workspace thanks to our collection of elegant desk calendars. Choose from a classic flip format or our wooden block photo calendars to add photos of the people and places that matter most to your desk. Our stylish photo desk calendars also make great Christmas gifts for the ones you love and can be created in minutes with as little as 12 photos.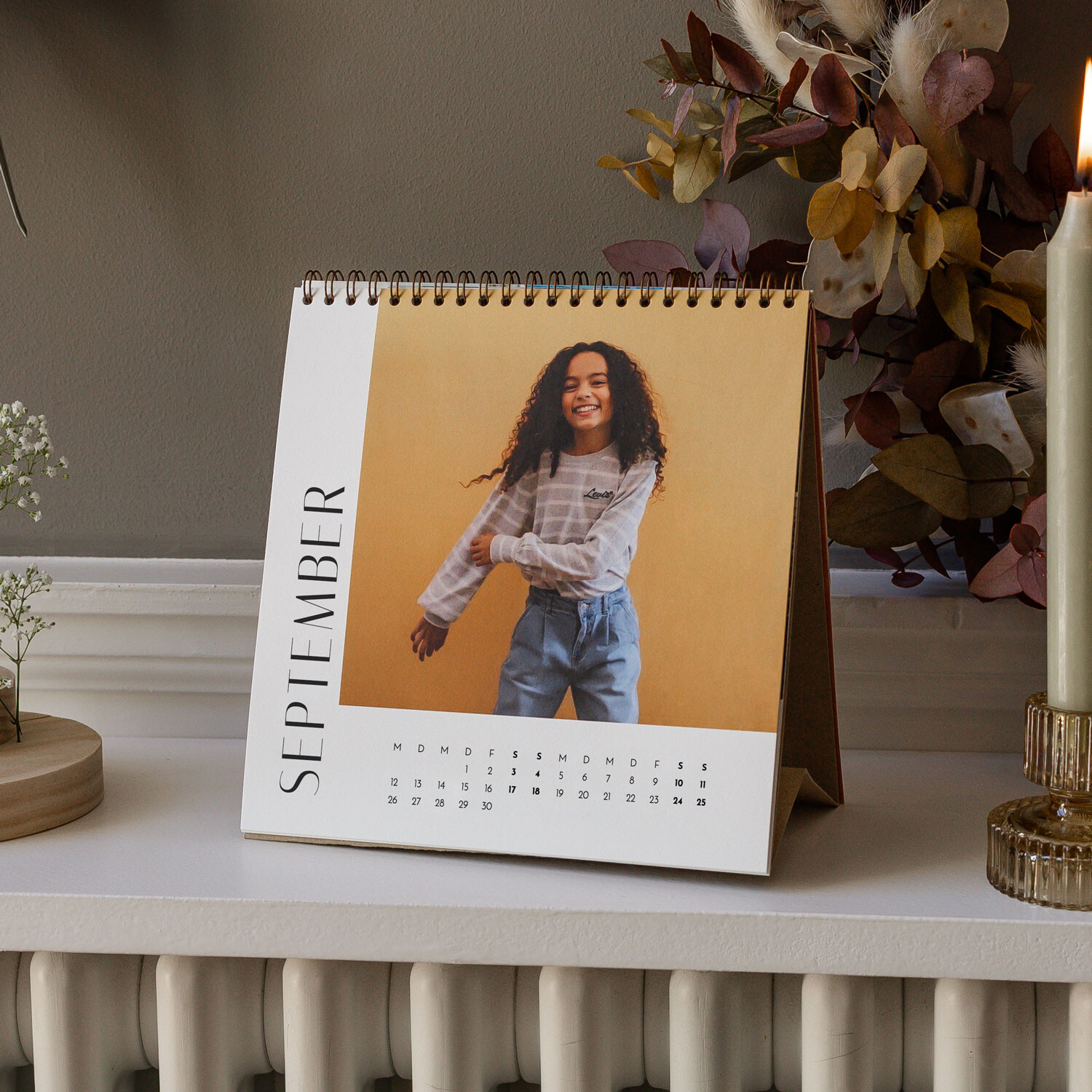 Square Photo Desk Calendar
Create your square photo desk calendar
Antoinette Poisson Desk Calendar
Create your Antoinette Poisson desk calendar
Wooden Block Desk Calendar
Create your wooden block desk calendar
How to choose your desk calendar
Choosing between our two desk calendars is a question of space available on your desk and what style you are looking for. Our square photo desk calendars offer a traditional flip format that allows you to include up to 6 photos per month thanks to a range of templates. Meanwhile, our wooden block desk calendar allows you to showcase one photo per month and comes with a choice of 3 different card designs. Refill packs are available for our wooden block desk calendar so that you can simply update the portrait photo cards each month.
Personalising your desk calendar online
It couldn't be easier to personalise your desk calendar online! Choose from our two formats: flip desk calendar or wooden block desk calendar and enter into our editing tool. For the square photo desk calendar, you will be able to choose from our wide range of cover designs, whilst our wooden block calendar comes with a choice of 3 designs. You can then upload your favourite photos directly from your device or from your Google photos or social media accounts. Drag & drop them onto the appropriate months with one photo per month for our wooden block calendar and up to 6 photos per month for our flip desk calendar. Your photo calendar will then be printed using paper of the highest quality at our very own atelier.
Gift a desk calendar this Christmas
Our personalised desk calendars make an ideal gift for loved ones at Christmas. With just 12 photos, you can create a meaningful gift that will help bring joy to your friends and family all year round. Fill their calendar with photos that are sure to bring a smile to their face every time they glance up from their screen, transporting them back to precious moments spent together. We can guarantee that once they have experienced their personalised desk calendar, they are sure to want one every Christmas. That is why our internal design team created our wooden block desk calendar with photo refill packs to allow them to simply update their calendar year on year! Don't forget that we also offer photo calendars in a wall format along with other personalised Christmas photo gifts, so you are sure to find a gift for every loved one.