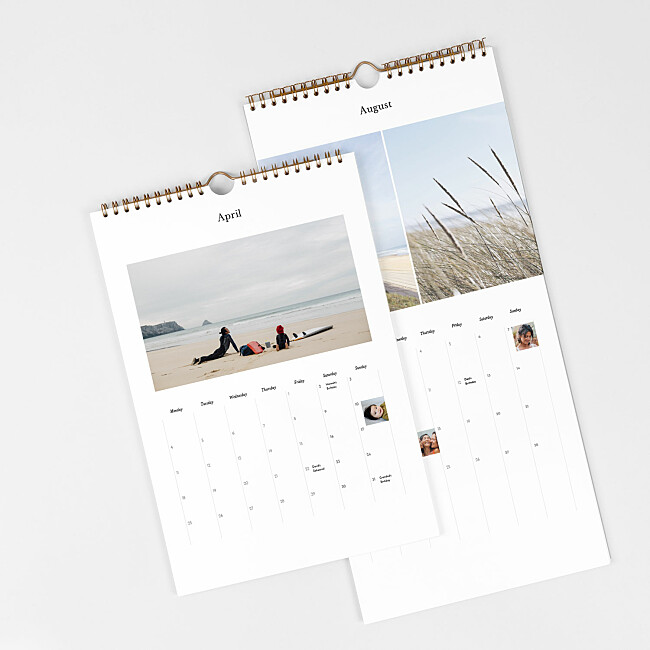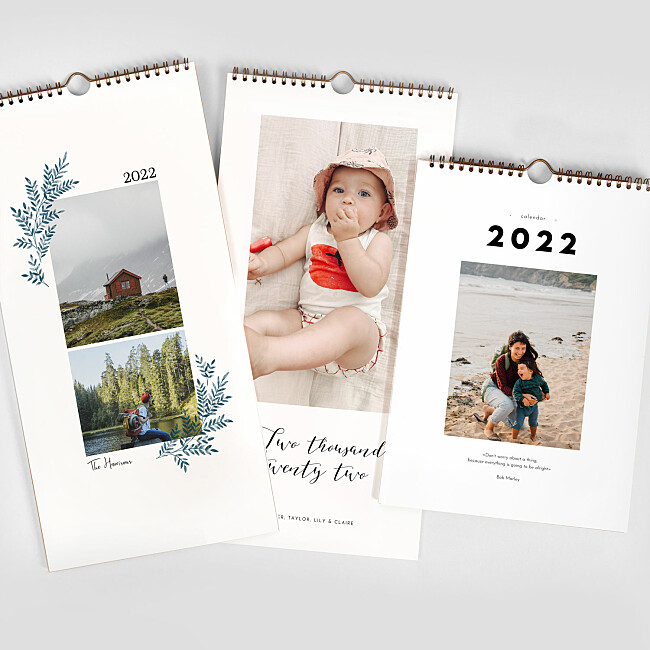 Personalised Wall Calendars
Focus on the people and the dates that matter the most by adding family birthdays and special occasions to your high-quality photo calendar. Start each month with your favourite photos, safe in the knowledge that you'll never miss an important date ever again!
2 formats: A4 & 20 x 40.5 cm
Enjoy 15% off identical copies
Responsible production: Offset carbon emissions
Much more than just an aide-memoire
The customised date fields and the contemporary design with chic finishing touches make our large and A4 personalised wall calendars are the perfect blend of style and practicality. Personalise each day with the photo or text of your choice to remember the important dates to come in 2022 and to make sure that this year is the one when your other half does not forget your wedding anniversary. Create your very own family planner by filling out other dates by hand as your diary starts to fill up with football games, dance rehearsals and dinner invites. You can also choose from a range of photo templates to create a personalised wall calendar that will take pride of place in your kitchen.
The Rosemood Touch
We apply our usual extremely high standards to all of our photo calendars!
Proofreading service
Automatic photo retouching service
Impeccable print quality
A customer service team to help you every step of the way
Product details:
2 Formats: A4 21 x 29.7 cm and 20 x40.5 cm
Customisable date fields
12 personalisable interior pages
Maximum number of photos: 6 per page
Choice of 6 photo templates per month
Range of cover designs to choose from
Calendar from January 2022 to December 2022
Bronze spiral binding
Lightly textured high-quality paper (270 gsm)
Turnaround time of 6 days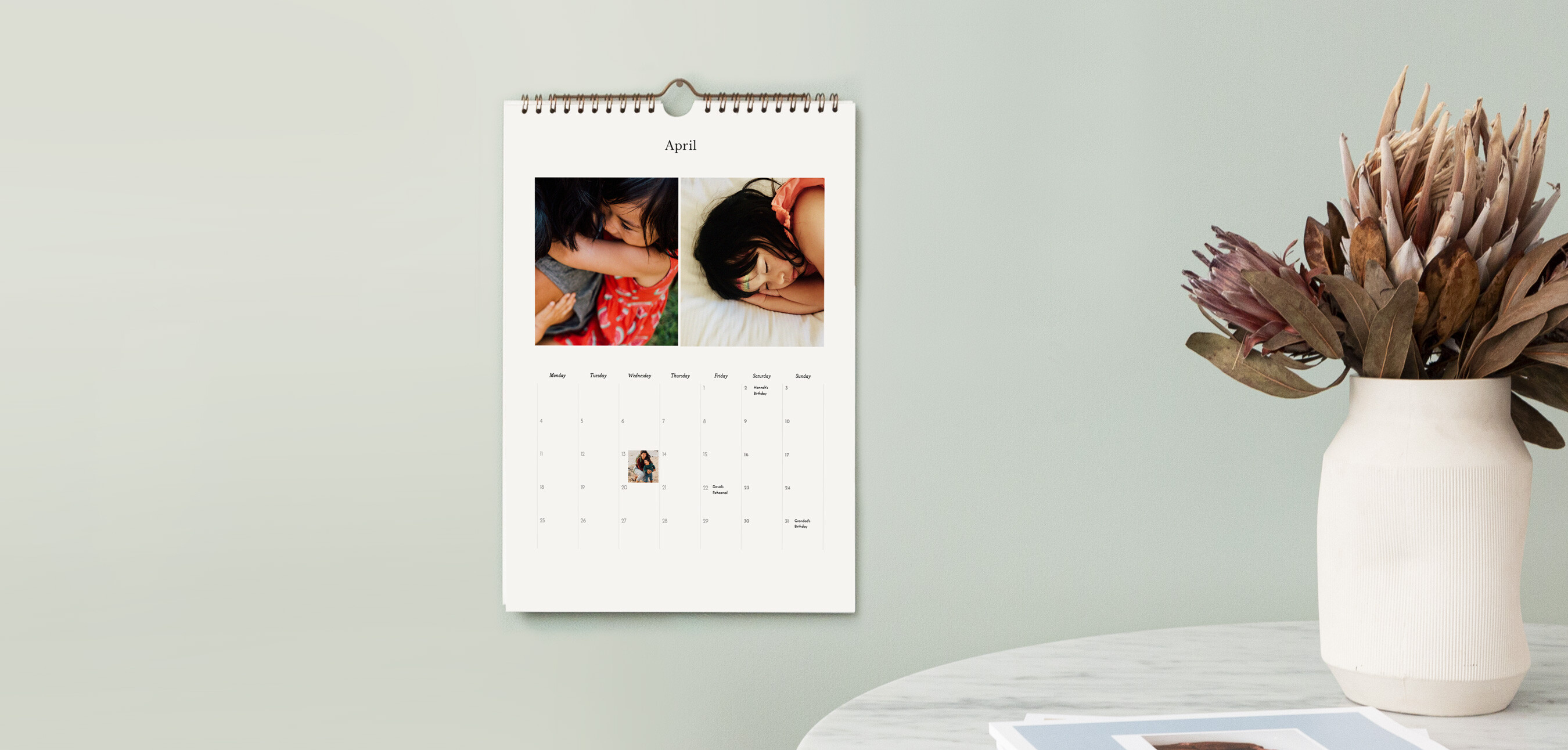 Discover our entire calendar collection
How to personalise your wall calendar online
Creating a personalised A4 or large wall calendar couldn't be easier thanks to our online editing tool. Start by uploading the photos that you wish to make an appearance on your calendar. You can then choose from our range of cover designs for the front of your calendar adding a photo and text of your choice. You will then be able to personalise each and every month of your A4 wall calendar, adding up to 6 photos per month. What's more, you can personalise the date fields each month, to add in text or a photo to prompt you to celebrate someone's birthday or anniversary. Perfect for creating a family calendar that will help make sure that you never miss an important family event!
Unbeatable service for your photo wall calendar
As with all of our personalised stationery and gifts, we go above and beyond to make sure that your photo wall calendar will be absolutely perfect. Our professional proofreaders will check over the text on the personalised cover of your calendar and you can choose to have your photos go through our automatic retouching service to make sure that your photos are shown off in their full glory! Your A4 wall calendar will then be printed using paper of the highest quality and spiral bound ready to hang! Our customer service team are here to help every step of the way so do not hesitate to get in touch if you have any questions about choosing or personalising your calendar!
Wall calendars that have as much style as they do substance
Designed from scratch by our innovation team, each element of our large and A4 personalised calendars has been chosen to guarantee you a calendar that you will be proud to display on your walls. Choose from a range of stylish cover designs and then personalise each and every month with your choice of photos. What's more, our team has created 6 elegant photo templates that allow you to share up to 6 photos of those that matter most every single month. Your calendar will be printed on high-quality 300 gsm paper, designed for you to note down your appointments and special occasions with ease. The months of your calendar will then be bound using a chic bronze spiral, ready for you to hang it pride of place in your kitchen, living room or bedroom.