Liven up your desk and give yourself a boost during your working day by surrounding yourself with photos of the ones you love on your square photo desk calendar. The perfect desk accessory to bring your favourite holiday memories to life at work as you make your way through your to-do list.
One page per month, January to December 2022
Enjoy 15% off identical copies
Responsible production: Offset carbon emissions
A must-have accessory for your desk
Practical and stylish, this photo desk calendar will fit in perfectly on your desk alongside your personalised notebook and your laptop. With a choice of photo templates that allow you to add up to 6 photos to every month, you will be able to create a desk calendar to brighten up your working day. Fill your square desk calendar with photos of the breathtaking landscapes you discovered on your latest getaway to give yourself a moment of escape from your constant typing or fill the pages with precious moments spent with loved ones to bring a smile to your face each time you glance away from your screen.
The Rosemood Touch
We apply our usual extremely high standards to all of our photo calendars!
Automatic photo retouching service
Impeccable print quality
A customer service team to help you every step of the way
Product details:
Format: Square 19 x 19
12 personalisable interior pages
Maximum number of photos: 6 per page
Choice of 8 photo templates per month
Range of cover designs to choose from
Calendar from January 2022 to December 2022
Bronze spiral binding
Lightly textured high-quality paper (270 gsm)
Kraft easel in 300 gsm recycled paper
Turnaround time of 6 working days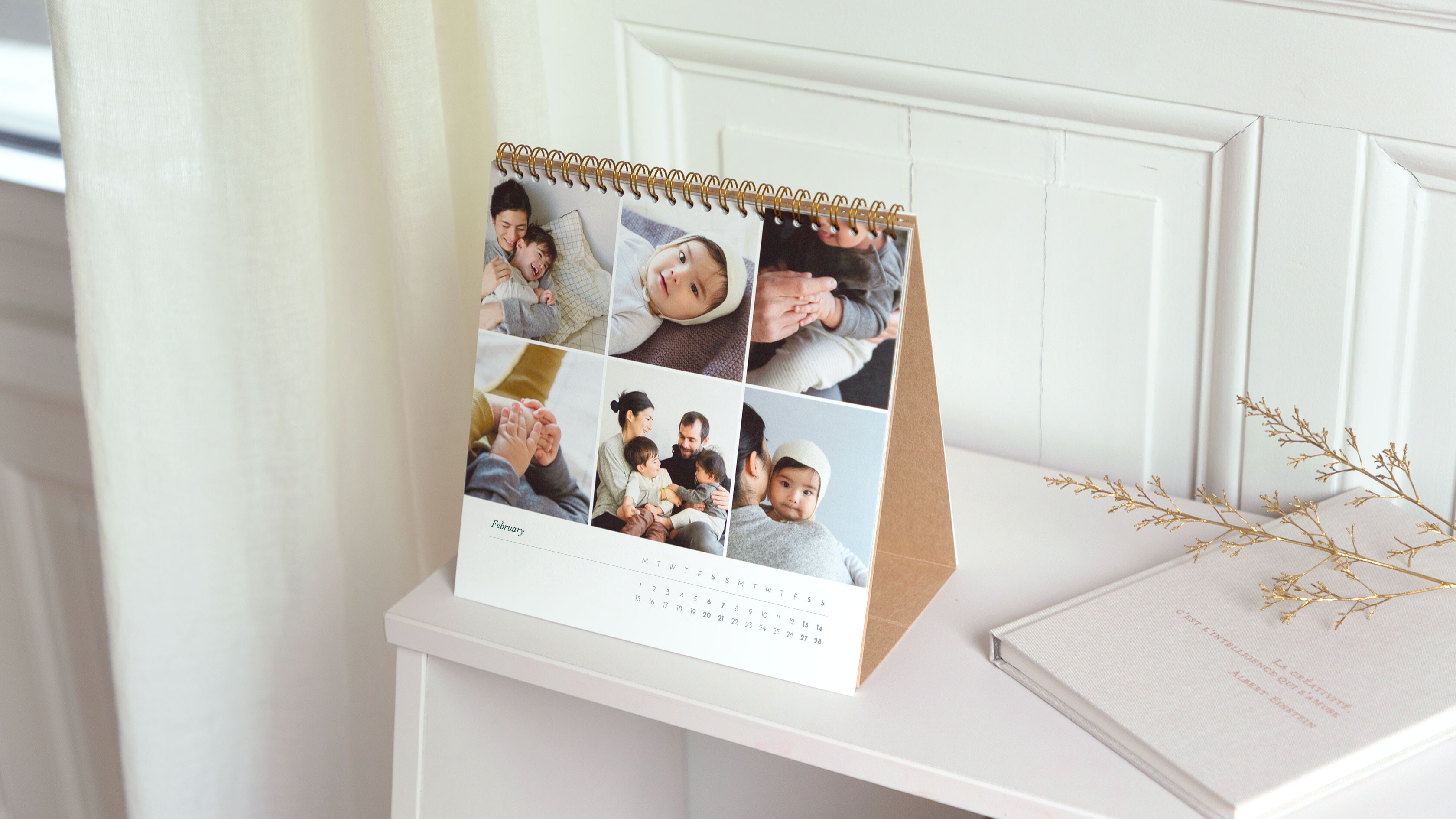 Discover our entire calendar collection
A photo desk calendar to keep you motivated
Our photo desk calendars will brighten up your desks and will help you get through your working day! Personalise the cover with words of wisdom to keep you organised or add an inspirational quote to get your creative juices flowing. Fill your desk calendar with photos of those you love to put a smile on your face each time you catch a glimpse of your planner or fulfil your wanderlust as you sit behind your desk with a photo calendar full of travel snaps that will transport you back to your dream destinations.
Create your square desk calendar online
Use our editing tool to create a personalised desk calendar in minutes. Upload your favourite photos and then dive into the personalisation of your calendar. Choose from our range of cover designs with the text and photos of your choice, before choosing a photo template for each month. You can add up to 6 photos per month so play around with the templates that will show off your photos in their full glory. Simply drag and drop each of your photos into the photo zones on the 12 pages of your desk calendar.
Personalised desk calendars make ideal gifts
Create photo desk calendars for your loved ones to bring the ones that matter most to their workplace. Fill the calendar with photos of precious memories shared to bring a smile to their face or give them a little laugh as they type away on their computer. Your loved ones will be touched by the thought and effort that you have poured into the creation of their personalised desk calendar and they are sure to be impressed by the quality. We handle each calendar as if it were our own, printing and binding each page with the care and attention your favourite photos deserve!