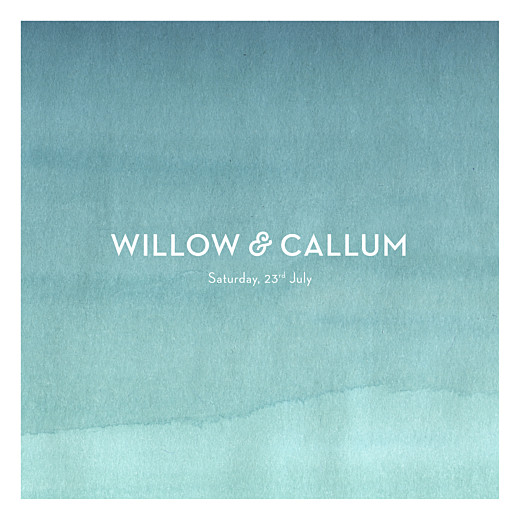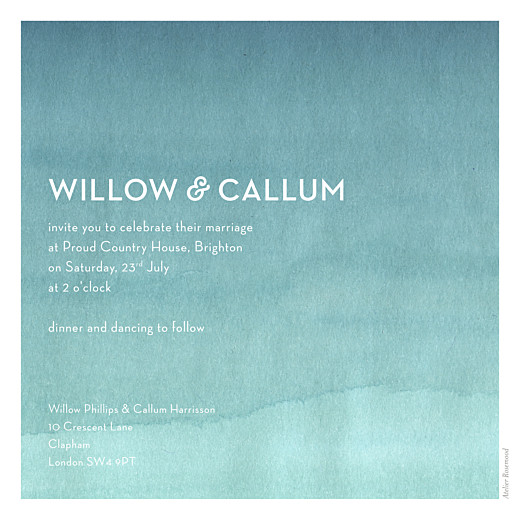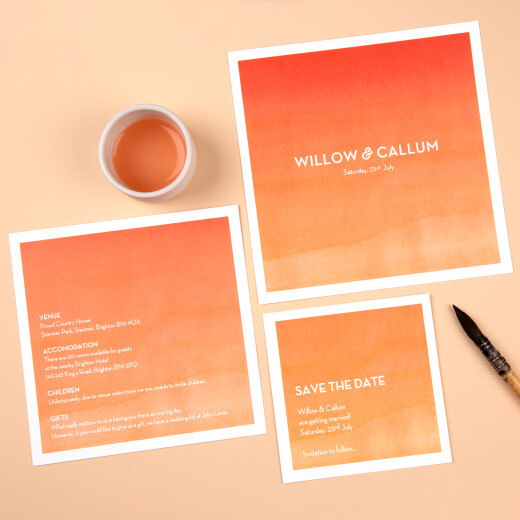 Save The Dates
From £1.20 each
RSVP Cards
From £0.45 each
Guest Information Cards
From £0.60 each
Wedding Invitations · Flat Card
Watercolour (square)
Wedding Invitations
in a similar style
The Rosemood Touch
Checked by our experts
We proofread your text, optimise the layout and retouch your photos!
Going the extra mile
We are here to help you every step of the way so just ask!
Made in France
The perfect blend of artisanal French know-how and cutting-edge printing.
If you like our Watercolour (square) Wedding Invitation. You may also be interested in...
Calculate the price*
Smooth Matte Paper
A pure white paper with a smooth finish
Textured Ivory Paper
A timeless high-quality ivory paper with a textured matte finish
Iridescent Paper
A high-quality, slightly iridescent paper
* Estimated price excl. shipping
Reviews (3)
Watercolour (square) wedding invitation
I was really disappointed in this order - I wrote a message to the team and have had no response. Wedding invitations are an important thing to get right and this isn't good enough. The printing was really wonky and so they look very poor quality.
Published by Fiona, 4 Mar 2020
Response from the Atelier Rosemood
Hi there,
Thanks for getting in touch and leaving your feedback with us. We are very sorry to hear that you were unhappy with your order and that you have not received an answer from us to your message.
We do take great care of each of our order. The printing quality is very important to us, and we are constantly trying to improve this to satisfy our client's needs. This is why your feedback is very important to us.
We would love to find a solution for you so that you can send out the perfect wedding invitation to your guests. One of our sales team will be in touch shortly to discuss your options!
Thanks,
The Rosemood Team
Quite slow delivery but may be where I live
Published by Kerry Kirk, 18 Nov 2019
Pofessional and high quality
I ordered the invitations in blue and they arrived in perfect condition. I was very impressed with the high quality printing. The colours are vibrant and the simplicity of the design is striking and very beautiful. The staff at Rosemood are highly professional and also they were extremely prompt in responding to my queries.
Published by Caroline, 23 Feb 2018