Black Wedding Invitations
Black wedding invitations are perfect for the contrast-loving couple. What could be more representative of the beauty created by two unique individuals coming together as one or of the old-as-time phrase "opposites attract" than the polarity of black and white invitations? Match your black wedding stationery to the groom's crisp black tuxedo at your elegant evening wedding or try chalkboard style black invitations for your retro celebration! Monochrome invites are perfect for a minimalist wedding, but you can also use our photo wedding invitations to create retro wedding stationery with your favourite romantic photo in black and white! As well as the design, it will be your wedding invitation wording that sets the tone for your big day. A simple change of wording can turn your invites from traditional to modern, and can even help you create evening wedding invitations.
Read More
Retouching Service
To ensure that you are 100% satisfied with your order, we proofread your text, retouch your photos and optimise the layout of your stationery. We treat each and every piece of stationery as if it were our own, going above and beyond to make sure that your stationery is absolutely perfect!
Free Personalised Sample
Make sure that your personalised stationery is absolutely flawless by ordering a free personalised sample (excluding foil stamped designs). Your sample will be checked by our team of proofreaders and graphic designers and will arrive with a high-quality envelope in the colour of your choice. Receive your personalised sample in 6 to 8 working days after dispatch.
If you are 100% satisfied with your personalised sample, you can order identical copies directly via your account. Otherwise, you can tweak your creation in our editing tool before placing your full order.
Free Sample Pack
Looking for some wedding stationery inspiration to help you plan your own wedding? Request a free wedding stationery sample pack and you'll have everything you need to create your perfect invitations and day-of stationery for your big day! You will receive a mix of our favourite designs printed on our range of high-quality paper. Looking for a particular design? You can order one free personalised sample of the design of your choice (not including foil stamped designs).
Foil Stamped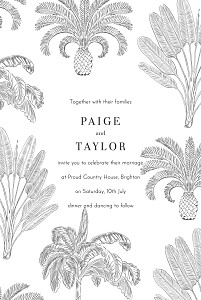 New

· Paradise (Foil)
Retouching Service
Free Personalised Sample
Free Sample Pack